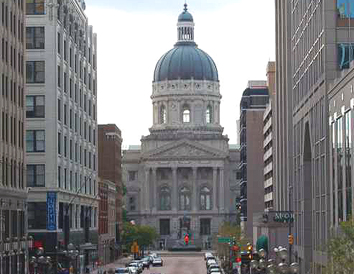 In response to widespread concern from hospitals, Indiana lawmakers on Monday tweaked a major health care bill so it no longer would regulate how hospital systems can charge for so-called "off-site" care.
House Bill 1004 largely addresses surprise billing but also would have required hospitals to determine charges based on the exact location a procedure takes place. That would have prevented hospitals from billing as if a procedure occurred at a main campus when it took place at a smaller off-site office that might have lower overhead costs.
Business leaders have said the provision could have an immediate and direct impact on health care costs, but hospitals argued that all off-campus offices shouldn't be subject to discounts. They say those facilities are held to the same medical standards and regularly have the same levels of technology and trained staff.
Hospital representatives also have expressed concern about the process for determining whether an office is off-site or part of the main hospital campus. For example, some hospitals have oncology centers that aren't directly attached to the main hospital building but are on the same property. It was unclear how those types of facilities would have been defined.
An amendment approved by the Indiana Senate removed the site-of-service billing requirement and instead inserted language to force hospitals to provide the address of where the service occurred when submitting bills to insurers.
"This is a good amendment," state Sen. Liz Brown, R-Fort Wayne, said. "This will give transparency and clarity to the insurers and the hospitals."
The amendment was the preferred language of the Indiana Hospital Association, which gathered hundreds of health care professionals at the Statehouse on Monday morning to urge legislators to remove the original site-of-service wording.
Indiana Hospital Association President Brian Tabor said the address disclosure language would create more transparency and allow hospitals and insurers to negotiate the fair price, rather than forcing hospitals to bill a certain way and negating private contracts.
Tabor said Indiana would have been the only state to have such site-of-service language in law.
Hospital executives said the initial site-of-service regulation would have resulted in significant cuts in staff and services because revenue would drop by millions of dollars.
"We are grateful for the Senate's actions today," Tabor said in a statement after the amendment vote. "Removing the harmful 'site of service' language in HB 1004 is a win for health care access for Hoosiers."
Even with the change, Sen. Karen Tallian, D-Ogden Dunes, said she thinks everyone needs to go back to the drawing board and gather more information.
"We don't feel like we have a clue what this is going to do," Tallian said. "We are all searching for more information."
Please enable JavaScript to view this content.