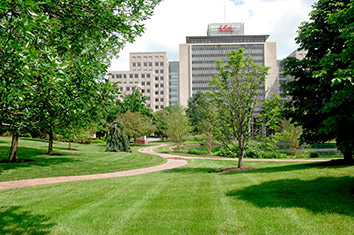 Eli Lilly and Co. refuses to interview and hire older workers, systematically favoring recent college graduates and other younger applicants, a new lawsuit alleges.
Two former job applicants, aged 55 and 49, filed a proposed class-action lawsuit in U.S. District Court in Indianapolis on Wednesday, accusing the Indianapolis-based drug maker of age discrimination.
Lilly denied the allegations in a statement, saying it does not discriminate on the basis of age, race, color, religion, gender, sexual orientation, gender identity, gender expression, national origin, protected veteran status, disability or any other legally protected status. The company declined to comment on details of the complaint.
The complaint was filed by Jerad Grimes, 49, of Florida, and Georgia Emily Edmundson, 55, of Georgia. Both say they applied for a sales representative job but were not hired.
The two say Lilly "disfavors" hiring sales representatives over the age of 40 and prefers to hire more youthful millennials.
"Eli Lilly views younger applicants as being more physically attractive than older applicants," the complaint said. "Based on their younger appearance, Eli Lilly believes younger applicants are better suited to be employed in a sales representative role. Because sales representative roles are primarily client-facing roles whereby sales representatives regularly interact with physicians who prescribe Eli Lilly products to their patients, Eli Lilly prefers that sales representatives to have a youthful appearance."
The complaint further states that Lilly CEO David Ricks publicly stated in a company-wide town hall meeting several years ago that he wanted to increase the percentage of millennial sales representatives to 40% of the overall sales force by 2020.
"Shortly after Mr. Ricks' public statements and setting of this numeric hiring quota, Eli Lilly began engaging in a pattern and/or practice of refusing to interview or hire sales representatives who were over the age of 40, gave preferential hiring/interview status only to new graduates out of college, and created a group called "ECP" which stands for Early Career Professionals to cater to and support younger sales representatives," the complaint said.
Lilly steadily increased the hiring quotas for younger workers in the Diabetes and Primary Care Business units to 60% and then 80%, the complaint said.
"Indeed, at one point, Eli Lilly's director-level and officer-level employees set 100% 'Millennial' hiring quotas if the 60% or 80% hiring quotas were not being met, in order to increase the hiring of younger sales representatives across the United States," the complaint said.
Grimes previously worked for Lilly as a sales representative from approximately 2008 until March of 2017. He was laid off during a company-wide restructuring, but was invited to reapply for sales representative positions as they became available.
Between 2017 and 2020, Grimes said he regularly applied for dozens of available sales representative positions in Eli Lilly's Diabetes and Primary Care Business units. His employment applications were all rejected.
Edmondson is a pharmaceutical sales representative who has more than 20 years of experience at unspecified companies other than Lilly, the complaint said.
Between 2018 and 2020, she applied for available sales representative positions in Eli Lilly's Diabetes and Primary Care Business units. Her employment applications were all rejected, the complaint said.
The two are suing under federal and state age discrimination laws, and are seeking class-action status. The suit was filed by law firm Morgan & Morgan of Lexington, Kentucky.
Please enable JavaScript to view this content.