After years of delays—and nearly five years since the legislation passed—a Hamilton County judge heard arguments Thursday morning in a legal challenge to the so-called "fix" given to Indiana's controversial Religious Freedom Restoration Act.
The Indiana Family Institute and the American Family Association of Indiana initially filed the lawsuit in 2015, claiming the clarifying language state lawmakers added to RFRA to quell discrimination concerns was unconstitutional and infringes upon their First Amendment rights to freedom of religion and speech.
The suit makes the same claims against four anti-discrimination municipal ordinances—those from Indianapolis, Carmel, Columbus and Bloomington.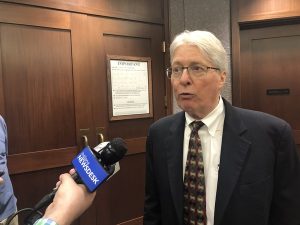 The RFRA statute, which passed in 2015, said that religious views could be raised as a defense in court and would require a governmental entity to demonstrate that its rules were either not violating religious freedoms or were doing so to achieve a "compelling governmental interest" and doing so in the least burdensome way possible.
The RFRA fix, which legislators quickly approved after a widespread uproar that the law would allow discrimination of LGBTQ individuals, clarified that RFRA could not be used as a defense to protect against discrimination by various service providers.
The fix exempted churches, clergy members in their official capacities, and organizations connected to a church. But the Indiana Family Institute and the American Family Institute, while organized around religious views, argue the exemptions in the fix do not apply to them because they are not specifically connected to any church.
Both groups—which were strong supporters of the original law—believe in traditional marriage and believe they have the constitutional right to prevent same-sex married couples from attending their events, participating in their programs or being employed by them.
Jim Bopp, a Terre Haute attorney representing the groups, said the original law granted protection for religious freedom, but the fix stripped it from a selective few, which is unconstitutional.
"It flies in the face of well-established constitutional rights of people to have their religious freedom protected and not infringed upon," Bopp said.
But Jefferson Garn, an attorney with the Indiana Attorney General's Office, said the objective of the "fix" was to clarify how to apply RFRA.
"It wasn't to strip anybody's rights," Garn said.
Garn and lawyers representing the four cities named in the lawsuit argued that neither of the groups have suffered any harm, because they haven't actually done anything to violate state or local statutes—they haven't denied anyone access to their events or programs, nor have they denied employment to anyone because of their sexual orientation or gender identity.
"They simply haven't shown that our ordinance is going to be triggered," Larry Allen, assistant city attorney for Bloomington, said. "There is no credible threat of prosecution."
Daniyal Moazzam Habib, assistant corporation counsel for Indianapolis, said the American Family Association of Indiana in particular has been having events in the city of Indianapolis for 13 years without being the subject of any complaint, investigation or threat.
"AFA can keep doing what it does without bothering the ordinance," Habib said.
Libby Goodknight, an attorney with Krieg DeVault representing Carmel, said the groups haven't faced any enforcement in that city, either.
"In four years, these predictions have never come to fruition," Goodknight said.
Bopp said the cities haven't enforced the statutes because of this lawsuit.
"They never try to enforce these ordinances after you sue them," Bopp said. "Yeah, our suit has prevented them from enforcing it against us, and that's exactly what our intention is—we don't want these ordinances enforced against us."
Even if the organizations did violate a statute, lawyers for the state and cities said both are exempt from the regulations because of their religious status.
But Bopp said the two organizations, while they are registered as not-for-profits and have religious beliefs, are not considered religious organizations under Indiana law because engaging in religious activity is not their primary purpose.
Goodknight also mentioned that both organizations would be exempt from the Carmel ordinance because they do not have six or more employees.
"Plaintiffs can't sue to have a law overturned just because they don't like it," Goodknight said.
Bopp said the groups don't want to strike down the local ordinances, but they don't want to be forced to follow government mandates that go against their religious beliefs.
"We do agree that the government has a general interest in protecting people from discrimination," Bopp said.
Hamilton County Superior Court Judge Michael Casati did not issue a ruling immediately following the hearing.
Please enable JavaScript to view this content.