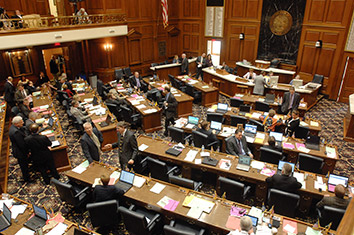 The "RFRA fix" passed in April to quell discrimination fears about the Religious Freedom Restoration Act is now being challenged as unconstitutional by two organizations that were the most vocal proponents of the original legislation.
The Indiana Family Institute and the American Family Association of Indiana filed a lawsuit Thursday afternoon in Hamilton County Superior Court, arguing that the RFRA fix not only violates their religious liberty, but also their freedom of conscience, right to free speech and association, equal protection under the law and right to due process.
The lawsuit also challenges the constitutionality of the city ordinances passed by Carmel this year and Indianapolis a decade ago, which add sexual orientation and gender identity as categories in their non-discrimination laws.
Much of the lawsuit's arguments were aired this year during debates over the Carmel ordinance. But the conservative groups continue to say the anti-discrimination statutes are too vague and sweeping to avoid trampling on the foundational freedoms of the First Amendment and the Indiana constitution.
"In essence, they are only allowing people to exercise their religious objection within the four corners of a church," said Jim Bopp, a constitutional lawyer in Terre Haute who filed the lawsuit on behalf of the two groups.
Bopp is well-known for handling religious and conservative cases, arguing 13 cases before the U.S. Supreme Court. He said the RFRA fix needs to be challenged because it is effectively a government endorsement of certain religious views, particularly those that support gay marriage, over others that do not.
"It is intolerable that we would have a society that would pick out certain religious views for protection and then exempt others," Bopp said. "This is why religious freedom is in the First Amendment. The whole idea behind this was tolerance. If you have one governmental view on which religions are acceptable—and that is exactly what we have in the RFRA fix—it is intolerance."
The Indiana Family Institute, based in Carmel, is led by Curt Smith, a former aide to U.S. Sen. Dan Coats. The American Family Association of Indiana, based in Indianapolis, is led by Micah Clark.
Both Smith and Clark have been active for years promoting traditional views of marriage, discouraging divorce, opposing abortion and opposing efforts to extend civil rights protections to gays and lesbians.
The groups have spoken out recently against Senate Bill 100–which the state Legislature will consider next month–that would extend civil rights protections to gays and lesbians statewide.
Smith said he hopes the lawsuit helps policymakers during the coming debate recognize the importance of religious freedom as a foundation of all other freedoms.
"We think going to a neutral tribunal and reminding everyone of the frenzy of the spring in contrast to the foundational freedoms will be to our advantage," Smith said.
But Jen Wagner, a spokeswoman for the group Freedom Indiana, called the lawsuit an attempt to "turn back time."
"RFRA taught us that Hoosiers have no tolerance for creating a license to discriminate against those who have historically been treated unequally," she wrote in an email. "We hope lawmakers ignore this distraction and listen instead to the voices of job creators, faith and community leaders, local public servants, grassroots supporters and families who want our state to be a safe, welcoming place for all people."
Brad Jacklin, press secretary for Indianapolis Mayor Greg Ballard, wrote in an email, "At first glance, this looks more like a sneak attack on the residents of Indianapolis than a serious lawsuit. The rights of LGBT people and their families can co-exist with the rights of people with sincere religious beliefs to practice their faith, as we have seen in Indianapolis for the past decade."
Carmel Mayor Jim Brainard could not be reached Thursday morning because he is traveling in Germany.
The Indiana Family Institute currently has five employees, but it expects to hire seven or eight more workers during 2016, as it usually does during major election years. At that size, the Carmel-based group would no longer be exempt under Carmel's ordinance, which prevents discrimination by any employer with six or more workers.
That's important, because the Indiana Family Institute only hires workers who affirm and practice what the lawsuit calls "the biblical teaching on marriage and human sexuality," which is that marriage is only between one man and one woman and that sex should only occur within a marriage.
The Indiana Family Institute also wants to restart a course it ran for six years called Hoosier Commitment, which tried to help couples improve their marriages, with marriage of one man and one woman held out as the only legitimate marriage option.
The Indiana Family Institute claims the Carmel statute prevents it from reviving that course, not just in Carmel, but anywhere—because the organization is based in Carmel.
The American Family Institute says it allows outside groups to use a conference room at its office near Keystone at the Crossing, but that it will not allow groups to use the conference room unless they "believe, and practice, the biblical teaching on marriage and human sexuality."
That AFA policy would run afoul of Indianapolis' ordinance preventing discrimination in public accommodations based on sexual orientation.
The lawsuit argues that the RFRA fix, which is officially Senate Enrolled Act 50, is unconstitutional essentially because it renders the application of RFRA inconsistent and discriminatory toward some religious groups.
The RFRA statute said that religious views could be raised as a defense in court, which would require a governmental entity to demonstrate that its rules were either not violating religious freedoms or were doing so to achieve a "compelling governmental interest" and doing so in the least burdensome way possible.
The RFRA fix stated that RFRA could not be cited as a defense to protect against discrimination by various service providers. The fix established exemptions and exclusions for religious groups—but none of them apply to the Indiana Family Institute and the American Family Association.
The RFRA fix exempted churches, clergy members in their official capacities, and organizations connected to a church. But the Indiana Family Institute and the American Family Institute, while they are organized around religious views, are not specifically connected to any church.
Those kinds of organizations, as well as individuals with strong religious convictions acting outside of a specifically religious organization, are not excluded from the anti-discrimination language in the "RFRA fix."
Interestingly, the lawsuit argues that the "RFRA fix" violates the constitution in part because it stripped some of RFRA's heightened protections from some groups but not others.
"RFRF gives any such person the right to assert in court that his or her religious-free-exercise is entitled to protection against substantial burden because the government cannot prove that the burdens are the least restrictive means of furthering a compelling governmental interest," the lawsuit states. It adds, "The exclusion and exceptions [of the RFRA fix] intentionally strip that day-in-court right (to make the government prove its case for imposing substantial burdens on religious-free-exercise) from certain persons, such as plaintiffs, who are not within the exceptions but hold traditional religious beliefs of the same sort as persons who are within the exceptions."
 
Please enable JavaScript to view this content.