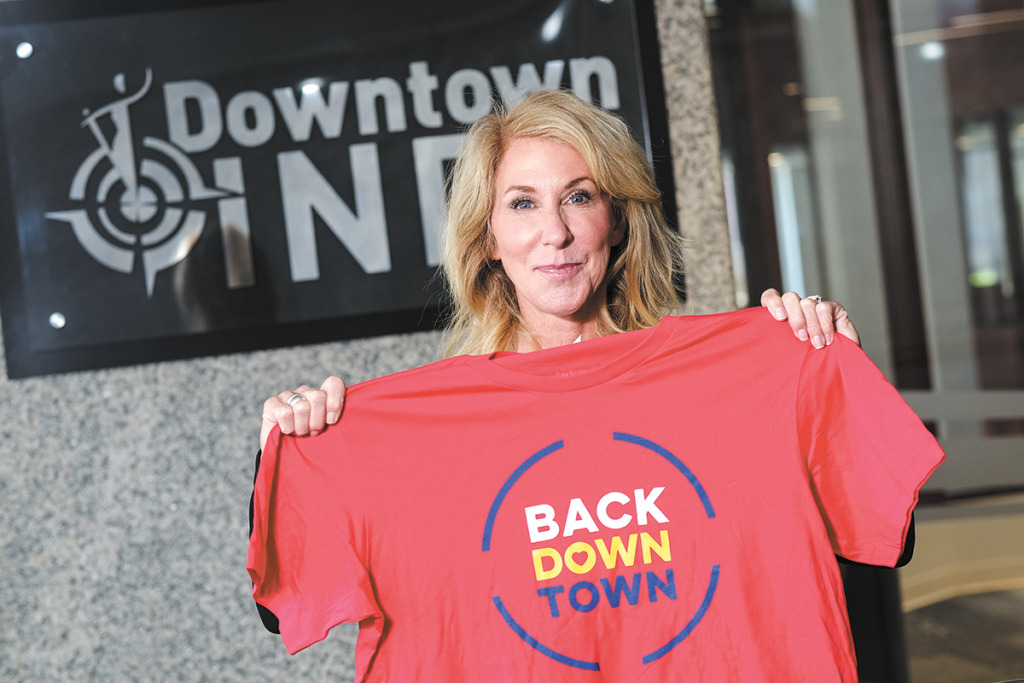 Downtown Indy Inc.'s mission of promoting, activating and strengthening downtown has gotten a lot more challenging lately.
First, the pandemic emptied downtown of tens of thousands of workers and conventioneers while also bringing more homeless individuals to the Mile Square.
Then came the destructive riots in late May, which lasted only a few nights but resulted in substantial property damage and helped fuel a perception that downtown had become unsafe.
Downtown Indy Inc.'s president and CEO, Sherry Seiwert, 57, spoke with IBJ recently about what her organization is doing to help the city recover.
Pre-pandemic, how many people visited downtown on a typical day?
On a typical day—if you were to take the culmination of 155,000 employees, 30,000 downtown residents and then, it could be, say, 50,000 visitors if we had a significant convention in town—it could well be beyond 200,000.
I don't know if you have a good way of knowing, but where do those numbers stand now?
You're right, I don't have a specific number. But, again, take the downtown resident number, which really hasn't changed. So you've got your 30,000. You have 10%-15% of our workforce back downtown; let's go with 15% of 155,000. And then few, if any, conventions and visitors.
So we're at about a quarter of normal?
That's correct.
Downtown Indy Inc. recently launched a campaign called "Back Downtown." Whom are you targeting? Locals? Out-of-towners? Individuals? Groups?
Everyone you just described is our target market. We want folks to feel a level of confidence and comfort in coming back downtown to work, to play, to shop, to eat.
I wanted to ask about a couple of specific new initiatives. Tell me about the new Safety Ambassador program.
Downtown Indy is employing four safety ambassadors. … They really are the hospitality arm as well as the second "eyes and ears" of downtown. And what I mean by that is that they are all very outgoing individuals that understand a lot about downtown.
If people need directions, they're certainly there to give them. But they're also—they've gone through a training with [the Indianapolis Metropolitan Police Department] to just learn how to de-escalate situations if they come upon them, as well as, they have radios that are connected to our downtown district and so they can radio in [to IMPD] if they see negative activity occurring.

How can people identify these safety ambassadors?
They are all in a black golf shirt that will say "Safety Ambassador" in bold letters on the back of their shirt, with khaki pants, and the Downtown Indy emblem on the front of their shirt.
When did the safety ambassadors begin working?
Last Wednesday [Sept. 16]. It's a new undertaking for our organization, and we thought that it was a good solution to what we were hearing from folks that were expressing their perception that downtown wasn't safe. This has certainly been used in numerous other cities and has proven to be a successful program.
Speaking of perceptions, they can be a tough thing to crack. If someone has an idea that downtown is unsafe for whatever reason, what do you do to try to change that perception?
Launching the Back Downtown marketing campaign certainly is to show folks—we're shooting weekly videos with downtown retailers and restaurants, individuals, we're trying to push out as much social media as we can, of pictures that downtown is safe.
Certainly, pre-COVID-19, every urban city had some issues, and Indianapolis certainly is one of them. But we're doing, in my opinion, everything that we can do to make it feel safer for individuals.
[For instance], the increased bike patrol. We pay off-duty officers to bike downtown and we've tripled the number of hours that officers are on bikes.
We've added a number of officers, as well. So you not only have those officers biking—and they are making arrests if necessary—[but also] our safety ambassadors and [police] cadets.
And then we're also offering to property owners … we will purchase cameras on their behalf—external cameras, two to each building, for a total of, right now, at least 150 cameras.
Those aren't 24-hour surveillance, but they do capture imagery that can be used immediately by IMPD if there is a negative event occurring. They can utilize that information to be able to make arrests quickly.
How many businesses have expressed interest in the cameras so far?
Over 40.
So you've got the safety ambassadors. You've got the increased police patrol. You've got the offer of the security cameras. What else?
One other is, we are currently looking at places in downtown that perhaps need additional lighting in the evenings.
So we're using our IMPD off-duty bike patrol officers to identify those areas as well as we're reaching out to get drone footage so that we can have a bird's-eye view of downtown in the evening.
Ideally, we'll be able to install additional lights or work with the property owners to put external lighting outside their buildings to provide additional lighting at night.
How long might it take for downtown to really recover to a substantial degree?
I'm using March of 2021 as my measure in thinking through when employers will feel a level of confidence to bring their employees back, as well as anticipated conventions. … It's not an accurate methodology, but probably March of 2021 would be a pinpoint on my calendar to feel like we'll have numbers of folks returning to downtown.
In the intervening period, we're doing everything that we can to get sporting events downtown, certainly, to get people to come downtown. And slowly, but surely—it's not a good measure, but every day when I look at the parking garage, I see a couple more cars than I did the week before. It's incremental change, but it's occurring.
Is Downtown Indy Inc. doing anything to try to influence some of those big employers? Or are you more focused on individuals?
It's a tough decision, I think, for employers to make. One thing that we have done is, and it doesn't sound like anything significant, but we had scheduled cleanups in downtown.
We reached out to civic leaders for a couple of reasons. One, we wanted them to participate. We've heard from so many employers that they want to do something and give back. So this was an opportunity for them to come downtown themselves, see downtown, have a good experience.
If they hadn't been downtown in a while, they could see that it was clean, it was safe. And, ideally, then they become our civic influencers and go back and talk to their friends and their families and say, "Gosh, downtown feels great."
So it's that type of encouragement that we have sought to at least build the confidence among employers.
Has homelessness gotten worse since the pandemic hit, or is it just that so many fewer people are downtown that the homeless people that were already there become more evident?
I think we have to remember that, with the pandemic, shelters also needed to socially distance and so they couldn't house the number of individuals that they had traditionally been accustomed to.
So some of those individuals did decide to stay outdoors. To them, it's better than being shoulder-to-shoulder during a pandemic.
Because of that, we have seen the number increase. However, the city has received a couple of tranches of resources from the federal government that I think is going to make a significant impact.
First was, they provided resources to house the most vulnerable individuals related to COVID-19 into hotel rooms.
And then the second round, which I think the mayor announced a week and a half ago, it will provide housing up to 24 months for up to 500 individuals or families.
It's a rapid-rehousing program. And so I think with that additional $7 million-plus, we'll see a decrease in the number of folks that are unsheltered downtown.
What else is Downtown Indy Inc. doing?
We haven't really talked about the Downtown Recovery Committee. That committee was launched shortly after the end of May—whatever term you want to use—riots downtown.
There were a number of folks, employers and others, express interest in convening to come up with a plan to go forward because of the impact of COVID-19 and the destruction that we saw.
So we have roughly 30 committee members working on different tactics related to downtown. A small group went to Lafayette, Indiana, to go see a permanent supportive housing project [operated by LTHC Homeless Services] this past Friday.
We often manage homelessness in Indianapolis, but we don't have a great system in place to provide good solutions to end homelessness. This project we went to see just opened up this year. It's a model that provides a variety of resources for homeless individuals. We thought it was a great project and would love to model something similar to that here in Indianapolis.
When downtown recovers, will it look different from before?
Clearly, we'll see a change. Every city in the country is talking about the changes they anticipate.
We will likely see a change in our office occupancy. How do we look at reuse of existing space? How do we think about converting, perhaps, some of that into a different use?
I think we'll see some closures, certainly, on the restaurant and retail side. We've already seen a few.
Again, what opportunities does that provide to bring new businesses into downtown? I think that we really need to concentrate on the opportunities that perhaps we can see as a result of this.
Everybody's been under weird circumstances and stress in recent months. What do you do to help keep your stress down?
I … have a couple of dogs that are tired of taking walks. We go to the park at least two times a day, in the mornings and then in the evenings. It's a good way to start the day, now that we have brisk mornings, and in the evenings it's a good way to reflect on what we've accomplished and what else we need to do. That's usually my release.•
Please enable JavaScript to view this content.