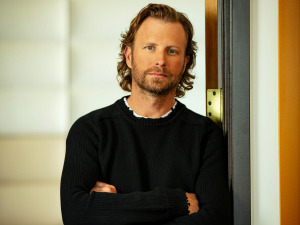 This year's Legends Day concert on May 28—the day before the Indianapolis 500—is set to feature a big name in country music, but fans interested in catching the show won't be making their way to Indianapolis Motor Speedway as usual.
The speedway has opted to move this year's concert to TCU Amphitheater at White River State Park in downtown Indianapolis, with a later-than-usual 7 p.m. starting time. The show is set to feature performances by country music star Dierks Bentley and openers Ashley McBryde and Dillon Carmichael, IMS announced Wednesday.
The move to the White River is intended to give IMS staff more time to prepare the speedway for what officials expect to be the venue's biggest crowd since the race's 100th running in 2016, said IMS President Doug Boles. Last year's race was limited to 40% capacity due to the pandemic and the 2020 race was closed to public spectators.
The track will still host its Legends Day traditional drivers meeting that Saturday morning, along with autograph sessions, but the facility's gates will close by mid-afternoon, around the time the concert would typically start on a stage near Turn 4.
"Our sole focus since the 2020 race concluded has been executing an Indianapolis 500 at normal capacity," Boles said. "Obviously last year, that didn't happen. So we're laser focused on our bread-and-butter, our core—which is the race."
Boles said staff members in previous years often had to work into the early hours of race-day morning to dismantle the Legends Day stage and prepare the facility for tens of thousands of cars and fans that would be arriving on Sunday for the race. With this year's move, that process will be shift to Friday's Carburetion Day concert. This year's Carb Day concert lineup has yet to be announced.
The move to the 6,000-capacity White River State Park concert venue is so far only for a one-year term, but Boles indicated the idea could be revisited depending on its success. He said while IMS will miss out on some revenue generated by the concert, there are few concerns because ticket demand for the Carb Day and Snake Pit concerts, and the race itself, are still high.
"In the grand scheme of things, we're going to be generally in the same spot where we were before," Boles said. "It was not about making money with that event, but about creating energy."
The race itself is expected to have about 300,000 attendees.
"I keep waiting for the day that I wake up and see it's leveled off, but it hasn't," he said. "I think as we get closer, the excitement continues to be there. It's going to feel like an Indy 500."
Indianapolis 500 weekend activities have included activities honoring legendary drivers and cars since 1998, but the first official Legends Day on the Saturday before the race began in 2011. In 2014, IMS added an annual Legends Day concert, headlined that year by Jason Aldean. The concert has been called off the past two years because of the pandemic.
Some fans on social media have already responded to the news of the concert's move to downtown with some criticism and frustration, especially from fans who like to camp out at the speedway all weekend. Boles said he thinks fans will ultimately like the move to the amphitheater, particularly because it doesn't disrupt other pre-race traditions like the driver meeting or autograph sessions.
Boles said the early closure of the speedway will give race fans a chance to make it downtown for the 500 Festival Parade, which will start at 11:45 a.m., followed by the concert. However, it also means most fans who attend both will have to pay twice for parking—likely at an elevated rate since it is a large event weekend.
Leonard Hoops, president of Visit Indy, said he is enthused by the short-term move to the amphitheater.
"Extending the footprint for May events beyond the Indianapolis Motor Speedway provides more opportunities for visitors and locals alike to get in on the action and excitement leading up to the largest single-day sporting event in the world," he said in written comments.
For fans who opt to head downtown for the concert, they'll be able to catch a 16-year member of the Grand Ole Opry and a 12-time Grammy nominee in Bentley. His latest single, "Beers on Me," has been high on radio charts lately and accumulated more than 6.4 billion plays on streaming.
McBryde, also a Grammy nominee, is considered a rising star in the country music world after the debut of her 2021 album, "Never Will." Carmichael has collaborated with other musicians like Travis Tritt since dropping his 2018 debut song, "Hell on an Angel."
Tickets for the show will go on sale through LiveNation on Friday at 10 a.m., with the first 500 lawn tickets selling for $25 each, but other prices were not announced.
Please enable JavaScript to view this content.