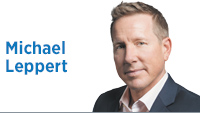 I have always wanted to teach. My favorite teachers always looked like they were having a ball while doing it, and while that might not be entirely true, it was true enough to make me envious.
Earlier this year, an opportunity to teach a class for the first time landed in my lap. Not only was the opening at my alma mater, Indiana University, the class was titled "Public Law and Government Relations." Since that is what I have been doing the last 30 years in some form or another, I couldn't have asked for a topic more suited for me.
Even so, teaching a group of juniors and seniors in college how to effectively petition the government and to advocate for a cause in an impactful way is a topic that has to start at the beginning—the very beginning. This persuaded me to take some professorial liberty with the class and change the learning objectives a little.
As the title would indicate, students should expect to learn "how a bill becomes a law" with the bonus topic of "how lobbyists make that happen." Yes, it is tempting to spend lecture time telling stories of the "good" old days of influence-peddling and how units of government were merely pawns in the game of the truly powerful. Those stories are entertaining and can be loaded with intrigue but are often exaggerated legends and not all that relevant.
Activism is changing. Yes, the internet and social media platforms are the things we look to first as the reasons. It is easy to post, like, share and retweet whatever "cause" might strike someone today. These platforms are also great sources of information for those in the private sector when trying to shape and advance their brands and consumers' loyalties to those brands.
Businesses are paying so much more attention than government is.
Because of this, I grew the scope of my class from "how a bill becomes a law and how to impact it" to "how an idea, issue or complaint can lead to cultural change." The tedious nature of changing laws, regulations or governmental policies is a large subset of the class, but not all of it.
This year's best example of changing activism comes in the arena of gun policy. The August mass shootings that occurred almost simultaneously in El Paso, Texas, and Dayton, Ohio, had politicians and the public bracing for gun-control legislation this fall in Washington. This time, things were different. The president and Republicans were trying to find a way to take a step toward gun-control advocates without alienating the NRA and GOP base voters. Red-flag laws and universal background checks looked possible.
Then a whistleblower paralyzed D.C. and the momentum vanished. Again.
But within 30 days of the shootings, Walmart announced it would stop selling some ammunition, exit the handgun market, and end the practice of allowing customers to openly carry guns in their stores. Customer safety is the retailer's priority, and the El Paso shooting happened at a Walmart store. Several other national retailers followed suit.
That is modern activism. I have long thought the private sector would end up playing a bigger role in gun safety than the government would. Not just because the private sector is more capable at some aspects of it, but also because government has become so incapable in general.
I am teaching my students that successful activism is rarely focused entirely on government anymore. For cultural change to occur, coalitions need to be built outside of government through advocacy that matters to a variety of communities. And if government is incapable of responding appropriately, many good campaigns will find a pathway to success without it.
Election Day just passed, and voter turnout was horrible again. Maybe through modern activism, voting might go "viral" again.•
__________
Leppert is an author and governmental affairs consultant in Indianapolis. He writes at MichaelLeppert.com. Send comments to ibjedit@ibj.com.

Click here for more Forefront columns.
Please enable JavaScript to view this content.