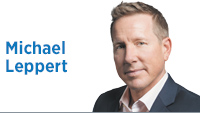 I came to work at the Indiana Government Center in March of 1995. I know it dates me, but that's not the point.
My first memorable experience at my new job was a rally. In March 1995, a gathering of approximately 20,000 Hoosiers descended on the Statehouse to show their opposition to the idea that the common construction wage should be repealed. Times have changed since then, and the law eventually was repealed, albeit 20 years later.
I remember thinking that sort of thing must happen here all the time. I could not have been more wrong.
It's been almost 25 years since the Indiana General Assembly has seen such a rally, a protest or a one-day gathering for a specific reason like that. Until Organization Day this year that is. The Red for Ed gathering was an impressive sight to see. Estimates vary, but about 15,000 teachers and friends blanketed the state government campus on Nov. 19, all dressed in red, all advocating for a new day in Indiana education policy. That new day starts with better pay but is not limited to it.
Last month, I wrote about how choosing the correct platform for activism is important. Public schoolteachers are, by definition, paid through public funds (taxes). So, a rally directed at the government makes sense. But when nearly 150 school districts cancel classes because of the event, and the size and bright red color of the crowds are both so visually remarkable, it makes national news.
Does that matter at all? Absolutely it does.
Because this is now what is happening in Indiana. For those of us here, of course, it is not the only thing going on. But the platform changed with what the teachers did in November.
They went to the Statehouse and announced their grievance to America. The top two news sources from my Google search the day after the rally were CNN and Time. The work going on at the top of state government to attract business development and investment is threatened by this now.
Any business looking to come to Indiana that does not dig deeply into the state of our education system is not doing their due diligence. Those who do the digging will see a system with ominous rankings in a variety of measurable performance standards and now will see a community of teachers who are livid about the way they have been treated.
That's a bigger problem than the next legislative session or the next school year. And it is not a problem that is in the protective silo of education policy. This is now an Indiana problem in every imaginable way.
Education is what the election will be about here in 2020. Most thought that already, but all doubt is now removed.
That is how it should be. It makes things easier for candidates and for voters alike. Gov. Eric Holcomb will need to communicate a pathway from today's strained state to tomorrow's brighter days. Holcomb will need to overcome a legacy of choices that have led us here, many of which preceded him. But he is the man in charge now—and incumbency is still largely an advantage.
What is also an advantage is a rather large group of local experts on education who are energized enough to pull off what they did a couple of weeks ago. They have begun framing the election on their terms and I hope they finish the job.
2020 will be a lively election season, and that is no surprise. What would be surprising is a campaign that does not have extremely thoughtful and persuasive answers spoken to a new and entirely different sea of red.•
__________
Leppert is an author and governmental affairs consultant in Indianapolis. He writes at MichaelLeppert.com. Send comments to ibjedit@ibj.com.

Click here for more Forefront columns.
Please enable JavaScript to view this content.