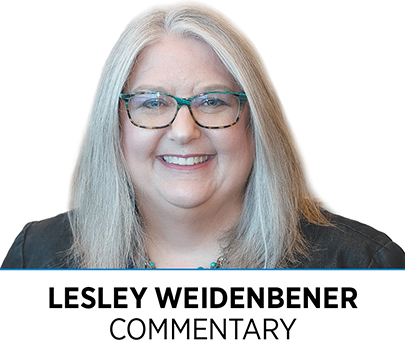 I've spent a ton of time the past few weeks preparing stories, podcasts, videos, newsletters and columns from IBJ's 2021 coverage to be entries in various contests. Too much time. It's a tedious task that requires endlessly making PDFs and uploading, uploading, uploading.
Sometimes it doesn't seem worthwhile, until I remember the goal is recognizing the incredible work that our reporters, editors and designers do to not only put together the weekly printed edition but also fill our website and newsletters with the latest news from central Indiana businesses and communities.
And with pride I entered IBJ's extensive coverage of the NCAA Men's Basketball Tournament. Every member of the newsroom played a role in writing stories, shooting photos, creating videos and editing newsletters.
Our coverage focused on the business side of the tournament: what it meant for hotels, restaurants and other vendors, what it meant for downtown and the local economy, and what it meant for the NCAA itself. And we solicited dozens of columns from community leaders about local impact. You can review that work at ibj.com/the-rebound.
It was a whirlwind at the time. Overwhelming to manage. But looking back on it nearly one year later, I'm proud of the work the team did to make it happen.
Of course, pandemic coverage continued during 2021 as well. Kudos to IBJ's health care reporter John Russell, who wrote dozens of stories about how the pandemic was continuing to affect workplaces, hospitals and Eli Lilly and Co., which produced an infusion that became a go-to treatment for COVID, until omicron sidelined it.
The entire newsroom pitched in on a project that told the stories of 11 central Indiana residents who were affected by the pandemic in different ways. One was dealing with lingering COVID symptoms, another had lost her job, yet another was still grieving the loss of her father. The package detailed the physical, psychological and financial impacts of the pandemic.
IBJ also sought to boost its coverage of economic development in 2021, with more stories about Gov. Eric Holcomb's strategy and the Indiana Economic Development Corp.'s new leader and staff. That work has continued into 2022, as we probe what about the state's strategy works, what needs to be retooled and what other states might be doing better.
Of course, reviewing what IBJ did last year has also been a reminder about what we can do better. More investigative work is on the list, and we are strategizing ways to make that happen without sacrificing the daily news you expect from us.
We also want to continue to increase our coverage of diversity, with a focus on important socioeconomic issues in the community as well as the people of color and women who are starting and running companies in Indianapolis. If you have not checked out our podcast covering diversity issues—"IBJ's The Freedom Forum with Angela B. Freeman"—you're missing some great conversations.
And we're working to give our subscribers more access to data from the lists our tireless researcher Terry Sowka creates for the paper each week. We know we can make that a great online resource for readers. So watch for more on that soon.
We want to know what else you expect from us. So please email me at lweidenbener@ibj.com and let me know what you think we should keep doing and what we can do better. I look forward to hearing from you.•
__________
Weidenbener is editor of IBJ. Contact her at lweidenbener@ibj.com.
Please enable JavaScript to view this content.