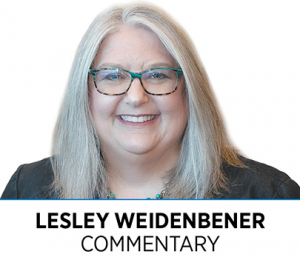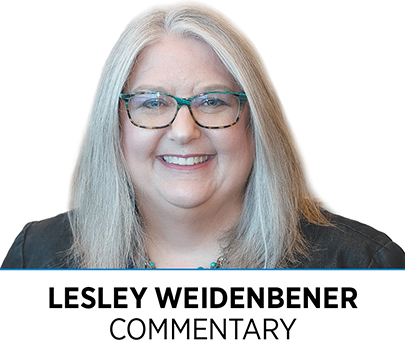 In newsrooms, and probably in many organizations, people seem to leave in waves. We recently lost three excellent people from our newsroom and have added three since the start of the year.
First, I want to tell you about the retirement of a treasured employee whose name you didn't read regularly in IBJ.
Bonnie Maurer worked for 27 years in the IBJ newsroom—always part time and mostly as a copy editor. During my seven years at IBJ, she read stories and columns after the designers laid them out on a page.
She did her work largely on paper. She'd receive printouts of pages and scour them for misspelled words, misplaced commas and missing context. She'd ask questions, mark up the pages and then give them to editors to make fixes.
Over the years, she had other duties as well, but it was as a copy editor that Bonnie most contributed to making IBJ an accurate publication.
But her work extends beyond IBJ. Bonnie is a published poet and an artist, who is currently focused largely on metal sculpture. I have several of her whimsical welded pieces in my landscaping.
Bonnie will truly be missed at IBJ, not just for her work but for her wit and wisdom as well.
Two reporters—Emily Ketterer and Leslie Bonilla Muniz—also left IBJ recently. Leslie is working at the Indiana Capital Chronicle, a new not-for-profit Statehouse news operation that will allow us to continue to run her stories. Emily is an editor at the Daily Journal in Johnson County, where she was a reporter before coming to IBJ.
I'm excited about the reporters we've hired to replace them.
Peter Blanchard is IBJ's new state government and economic development reporter. He came to IBJ from the Reporter-Times in Martinsville, where he was a general assignment reporter for about a year. Previously, Peter covered suburban Philadelphia for Patch and, before that, was founding editor of the Courtland Voice, a local news website covering a community in upstate New York.
You'll see Peter's work on today's front page. We're just getting to know him, but I can tell you already that he is smart and determined and has an infectious smile. He's a great addition to the newsroom.
This week, we also welcome a new city government and urban affairs reporter. Taylor Wooten is a recent graduate of Franklin College, where she ran cross-country, and completed a stint last month at the Politico Journalism Institute. She has also interned at Indianapolis Monthly, the Daily Journal in Johnson County and at TheStatehouseFile.com.
Taylor has already been busy writing about the City-County Council, and it didn't take us long to learn she asks great questions.
Finally, this spring, we hired Daniel Bradley, who covers what we call the North of 96th beat, which means anything business- or government-related in Hamilton and Boone counties. Daniel came to IBJ from WRTV Channel 6, where he was a digital reporter. Before that, he was a news assistant at The Indianapolis Star.
Daniel has helped IBJ stay on top of the Holcomb administration's efforts to develop an innovation district in Boone County and this week has a story on page 3A about the increasing costs farmers face. He has a fantastic attitude and great news judgment.
We hope you get to meet all of our newest reporters soon, and in the meantime, enjoy their work here and at IBJ.com.•
__________
Weidenbener is editor of IBJ. Send comments to lweidenbener@ibj.com.
Please enable JavaScript to view this content.