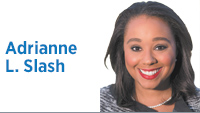 The entire city of Indianapolis seems to be under construction. I've seen the memes, heard the radio commentary, and have experienced delays just like the next person. But as a person who has been calling for investment in our infrastructure, the delays are welcomed. The delays are temporary discomfort for long-term comfort.
Construction of the Red Line, the cause of one of the current delays, has been on its way for years, and, in the eyes of many, it's about darn time. Whether it's a choice, or a necessity for many, the bus is a primary mode of transportation.
To users, this is the key to accessibility that they've needed for quite some time. I applaud IndyGo and everyone who has been involved in expanding transit options for all of Indianapolis. Get used to it: We're going to be sharing the road for good!
Something else to consider: A bus, a scooter, a bike and a car all have something in common—someone has rejected each of those as a first choice for transportation. If that's a tough pill to swallow, have some water.
In the past year, we in the city who chose a car as a primary mode of transportation have taken quite a blow to our normalcy. Just as we started to tolerate bike lanes—boom!—we got scooters. And, just as we started learning to look both ways and share the road with bikes and scooters—boom!—changes in lanes for the Red Line. I know change is hard, but this is a change we should all be proud to have in our city.
For many, having a driver's license is one of life's proudest moments. The license is a symbol of independence. Getting a car can be a symbol of freedom. But let's take a step back and remove our privilege for a moment. A bus pass and transit system that can connect the entire metropolitan area can also be symbols of independence and freedom, depending on what level of opportunity you're experiencing.
Shouldn't we want everyone in our city to be able to have access to independence and freedom to travel where they'd like, when they'd like, without having to make serious plans for how to get there?
Expanded transit might mean removing lanes, adding congestion and causing confusion. These are also the early signs of greater access, more dependable routes and route times, and, most important, breaking down the barrier of transportation for people who need it.
It might not be for you, but the Red Line and improvements to our IndyGo system will help students get to school, people get to work, and visitors explore our city with ease.
And an increasing number of people will need those options. Here's one example: In 2017, only 26% of 16-year-olds had a driver's license, compared to 92% in 1983, according to a Wall Street Journal article. That same article discussed a similar drop in 20- to 24-year-old drivers.
That's just one of the many reasons Indianapolis needs expanded transit options—including scooters, bikes, car sharing and reliable bus transportation—to keep the city relevant and help reverse its brain drain. Without expanded transit options, we'll lose even more young people to cities that have transit and accommodate their needs.
Indy is on the move, and we need to do what we can to provide access to everyone by supporting all the expanded transit options. Help us secure talent in this city, by embracing change.
Let's give the Red Line a chance—if not for you, for your neighbor.•
__________
Slash is a diversity and inclusion consultant in the health care industry and is president of The Exchange at the Indianapolis Urban League. Send comments to ibjedit@ibj.com.

Click here for more Forefront columns.
Please enable JavaScript to view this content.