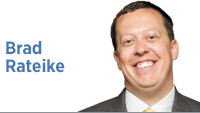 Earlier this month, I had the chance to judge the Indiana State Fair BBQ Cookoff. Five categories, sampling 30 kinds of barbecue, which, for barbecue fans, sounds amazing. For anyone else, it probably sounds disgusting. But I'm a barbecue fan and it was amazing.
I've judged other culinary competitions, so I had an idea of what I was to experience. What I didn't anticipate was that the biggest takeaway of this contest would not be learning about a secret spice, marinade or sauce, but about the importance of judging from a place of optimism, not skepticism.
The contest sponsors were very clear in explaining the need for objectivity. They were even more clear when sharing that all entries were to start with a perfect score, and that we could then deduct points if we found any imperfections.
Though barbecue doesn't feel emotions and it doesn't recognize a smile versus a scowl, the logic in giving the benefit of the doubt and letting something possibly disappoint you is a far better approach than expecting the worst and forcing something (or someone) to impress you. The sponsors weren't asking us to change the way we did our jobs; they were just asking us to begin with a more positive approach.
We've always been told the criminal justice system is founded on the premise that the accused are innocent until proven guilty. However, outside of the arena of law and order, and especially in politics, we often see an absence of this belief, and that might be where we need it the most. I refer you to Nov. 9, 2016, the day after the last presidential election.
My "day" began in the early hours of the morning, watching an acceptance speech by President-elect Donald J. Trump, and ended 20 hours later, watching thousands of protestors outside of Trump Tower yelling, "Not my president!" Politics can get emotional, so I understood their disappointment (kind of). However, this was beyond emotional, and all I could do was shake my head and think, "These people are so wrong; he is OUR president (elect)."
Those protestors on Fifth Avenue never gave Trump the much-deserved benefit of "starting with a perfect score" and docking points for imperfections. He won an election and was greeted with scorn and disbelief. In their minds, he couldn't have won a fair fight; he was not capable of winning a fair fight. But he did win, so they think the fight must not have been fair.
Cue the beginning of "Operation Chaos." Those who didn't like the president-elect decided this president must surely fail. No position could go unchallenged (and not in a polite manner), no victories (political or otherwise) gained. Rinse and repeat for four years.
While not everything that has transpired over the past 33 months has an immediate cause/effect from that response, we've seen the damage done by treating our leaders with such extreme and immediate contempt.
Mistakes have been made on all sides, but the president of the United States of America is the president of every American, whether you like him/her or not. As Americans, we should not only want the president to succeed; we need the president to succeed. The president's successes are our successes, and the world needs America to prosper.
I believe my barbecue-judging lesson will help me view experiences and people a little differently moving forward—in and out of politics. Every four years, when America elects a new president, I'll try to let that person start with a perfect score and hope it stays there.•
__________
Rateike is founder and owner of BAR Communications and served as director of cabinet communications for President Donald Trump. Send comments to ibjedit@ibj.com.

Click here for more Forefront columns.
Please enable JavaScript to view this content.