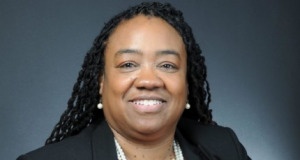 The Indianapolis Public Library's board of trustees on Monday appointed an interim CEO for the second time following the resignation of longtime chief executive Jackie Nytes in August.
Nichelle M. Hayes, who has led the Central Library's Center for Black Literature & Culture since it opened in 2017, will take over for current interim CEO, former Chief Public Service Officer John Helling, who is leaving after Friday to become deputy director at Hamilton East Public Library in Noblesville.
Nytes stepped down after a former employee's public testimony exposed deep discontent within the library system.
The approval of the leadership change came as the board met for the first time since the release of a lengthy "climate" report examining the library system's inner workings following allegations of racism.
"I appreciate the board giving me their confidence that I can help to lead and motivate and shepherd and, hopefully, to start the healing process for our system," Hayes said at the meeting. "We have amazing staff members across the board—up and down, people that came last week and people that have been here for decades—so I'm hoping that we can move, all of us, forward."
The decision came less than a week after the release of a 94-page, 2022 Climate Study Report completed by Indianapolis-based law firm Ice Miller. 
It included a staff survey of 458 employees, focus groups involving 104 employees, additional in-depth interviews, document reviews and more. The Ice Miller contract was worth $100,000.
According to the report, about 22% of Black library employees reported personally experiencing race-based offensive comments, harassment or bullying, while 28% said they'd directly overheard such behavior directed toward colleagues or patrons. That was several times higher than for white staff or for staff of any race regarding gender, religion, disability or other identity characteristics.
Ice Miller's Racial Equity Solutions team also noted a marked divide between management and non-management; dissatisfaction with the library's harassment policy, hiring process and promotion practices; backlash to diversity, equity and inclusion initiatives; and more. 
While 82% of employees said they trusted their co-workers to "do the right thing for this organization," just 49% trusted the library's executive committee and 29% trusted the board of trustees, according to the report. 
The report also recorded disagreement among board members themselves, noting a male-female and ideological split. It said that divisiveness had "caused dysfunction in executing and overall planning for the library's mission."
"We have seven strong members on the board. Just because we don't all vote together on every issue doesn't mean that we disagree on what's good and what's needed for this library," said board President Jose D. Salinas. "What we all agreed on for sure was [that] we needed—we wanted a climate study [and] we wanted to move forward."
The library served nearly 1.5 million walk-ins, hosted almost 7 million web visits and circulated 7 million materials in 2020, according to the most recent annual report.
Please enable JavaScript to view this content.