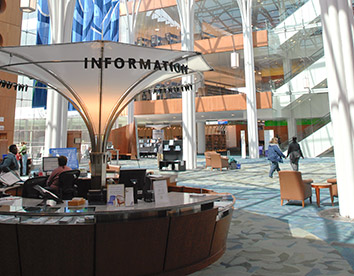 The Indianapolis Public Library system is under fire after a former employee raised allegations of a work environment laced with racism, discrimination and a lack of transparency in dealing with such issues.
The allegations came during a library board meeting late last month. Now, some employees and a former trustee interviewed by IBJ also are saying library management and board members have not fully and appropriately dealt with such matters in a constructive, public way.
CEO Jackie Nytes acknowledged that library management "has a lot of work to do," but said the complaints aren't the "universal view of all 575 employees."
She noted the library formed an equity council last year that is working to improve the diversity and equity of its staff, offers equity and racial-justice programming for patrons, and has many employees actively engaged in that work.
Former IndyPL employee Bree Jo'ann Flannelly worked at Central Library for five years before leaving in early 2021. On May 24, Flannelly was in front of library trustees at a public meeting in which she ran through anonymized accounts of employee comments, alleged hiring discrimination and called for a top-to-bottom investigation conducted by external experts.
"What I and every Black person needs is respect and work-appropriate support," Flannelly told trustees. "We just want to do our jobs."
In her address to the board, a letter to library leadership and an interview, Flannelly said Central Library employees made denigrating remarks about Muslim people's dental hygiene during the Islamic holy month of Ramadan, commented on how an African Uber driver supposedly smelled, and referred to robots giving greetings as "Japanese children."
Some employees have gone so far as to deem young patrons as autistic, said Stephen Lane, an Indianapolis special collections librarian at Central Library.
"We're not qualified to diagnose these kids," Lane said. "We're just here to provide a space of support and learning for them." Similarly, Flannelly recounted how a co-worker, once a friend, joked that another employee might be "on the spectrum" after pointing out his clothing choices.
Some staff members alleged that ableist microaggressions, bullying and racism were met with inaction from managers.
Flannelly said her co-worker's ableist and critical comments escalated. At a meeting in which Flannelly gave an opposing opinion on a project to add academic standards to some library activities, the co-worker cut the discussion off, Flannelly said.
When Flannelly went to her manager, she said, "She was trying to silence me and act like this was an interpersonal problem, instead of addressing the fact that this girl does not do this to other people."
"My boss told me that [the co-worker] was struggling with insecurities and that we had to be considerate of that, instead of the fact that she was being negative towards me and I had done nothing negative towards her," Flannelly added. "[The manager] acted like it was acceptable for her to be abusive towards me."
IndyPL leadership conducted an investigation into Flannelly's claims. The library's human resources director and chief public services officer interviewed staff "of different racial backgrounds and genders," according to the library.
In 2020, white people were 76% of professional staff, which includes Learning Curve activity guides like Flannelly, according to an IndyPL diversity report. About 15% were Black.
Addressing complaints
Nytes, the CEO, said the library encourages staff to go to managers with complaints and escalate up the chain of command if needed. Employees can also go to the library's union, which has specific procedures for harassment, she said. The union represents 260 to 280 full-time, salaried employees out of the library's total of nearly 600 staff members, according to AFSCME Local 3395 President Michael Torres.
"A lot of these staff members are younger, and perhaps they want to continue their career at the library," Torres said. "They're so afraid of retaliation that they come to the union first, a lot of times. They know as a body, and as an organization, as a representative, that we may have an easier path to addressal as opposed to a staff member going by themselves."
Employees can also give feedback at performance reviews or in exit interviews, Nytes said. Library diversity data on staff departures doesn't record when an exit is related to workplace culture.
When asked how employees can speak up without fear of reprisal, Nytes said the library had recognized a need for "some kind of totally anonymous process for people." IndyPL is looking at several software packages to provide that option, and at hiring a third party to formally mediate "personnel complaints," she said.
Both ideas came up through work with the library's since-departed diversity officer, according to Nytes.
Diversity, Equity and Inclusion Officer Jessica Moore put her notice in on May 5, according to IndyPL spokesman Joe Backe, and her last day was June 1. Nytes said Moore's departure was unrelated to Flannelly's case, and that IndyPL was working to fill the position. Moore was involved in the investigation, according to the library.
"This was a very frustrating time for her to leave, but the two are not connected, because she had a wonderful opportunity," Nytes said. "We're so proud of what she did for us and we're very proud of the fact that she's able to go do more good work someplace else."
IBJ couldn't reach Moore for comment.
Transparency
Criticism of the library's environment and openness wasn't limited to allegations by library employees.
Former IndyPL trustee Terri Jett, a political science professor at Butler University, joined the board in 2016 after Torres asked about her interest in the position, but said she was "immediately treated in a hostile way" when her support for unions became common knowledge.
Much of the board's discussion occurs during non-recorded joint committee meetings to resolve problems before the full board meetings, Jett said. Though the public can sit in on or listen to committee meetings live, only typed meeting minutes are saved online. Full board meetings are available for playback on IndyPL's YouTube channel.
After joint committee meetings, "when I felt a little frustrated about not really getting the answers that I was seeking … then I would ask questions in the public meeting," Jett said. "I wanted people to see what was happening, and that was interpreted as a hostile act. I have a lot of problems with that. I think a public entity like the library should be much more transparent."
In 2019, Nytes requested $416,000 in security for the library's Warren branch, according to typed minutes from a committee meeting, to address teenagers congregating in the parking lot. The branch is less than a 10-minute walk from Warren Central High School. Jett requested additional documentation to support the funding, which is reflected in the meeting minutes. What Jett said wasn't in the notes is that she was told the information did not have to be provided to her.
The nearby school is predominantly Black, Jett said. "I don't want to be associated with advocating for more security having to do with Black teens," she said, "and I was wondering, 'You know, what else did [the library] try? Was there some effort to … meet [the teenagers'] needs?'"
Jett said she did get the documentation at a later meeting, but that the information showed adults account for many of the library's security concerns, in addition to teens.
"Being treated like that was really disconcerting, and dehumanizing, a little bit," Jett said. She felt her questions were unwelcome, she said, because she was "a Black woman trying to exert some authority in that role. And not to be overbearing, or power hungry or anything—I was just trying to do my due diligence as I understood it."
How widespread?
Opinions were split on whether problems with discrimination, antagonism and transparency were episodic or part of a broader workplace culture. Flannelly described her experiences as typical for Black library employees.
"It was no surprise that that co-worker tried to bully me," Flannelly told trustees at the May meeting. "Black employees at the Indianapolis Public Library are often criticized for trifles, but rarely celebrated for their brilliant efforts."
Nytes said complaints from Flannelly and in letters from employees to the board after the May meeting are not fully representative of the library's staff.
"While they're not just an isolated experience, we also have 575 employees," Nytes said. "I have indications from employees that they are not using the universal view of all 575 of those employees, so I want to be careful that we don't overlook the extent to which there are large numbers of employees who are fully engaged in all of this work that we're doing."
About 70% of IndyPL's staff was white in 2020, according to the library's 2020 diversity report, published in April as 22 pages of notes, statistics and graphics in the middle of a 99-page board briefing report. About 18% of staff was Black, 4% was Hispanic or Latino, 3% was Asian, 3% was multiracial and 1% did not respond.
In comparison, about 61% of Indianapolis' population was white in 2019, the most recent year for which U.S. Census data is available. About 29% of residents were Black, 11% were Hispanic or Latino, 3% were Asian and 3% were multiracial.
Circulation Services Manager Cordia Watkins was part of an even smaller minority of Black employees when she joined IndyPL as a temporary accounting employee in April 1995, but said she hadn't faced problems with racism during her tenure.
"I've not experienced any racism or felt like I didn't get a position or any of the above, or, I have not been hurt—let me say it that way—from my own personal experience," Watkins said. "But do I believe that there are people in the library that are racist? Of course. I believe that. I would be naive to think differently."
Watkins, who chairs the library's African American History Committee, said the group struggled in its early years to create programming with its limited funds, but that it was eventually able to get more library support. She also recalled supervising an employee five to eight years ago who handled low-income, often non-white, customers differently, and who was put on a personal improvement plan for it. Watkins said she was satisfied with how the library addressed the situation.
"I feel like the library is a great place to work, and I've had a great working environment," Watkins said. "But I don't want to diminish anyone's experience at all."
Initiatives
In addition to a spate of equity and racial-justice offerings for library patrons, including going late fine-free, IndyPL has worked to improve the diversity and inclusion of its staff.
A library equity council, composed of employees from across the organization, is working on retention, recruitment and other areas requiring systemic change, Nytes said. And with a grant from the Indianapolis Foundation Library Fund, IndyPL will send all of its staff to a course about institutional racism over the next two years, while the executive team, managers and supervisors will have to participate in unconscious bias training, according to library documents.
And some trustees said they felt they were able to ask questions and get substantive answers.
"The very first board meeting that I attended, it was on the College Avenue branch, and at that meeting, I asked about protocols and the answers were given straight up," said Khaula Murtadha, one of the trustees who asked that Flannelly be allowed to speak at the May board meeting.
"So, I've always felt that my questions were answered, no question about it," said Murtadha, who is also IUPUI's associate vice chancellor for community engagement.
"In my experience with the library leadership, if I do have a question or anything like that, they have been responsive in my request for additional information," said Curtis Bigsbee, another trustee and city of Lawrence deputy chief of police. "So, I haven't personally had those issues with them."
Personnel vs. culture
One frustration shared by several employees interviewed by IBJ is that larger issues of discrimination are often deemed personnel issues that the library will discuss only in private with the affected parties. That rarely leads to open, public discussions to help address broader issues.
"The one thing I can say about the library is, it's hard to stand with people, because [situations are deemed] a matter of personnel issues," Watkins said. "We don't have the right to know."
IndyPL emphasizes protecting personal information, noting in a statement that it is required to do so by law: "The Library, as a matter of policy and practice, does not disseminate the specifics of confidential personnel investigations to the extent possible and permitted by law."
At the May meeting, board president and Marion Superior Court Judge Jose Salinas read a statement on library personnel policy and verbally interrupted Flannelly's speech, in library- and attorney-approved attempts to prevent her from speaking.
Lawyers "were clear with us and [Salinas] that information that references staff by name, or by position or title, is not appropriate for a public meeting, and it would be appropriate to stop [Flannelly] from doing so," Nytes said.
A draft statement Flannelly sent the library in advance of May's meeting did name specific employees and allegations against them, but the statement she read at the meeting did not name names.
Moving forward
IndyPL had planned to conduct a study of the library's workplace climate before the end of 2021 even before the May board meeting, Nytes said, but it's "obviously moved to a higher priority."
Trustee Murtadha will oversee the study, which she anticipated would include surveys, focus groups and interviews.
"That data can be used to drive action planning, and can also be used for intervention practices," Murtadha said. "It can also help program implementation and improving what we do. The data would be collected regularly, and it wouldn't be just a one-time shot."
The study will coincide with IndyPL's 2021-2023 strategy, Murtadha said, which emphasizes racial equity, diversity and inclusiveness as values. Trustees approved the 16-page plan in February.
Since leaving IndyPL, Flannelly has focused on her studies and moved on to work at Butler's Irwin Library, but she said her experiences with the organization continue to damage her mental and physical health and confidence in the workplace.
Jett was not renewed as a trustee. She was replaced in May by Hope Tribble, who leads management consulting firm Engaging Solutions.
Lane said his time at IndyPL has him avoiding the library on his time off and has hurt his mental health.
"Now, they're talking about me in leadership, sending emails about my approach and my experiences," he said. "I was told by someone that I was referred to as a 'gay radical,' stuff like that. So, you know, it wasn't a pleasant experience. I definitely felt targeted, and now I just feel isolated."
Still, after Flannelly's address to the board, several Black staff members have come to Lane's office to talk about their own experiences, he said. And he's stayed because of connections like that.
"I'm still here because I've made really good connections with the community," he added. "I've really enjoyed the work that I'm doing with the community, and, you know, [IndyPL leaders] need someone here to challenge them. … The fight is here."•
Please enable JavaScript to view this content.