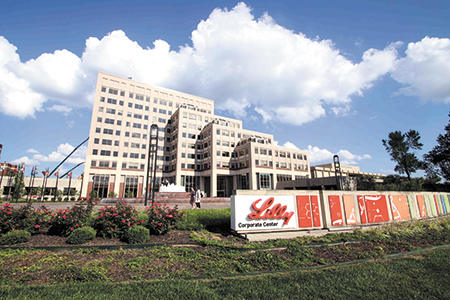 U.S. government officials are putting an early end to a study testing an Eli Lilly and Co. antibody drug for people hospitalized with COVID-19 because it doesn't seem to be helping them.
That disclosure, along with the release of third-quarter earnings that fell short of analysts' expectations, caused Lilly shares to fall 3.5% in premarket trading Tuesday.
Independent monitors had paused enrollment in the study of hospitalized patients two weeks ago because of a possible safety issue. But on Monday, the National Institute of Allergy and Infectious Diseases, which sponsors the study, said a closer look did not verify a safety problem but found a low chance that the drug would prove helpful for hospitalized patients.
It is a setback for one of the most promising treatment approaches for COVID-19. President Donald Trump received a similar experimental, two-antibody drug from Regeneron Pharmaceuticals Inc. on an emergency basis when he was sickened with the coronavirus earlier this month.
In a statement, Indianapolis-based Lilly noted that the government is continuing a separate study testing the antibody drug in mild to moderately ill patients, to try to prevent hospitalization and severe illness. The company also is continuing its own studies testing the drug, which is being developed with the Canadian company AbCellera.
On Tuesday morning, Lilly reported third-quarter earnings of $1.4 billion after one-time charges, up 3% from a year ago. But earnings per share were $1.54, lower than Wall Street expectations of $1.78. Lilly stock fell as much as 4.5% in premarket trading before rebounding to $136.70, down 3.5%, as of 7:30 a.m.
The company said quarterly revenue climbed 5% to $5.7 billion, with much of the increase due to products launched in the past six years, including drugs for inflammatory diseases, diabetes and cancer.
"Despite ongoing health care disruptions from the global pandemic, we remain confident in the strength of our underlying business and continue to manage our operations to deliver success over the long term," David A. Ricks, Lilly's chairman and CEO, said in written remarks. "At the same time, I am incredibly proud of the commitment and progress Lilly has made in the fight against COVID-19."
In the third quarter, Lilly incurred expenses of $125 million to develop new therapies to fight COVID-19, "with the hope of soon offering a new treatment option for patients most at risk from the virus," Ricks said.
The company also took special charges of $101 million for severance and restructuring "to reduce the company's cost structure," but did not say how many jobs were eliminated or where. The company also took a charge of $77.7 million related to business development transactions with Centrexion Therapeutics Corp. and AC Immune SA.
But the largest overhang seemed to be the announcement that Lilly's much-touted antibody treatment did not work on the sickest patients—those hospitalized from the disease.
Lilly noted that three other trials for the antibody are continuing: for patients with mild to moderate symptoms, for recently diagnosed patients in ambulatory, non-hospital settings, and for prevention in staff and residents in long-term care facilities. Those all are hefty markets, with big potential for medical treatments.
Even so, the news took some of the wind out of Lilly's positive announcements in recent weeks that it would seek emergency use authorization from the Food and Drug Administration, and that it had teamed up with the Bill and Melinda Gates Foundation to help distribute the drug around the world.
Antibodies are proteins the body makes when an infection occurs; they attach to a virus and help it be eliminated. The experimental drugs are concentrated versions of one or two specific antibodies that worked best against the coronavirus in lab and animal tests.
Lilly and Regeneron have asked the FDA to grant emergency use authorization for their drugs for COVID-19 while late-stage studies continue. Lilly says its request is based on other results suggesting the drug helps patients who are not hospitalized.
Please enable JavaScript to view this content.