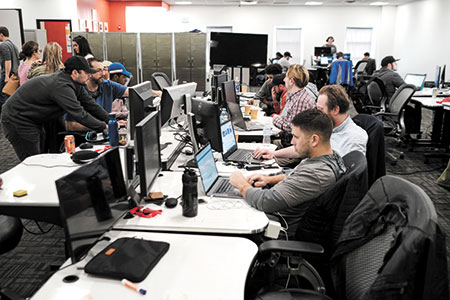 The Lilly Endowment Inc. on Wednesday said it has approved $93.6 million in new grants to help Indianapolis residents living in or near poverty—an amount nearly twice as much as the endowment initially planned to donate to the Enhancing Opportunity initiative.
The grants, which range from $180,000 to more than $8 million each, will be awarded to 28 Indianapolis-based organizations to fund new programs aimed at financial security or expand existing programs that address poverty-related challenges.
The Indianapolis-based endowment initially allocated $50 million for the initiative, but after receiving applications from 220 organizations, and because of challenges brought on by the COVID-19 pandemic, the endowment said it decided to increase the total amount of grants.
The funding will be used to expand access to high-quality early childhood education and mentoring programs; help residents find "good and promising jobs" that either pay or will eventually pay wages of at least $18 per hour and offer employer-sponsored benefits; strengthen neighborhoods, especially those with high concentrations of poverty; and remove economic prosperity barriers for Black and Latino residents.
The endowment acknowledged that the grants will not end poverty in Indianapolis, but the hope is that it could make an impact toward putting thousands of Indianapolis residents on the path to self-sufficiency.
"We are heartened by the significant number of organizations that care deeply about these issues and are working tirelessly to address them," Rob Smith, senior vice president for collaborative strategies for the endowment, said in a written statement. "But we understand that the grants awarded through this initiative are able to support only a subset of these organizations and that all of their efforts and much more will be needed to adequately address the challenges of poverty in our community."
The endowment awarded the largest grant—nearly $8.1 million—to Eastern Star Church Jewel Human Services Corp.
The church will use the grant to fund the construction of The Rock Community Center for Children & Youth, a multi-purpose facility where programs and services for youth and adults facing economic hardships will be offered. The facility will be built on the main campus of Eastern Star Church in the Arlington Woods neighborhood. The poverty rate in that neighborhood was 30% as of 2018, according to data from the The Polis Center at IUPUI.
Indiana University Health Foundation received the second-largest grant, $8 million. The foundation will use the funds to establish the Mosaic Center for Work, Life and Learning, which will offer personal, financial and career coaching and mentoring.
The other grants awarded:
Central Indiana Community Foundation—$7.3 million
Indianapolis Neighborhood Housing Partnership—$7 million
Goodwill of Central and Southern Indiana—$6.95 million
Local Initiatives Support Corp.—$6.5 million
Eleven Fifty Academy—$5 million
Crossroads Rehabilitation Center—$5 million
HVAF of Indiana—$4.7 million
Sagamore Institute—$4.58 million
Southeast Community Services—$4.09 million
Coalition for Homelessness Intervention and Prevention—$3.5 million
Family Development Services—$2.48 million
Workforce Inc. (RecycleForce)—$2.3 million
Felege Hiywot Center—$2 million
Indiana Latino Institute—$2 million
Martin Luther King Multi-Service Center—$1.9 million
Foster Success (formerly Indiana Connected by 25)—$1.77 million
Kheprw Institute—$1.6 million
Englewood Community Development Corp.—$1.5 million
New Beginnings Church—$1.47 million
Horizon House—$1.4 million
Immigrant Welcome Center—$1.05 million
La Plaza—$1.03 million
Neighborhood Christian Legal Clinic—$1 million
Dream Alive Academy—$631,490
Dove Recovery House for Women—$483,000
Indianapolis Private Industry Council (EmployIndy)—$180,000
Please enable JavaScript to view this content.