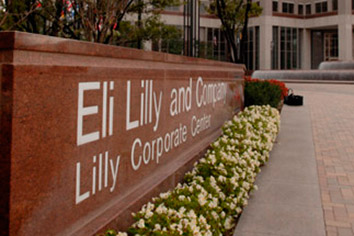 Eli Lilly and Co. is expanding its drive-thru testing for COVID-19 to workers in businesses deemed essential by the state of Indiana who have regular public contact as part of their job, and to people in the community showing symptoms who are vulnerable to severe complications of the virus.
That means that tens of thousands of additional people, potentially, who might not have been eligible to get tested elsewhere, could now be tested. Previously, Lilly had restricted its testing to health care workers and first responders.
Lilly said Wednesday it is throwing open the testing to two new large groups, effective immediately.
The first is essential workers who have regular contact with the public. The group, as defined by the Indiana State Department of Health, includes people who work in grocery stores, pharmacies, banks, hardware stores, delivery services, restaurants for takeout or delivery, and many other types of organizations.
The second is people 65 and older who have symptoms of sore throat and trouble breathing, and who have a serious underlying illness, such as chronic lung disease, a serious heart condition, and immuno-compromised patients (including those undergoing cancer treatment), and those with uncontrolled serious medical conditions (including diabetes, liver disease and renal failure).
Eligible people in both sets of groups must have an appointment and a physician's written order to be tested. Lilly said the testing site is not available to members of the public beyond those groups. There is no charge for the testing.
People who fall into one of the above groups can visit https://www.info.lillycovid19testing.com/ for more information on specific requirements for testing, registration instructions and call center hours.
Lilly opened the drive-thru site March 23 at its Indianapolis headquarters on downtown's south side. In addition to testing people at the drive-thru, Lilly is doing lab work for outside testers, including hospitals.
To date, Lilly has tested nearly 6,000 individuals. About half of the tests came patients who were sampled at hospitals. The other half were patients tested at the drive-through facility.
Lilly said about 10% to 15% of first responders and health care workers it is testing are testing positive for COVID-19.
Please enable JavaScript to view this content.