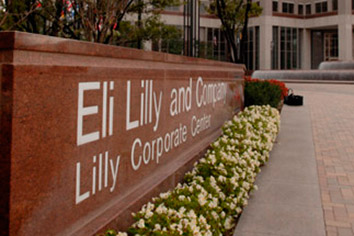 Indianapolis-based Eli Lilly and Co. announced Thursday that it has received a Fast Track designation from the U.S. Food and Drug Administration to investigate its diabetes drug tirzepatide for the treatment of adults with obesity.
Lilly received approval for tirzepatide as a diabetes drug in May under the brand name Mounjaro, but the drug could become a more profitable product for Lilly as an obesity treatment.
The drug has been closely watched by medical professionals and is viewed by financial analysts as a possible blockbuster, with potential annual sales in the billions of dollars, possibly more than $10 billion a year.
Based on discussions with the FDA, Lilly said plans to initiate a rolling submission of a new drug application for tirzepatide as a treatment for adults with obesity or overweight with weight-related comorbidities this year. A rolling submission will allow Lilly to submit completed sections of an application for review by FDA rather than wait until all sections are completed.
Lilly said the application will be based on the results gathered during two Phase 3 clinical trials. The first is already completed and the second is expected to be finished by the end of April. Lilly said it hopes to complete the application shortly after the second trial is finished.
The drugmaker said obesity was common among study participants in its diabetes trials for tirzepatide, with an average body mass index of 32 to 34. The study showed that patients achieved an average weight loss of 15 pounds more with tirzepatide than a placebo when neither were used with insulin, and 23 pounds more than a placebo when both were used with insulin.
Obesity is often a precursor to diabetes. Doctors warn their overweight patients to shed pounds or risk getting diabetes, a serious chronic disease that can lead to kidney disease, serious foot problems and blindness.
The drug uses a chain of 39 amino acids to mimic the action of two natural hormones known as GIP and GLP-1, which stimulate insulin secretion, delay gastric emptying, suppress appetite and regulate blood lipid metabolism.
Lilly said it tested the drug in more than 20,000 patients in 10 clinical trials between 2018 and 2021. Patients reduced their A1C  up to 2.58% and reduced body weight as much as 13%.
"We are pleased with the FDA's decision to grant Fast Track designation for tirzepatide, and we look forward to completing our rolling submission next year," said Mike Mason, president of Lilly Diabetes, in written remarks. "Obesity is a chronic disease that impacts the health of nearly 100 million Americans and is a significant driver of health care costs. "
Please enable JavaScript to view this content.