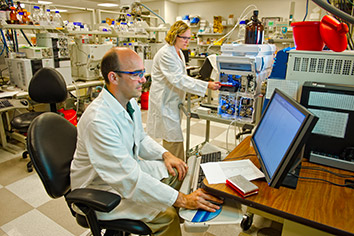 Eli Lilly and Co. has agreed to supply 300,000 vials of its experimental treatment for COVID-19 to the U.S. government for $375 million, the Indianapolis-based drugmaker announced Wednesday.
Lilly said the government will accept the vials of the drug, called bamlanivimab, provided the Food and Drug Administration grants emergency authorization to use it for treatment of mild to moderate COVID-19 in high-risk patients.
The announcement comes two days after the National Institute of Allergy and Infectious Diseases halted a study of the drug that it had sponsored for hospitalized patients, saying it found a low chance that the drug would prove helpful for that patient group.
The deal seems to indicate that the government believes the experimental drug has a future in treating people who become sick from COVID-19, but not so sick that they require hospital treatment.
Lilly noted that three other trials for the antibody therapy are continuing: for patients with mild to moderate symptoms, for recently diagnosed patients in ambulatory, non-hospital settings, and for prevention (or prophylaxis) in staff and residents in long-term care facilities. Those all are hefty markets, with big potential for medical treatments.
"While the results in hospitalized patients were disappointing, we don't expect this to affect our chances of success in prophylaxis or in early treatment," Dr. Dan Skovronsky, Lilly's chief scientific officer, told investors on Tuesday.
The drug is not a vaccine, but a neutralizing antibody, or protein the body makes when an infection occurs. They attach to a virus and help it be eliminated. The experimental drugs are concentrated versions of one or two specific antibodies that worked best against the coronavirus in lab and animal tests.
The purchase agreement is for delivery over the two months following an emergency use authorization, and also provides the option for the U.S. government to purchase up to an additional 650,000 vials through June 30, 2021. The purchase would be under the same terms as the base agreement and subject to agreement from Lilly, product availability and the medical need in the U.S., the company said.
"The U.S. is experiencing a surge in COVID-19 cases and associated hospitalizations, and we believe bamlanivimab could be an important therapeutic option that can bring value to the overall healthcare system, as it has shown a potential benefit in clinical outcomes with a reduction in viral load and rates of symptoms and hospitalizations," Lilly CEO Dave Ricks said in written remarks.
If an emergency use authorization is granted, the government has committed that patients will have no out-of-pocket costs for the medicine, although health care facilities may charge a fee for the product's administration, Lilly said.
The federal government, in partnership with state health departments, is developing a government allocation program for bamlanivimab. As part of this government program, Lilly is partnering with Operation Warp Speed and a national distributor to finalize distribution plans and shipping preparations.
Lilly said it expects to manufacture up to 1 million doses of bamlanivimab by Dec. 31, with 100,000 doses ready to ship within days of authorization for use around the world. The supply is expected to increase substantially early next year, as Lilly brings additional manufacturing resources online.
"To ensure rapid access of this treatment to patients around the world, Lilly has invested in large-scale manufacturing of bamlanivimab at risk – even before data demonstrated its potential to become a meaningful therapeutic option for COVID-19," the company said in its announcement.
Please enable JavaScript to view this content.