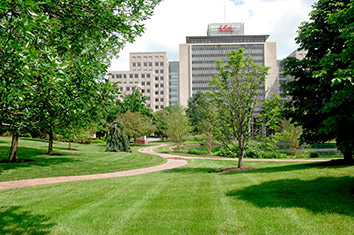 As the race continues to find treatments for COVID-19,  Eli Lilly and Co. is teaming with a Chinese biotech, its latest push to find a treatment for the disease.
The Indianapolis-based drugmaker said Monday it has signed a licensing agreement with Junshi Biosciences, an eight-year-old firm based in Shanghai that plans to begin clinical trials this year on its lead compound, which is designed to block the binding of viruses to receptors in the body. Junshi said it completed preclinical studies in two months, including toxicity studies.
It marks at least the fourth program Lilly is pursuing to find treatments for COVID-19, a disease that has claimed more than 249,000 lives worldwide, including more than 68,000 in the U.S.
Lilly said the data generated by Junshi suggests that that the company's  lead compound may have appropriate properties to support testing for therapeutic use in patients, as well as exploring its potential for preventing infection in at-risk individuals.
"As the number of global cases continues to grow, there is an urgent need to study multiple complementary approaches to address this disease," said Dr. Daniel Skovronsky, Lilly's chief scientific officer and president of Lilly Research Laboratories, in written remarks.
Lilly will receive an exclusive license to conduct clinical development, manufacturing and distribution of products outside of Greater China. Junshi Biosciences will maintain all rights in Greater China. Junshi said the licensing agreement will help the small biotech accelerate clinical development of its antibodies.
Terms of the licensing agreement were not disclosed.
Meanwhile, Lilly is moving forward on numerous other fronts to find a treatment for COVID-19. The company cs working in collaboration with Canadian biotech AbCellera to characterize virus-neutralizing antibodies obtained from one of the first U.S. patients that recovered from the virus. Lilly said it plans to apply to the Food and Drug Administration by the end of May to allow the start of clinical testing in patients.
It is in mid-stage clinical trials of an antibody in pneumonia patients hospitalized with COVID-19 who are at a higher risk of progressing to acute respiratory distress syndrome. The trial is testing whether the antibody can reduce the progression of the disease or the need for mechanical ventilation. Lilly said it expect results from the trial in the coming months.
Last, Lilly is testing an approved arthritis drug, baricitinib, to see whether its properties in reducing inflammation can also attack the virus. However, baricitinib, also known under the brand name Olumiant, is a fairly restricted drug in the United States due to its safety profile.
The FDA approved the drug in 2018, but cited safety risks of infections, malignancies and blood clotting. It said Lilly could only sell a low-dose version, reducing the number of patients eligible for the treatment. And the drug was slapped with a black box warning, the strictest labeling of prescription drugs.
Please enable JavaScript to view this content.