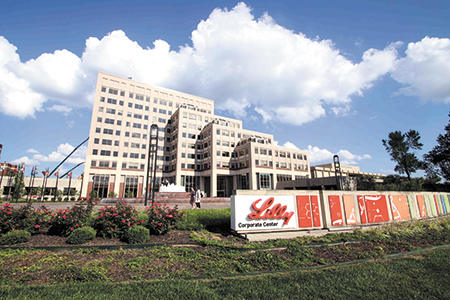 Eli Lilly and Co. said Tuesday it plans to invest another $450 million at a factory in North Carolina that makes diabetes medicines and devices.
The move will create at least 100 new jobs at the plant, located in Research Triangle Park, the largest research park in the country, home to hundreds of high-tech companies. Indianapolis-based Lilly said North Carolina's workforce has extensive experience in pharmaceutical manufacturing.
The expansion will include the filling of injectable drugs, device assembly and packaging capacity to support an increased demand for Lilly's incretin products that treat diabetes.
Lilly makes at least seven top-selling diabetes drugs, which accounted for more than $3 billion of the $6.7 billion in revenue during the third quarter of 2022. Lilly will announce fourth-quarter and full-year results on Feb. 2.
Since 2020, the drugmaker has committed roughly $4 billion to new manufacturing facilities in North Carolina, including $1.7 billion for the development and expansion of its site at Research Triangle Park.
"Expanding our operations at Research Triangle Park will accelerate the rate at which we can produce medicines that patients rely on to address serious health challenges like diabetes," Edgardo Hernandez, president of Lilly manufacturing operations, said in written remarks.
The announcement comes about eight months after Lilly said it plans to invest $2.1 billion in two new manufacturing sites that will anchor a new innovation district in Boone County, creating about 500 jobs.
The Boone County site will increase Lilly's manufacturing capacity for active ingredients and new drug modalities, such as genetic medicines, seen as a promising way to deliver treatments for a wide range of diseases.
Shares of Lilly edged up $1.37 or about 0.4%, to $343.58 in early trading Tuesday.
Please enable JavaScript to view this content.