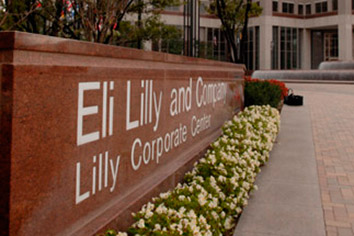 Eli Lilly and Co. will begin offering drive-thru testing for COVID-19 on Monday at its Indianapolis headquarters, but the service will be limited for now to physicians, nurses, pharmacists and other health care professionals.
The drugmaker said Sunday afternoon that the general public will not be able to receive tests at this time, and it did not say whether it might broaden the drive-thru service in the future to include non-health care workers.
The announcement came four days after Lilly said it was exploring setting up a drive-thru testing service for the public to take the crunch off hospitals, which are doing the bulk of the testing.
Around Indiana and the nation, hospitals have been deluged with calls from people seeking COVID-19 testing. Indiana hospitals have said they have had to turn away most people, under direction from the Indiana State Department of Health, because resources are sharply limited.
Lilly's newly set-up drive-thru testing service comes with plenty of restrictions. The only people eligible are health care workers "who are participating in the active provision of health care as part of the COVID-19 crisis," Lilly said.
Those health care workers must have a physician's order, and the order must include confirmation of an individuals' role as an active health care worker. Family members of health care workers are not eligible.
Health care workers who meet the testing criteria and already have a written doctor's order can register for the test by calling 800-630-6939, between 8 a.m. and 4 p.m., starting Monday. To avoid overwhelming the service, Lilly asked that the public not to call the number.
"Please be prepared to provide a physician's order requesting COVID-19 testing and documenting that you are an active health care worker as well as your physician's fax number to receive your test results," Lilly's announcement said.
People seeking tests will be required to either upload a photo or electronic copy of a  physician's order at the time of registration. In some cases, the worker can bring a printed copy to the drive-thru testing center.
Lilly did not provide details on the location of its drive-thru testing service, other than to say it would be at its Indianapolis headquarters, which is south of downtown.
Lilly did not give any new details Sunday about its plans—also rolled out last week—to provide more tests to the state health department. At the time, Lilly said it expected to ramp up capacity quickly, making about 1,000 tests a day available here within a week, and eventually up to a peak of 2,000 tests a day, depending on the availability of chemicals, called reagents, which are used in the testing process.
Lilly officials said its scientists will use company research laboratories to analyze samples taken in Indiana health care facilities, including nursing homes and emergency rooms.
As of Saturday evening, the department of health had conducted 1,494 tests in all—far lower than several other states that have been more aggressive about making tests available.
Please enable JavaScript to view this content.