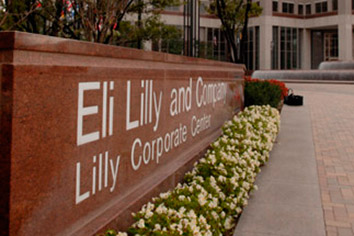 Eli Lilly and Co. said Monday it will begin testing an experimental antibody on residents and staff at U.S. nursing homes, where the novel coronavirus has raged through many of the facilities, accounting for about 40% of all COVID-19 deaths.
The Indianapolis-based drugmaker said it has launched a late-stage trial for the neutralizing antibody it is developing along with Canadian partner AbCellera Biologics Inc. Lilly plans to enroll up to 2,400 residents and staff at nursing homes and assisted living facilities. It will conduct the trials in partnership with the National Institute of Allergy and Infectious Disease.
Lilly shares rose 2.7% in premarket trading on the news, to $150.29 each.
The antibody, known as LY-CoV55, is already in human testing at major medical centers in the United States, including the New York University Grossman School of Medicine and Cedars-Sinai in Los Angeles. Lilly has not announced results of those tests, which began in June.
Lilly did not say which nursing homes would get the tests. It said it will enroll residents and staff who live or work at facilities that recently had diagnosed cases of COVID-19 and who are now at high risk of exposure.
In Indiana, more than 1,400 residents of nursing homes have died of COVID-19, accounting for more than half of the deaths from the virus.
"COVID-19 has had a devastating impact on nursing home residents," said Dr. Daniel Skovronsky, Lilly's chief scientific officer. "We're working as fast as we can to create medicines that might stop the spread of the virus to these vulnerable individuals. While it's not easy to conduct clinical trials in this setting, we're taking on the challenge in an effort to help those who need us the most."
Lilly said it will evaluate the effectiveness and safety of the treatment, testing whether a single dose reduces the rate of SARS-CoV-2 infection through four weeks, as well as complications of COVID-19 through eight weeks.
Lilly scientists developed the experimental treatment using an antibody identified by AbCellera, a small biotech based in Vancouver, from a blood sample taken from one of the first U.S. patients who received from COVID-19.
The drugmaker said it has created customized mobile research units to support the on-site study to address the challenging aspects of running a clinical trial in a long-term-care facility during a pandemic.
The units include a custom retrofitted recreational vehicle to support mobile labs and clinical trial material preparation, along with a trailer truck that will deliver all clinical trial supplies needed to create an on-site infusion clinic.
To further minimize the burden on these facilities that normally do not conduct clinical trials, additional staff will be at the facilities to assist with the operations of the study. Lilly will deploy its mobile research unit fleet in response to outbreaks of the virus at long-term-care facilities across the U.S.
Lilly said the compound is a potent, neutralizing antibody directed against the spike protein of SARS-CoV-2. It is designed to block viral attachment and entry in human cells, thus neutralizing the virus. It is not a vaccine, which is a different type of treatment that is used to stimulate the production of antibodies and provide immunity against the disease.
Lilly is also testing several other experimental compounds for treatment of COVID-19, but has yet to announce results of them.
Please enable JavaScript to view this content.