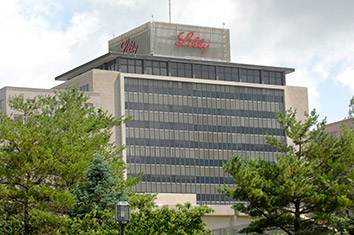 Eli Lilly and Co. plans to supply up to 600,000 doses of a new experimental COVID-19 antibody to the U.S. government that it says works against omicron and all other known variants of the virus.
The deal hinges on the drug, called bebtelovimab, getting emergency use authorization from the Food and Drug Administration, the Indianapolis-based drugmaker said in an announcement Thursday afternoon.
The deal calls for the federal government to pay Lilly more than $720 million. Lilly said the antibody, which is administered by infusion, would be free for patients.
The antibody is designed for mild-to-moderate cases of COVID-19 in patients who are at high risk of progression to severe illness, including hospitalization or death.
Lilly executives said during an earnings conference call last week they had already manufactured several hundred thousand doses of the antibody and had submitted the drug to the FDA for emergency use authorization. It's unclear how quickly that authorization would be provided.
The drugmaker said that early testing demonstrated that the antibody is effective against omicron, which is currently the predominant variant in the United States.
The tests also show that the antibody "retains neutralization against all other known variants of interest and concern, including BA.2," Lilly said, referring to an Omicron subvariant that has been gaining traction in some parts of the world.
The supply agreement calls for the delivery of up to 600,000 doses no later than March 31, with an option of 500,000 additional doses no later than July 31.
It's the third antibody that Lilly has developed for treatment of COVID-19. In December, the U.S. government paused distribution of Lilly's two previous antibodies, saying they did not appear effective against the omicron variant. Those antibodies, bamlanivimab and etesevimab, were administered together in a cocktail.
Unlike vaccines, the antibodies do not prevent a person from getting infected with the virus, but are designed to neutralize the disease if given after a person is infected.
Lilly rang up $2.24 billion in sales of bamlanivimab and etesevimab last year, representing about 8% of its total revenue, according to full-year and fourth-quarter results released last week.
Please enable JavaScript to view this content.