Keep Indianapolis Beautiful, the 43-year-old environmental not-for-profit that plants trees and cleans public spaces around the city, has named a new president and CEO to succeed David Forsell, who left the organization late last year.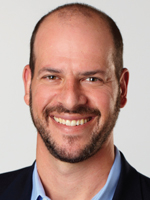 The group has hired Jeremy Kranowitz, most recently the managing director for sustainability at New York City-based Hazon Inc., to fill the top post. Hazon focuses on global environmental sustainability with an emphasis on Jewish communities.
Kranowitz, 49, will start with KIB on Sept. 1.
"Jeremy has an incredible depth of experience in the environmental space and leading not-for-profit-organizations," said David Feinberg, chair of KIB's board of directors, in a media release. "What has us most excited is his track record of building collaborative relationships with other organizations. We believe his leadership will not only strengthen our current programs but help us identify new ways to meet our mission."
Kranowitz also was founder and manager of FurtherwithFood.org, where he built a public-private partnership between government agencies, trade associations, and environmental and hunger-relief groups to combat food loss and waste.
Prior to that, he was executive director and president of Stamford, Connecticut-based Sustainable America, a national non-for-profit that focuses on sustainability of the nation's food supply and transportation fuel systems.
Forsell resigned from KIB in late 2018 after 15 years as its president. Over his tenure, the group went from a $1.1 million annual budget and nine staff members to a budget of more than $4 million and 28 full-time staff members. It also employs more than 100 part-time workers every summer.
Every year, KIB works on nearly 900 community projects with more than 15,000 volunteers.
Christine Duncan, a former vice president of programming and board member for KIB, has served as interim president since Nov. 19.
Please enable JavaScript to view this content.