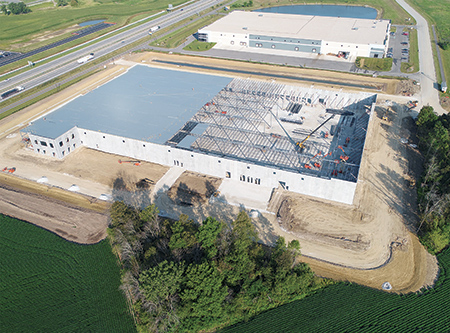 The red-hot Indianapolis industrial real estate sector is nearing all-time records in vacancy, construction and absorption, newly-released market reports obtained by IBJ show.
One report, from the local office of Chicago-based Cushman & Wakefield, shows Indianapolis in rarefied air after a strong third quarter.
The digest, generally composed of buildings larger than 10,000 square feet, indicates about 6 million square feet of construction has been completed so far this year, with another 5 million to 6 million square feet expected to be finished by the end of the year.
If that occurs, it would blow past the record of just over 8 million square feet of industrial space completed in a single year.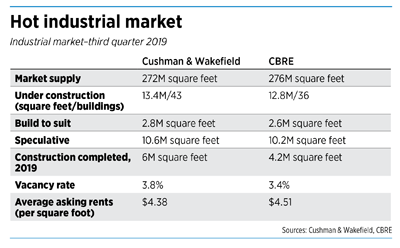 Of 43 projects currently under construction, totaling 13.4 million square feet, most of the space—about 10.6 million square feet—is dedicated to speculative development, which typically is built with the confidence that a user will buy or lease it. The rest is build-to-suit development, with a user already committed to the space, according to Cushman & Wakefield.
The figures are indicative of Indianapolis' long-standing reputation as a cornerstone for the nation's e-commerce, warehousing and distribution activity, said Matt Niehoff, senior research analyst at Cushman & Wakefield's Indianapolis office.
"I think we're good beneficiaries of the e-commerce movement," he said. "Toward the end of the year, we expect to break a few records from a statistical standpoint. That's just how good this year has been for the area."
The report also shows about 7.6 million square feet of industrial space has been "absorbed"—an industry term for net increase in space leased by tenants—this year. That's within 1.3 million square feet of 2018's all-time record. The absorption has driven vacancy rates down to 3.8%, close to the lowest figure since 2016. Asking rents are around $4.38 per square foot, on average.
A separate report from Los Angeles-based CBRE, also released this month, came to conclusions similar to Cushman & Wakefield's—albeit with different figures because the shops have different sample sets and criteria.
CBRE's report indicates about 4.2 million square feet of space has already been completed, with another 36 buildings in the pipeline, totaling 12.8 million square feet (10.2 million of speculative and 2.6 million of build-to-suit).
The firm's report indicates Indianapolis has a vacancy rate of 3.4% and asking rents around $4.51. Net absorption is 4.3 million square feet on the year, according to CBRE.
Andrew Morris, an industrial broker with CBRE, said the Indianapolis market has seen positive net absorption for the past three years.
He said having hubs and distribution centers for FedEx and Amazon are "key components for e-commerce."
"This is why there's so [many opportunities] being explored in Indianapolis and why this market is experiencing historic growth and is healthier than it's ever been," Morris said.
Both CBRE's and Cushman & Wakefield's numbers do show one area for improvement, however: vacancy rates. Morris and Niehoff each said rates should be closer to 6% than the current 3.4%-to-3.8%.
The current rate indicates that supply is not keeping up with demand, driving companies to fill whatever space they can until new buildings are constructed, Niehoff said.
Otherwise, the figures show the market has been kind over the past several years to local and national developers, including several that have sought to expand their industrial activity as the local sector's prominence has grown.
Notably, local developer Ambrose Property Group, which has had its hands in a variety of real estate sectors since its founding in 2008, announced in September it was exiting its $1.4 billion Waterside project at the former GM stamping plant site as it repositioned its business to focus on industrial and e-commerce projects.
Earlier this year, Kansas City, Missouri-based Jones Development Co. announced it planned to spend up to $30 million to build two massive industrial structures in Whiteland, as part of a 167-acre business park.
Scannell Properties, a local firm that develops industrial sites throughout the country, plans to build a $14.5 million warehousing and distribution facility for PepsiCo Inc. on the city's southeast side.
Courtney Lehman, managing director for Scannell, said the Indianapolis market is only a "small part" of the company's portfolio—it recently expanded into Europe—but added the firm is continuing to look for projects here.
"We're still pursuing business at the same speed and pitch that we have been for the past seven years," he said. "So we're not slowing down."
Scannell recently sold a 615,000-square-foot building in Greenwood, occupied by an Amazon distribution center, to a New Jersey-based company for $81.5 million.
The firm, Monmouth Real Estate Investment Corp., has made several high-profile acquisitions in the local industrial market over the past several years. It owns a 671,000-square-foot building leased by Ulta Beauty, and the 328,000-square-foot FedEx Ground SmartPost distribution center at AmeriPlex, near Indianapolis International Airport.
Companies around the United States are looking to extend their reach as the industrial sector continues to sizzle. San Francisco-based Prologis Inc.—one of the world's largest warehouse owners—on Monday announced it planned to buy Pennsylvania-based Liberty Property Trust in a $9.7 billion all-stock deal, as part of an effort to expand.
"The industrial and warehousing [sector] is so robust right now because of consumer consumption and confidence," Scannell's Lehman said. "But we don't know how long the bull markets will last. So long as everything stays fairly consistent in the global markets, we always feel pretty good about the sector of industrial as a whole."
Please enable JavaScript to view this content.