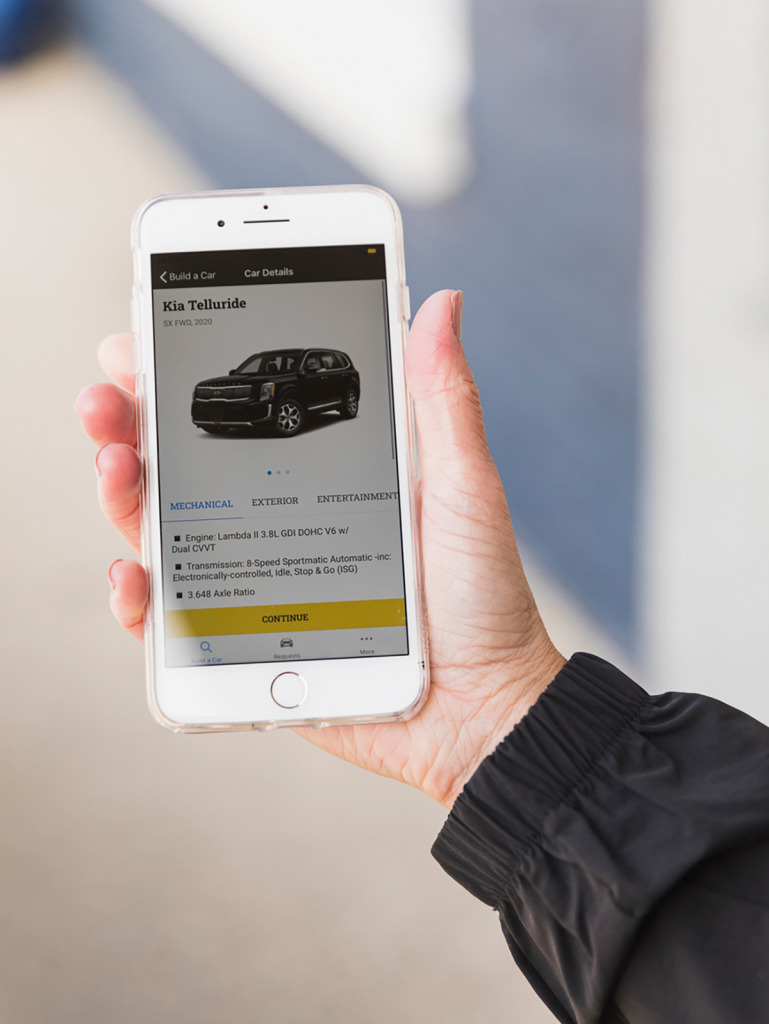 Cole Keesling knows how car dealers roll.
He's sold cars and managed car sales teams for the last quarter century, so he knows how dealers and manufacturers operate, how they determine prices and what motivates dealerships to lower prices.
But after working for dealerships in central Indiana—including Peyton Wells Chevrolet, Kahlo Jeep, Andy Mohr Automotive and Penske Automotive Group, as well as in Tennessee and Michigan—Keesling is ready to flip the script to work for consumers.
So he's launched a tech-enabled startup called CarSnoop that has dealerships bidding for a car buyer's business, while the buyer remains anonymous.
"I'm trying to build something here in Indiana that will someday change the way the world buys cars," Keesling said. "I'm reveling in the fact that I'm on the consumer side as an advocate. It's refreshing and rewarding, and our system works. The process is so much simpler with us."
He's getting some attention, including an investment from NBA team owner Mark Cuban, a star of the investment show "Shark Tank," and support from local tech entrepreneur Scott Jones, an inventor of an early voice mail program.
Keesling first set out in 2018 to develop an app and website that allowed consumers to buy new automobiles without setting foot in a dealership. It took him two years to get the portal up and running—and, as it turns out, his timing couldn't have been better.
Pre-pandemic, only about 30% of consumers were willing to buy a car online. But since March, that has increased to 64%, according to recent surveys conducted by Cars.com and CarGurus.
But while CarSnoop has gotten a pandemic push, "this is not a pandemic business model," Keesling said. "This is a stress-free business model. It's built for the convenience of the customer. We can help you get a good car and a good deal and not waste your Saturday."
CarSnoop is not another Carvana or CarsDirect.com, both websites that help shoppers find and buy a car. CarSnoop is different because it helps car buyers compare prices and buy from dealers without ever actually interacting with them. That's in part how the company got its name.
Keesling, 47, and his small team held a weekend-long strategy session and filled three whiteboards with name options.
"Some were from other languages, some were verbs, some were good, others were bad," he said. "We ultimately landed on CarSnoop to lean into the anonymous portion of what our company offers, whereby customers can buy or lease a car, online from home, without the dealership knowing anything but the city in which they live.
"We felt the snoop lent itself well to the idea of consumers being in charge of the process, perhaps snooping on the dealers for their bids, all from the comfort of their own home."
'Super easy'
In addition to the anonymity factor, CarSnoop has other features that make it unique among online car-buying tools.
Users tell CarSnoop exactly what kind of vehicle and features they want. And if the customer has a trade-in, the portal takes the vehicle identification number and instructs the user on what photos to send to CarSnoop.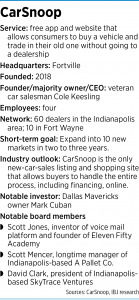 The Fortville-based firm then takes that information to its network of 60 auto dealers in central Indiana and another 12 in Fort Wayne. But it does so without giving the dealers any of the user's personal information. Dealerships then bid on the sale.
CarSnoop also arranges the financing or leasing paperwork, if that is necessary. If the CarSnoop user accepts the deal, either CarSnoop or the dealer delivers the new vehicle and picks up the trade-in. If buyers want to pick up their new car at the dealership, they can do that at an arranged time.
"The whole process was super easy," said Alexandria resident Stephanie Adams, who bought a 2021 Chevrolet Trailblazer though CarSnoop this fall.
"I did everything through the Car-Snoop website, and they dropped off my new vehicle at work and picked up my old car for trade-in," said Adams, who works at a hair salon in Pendleton. "That took about 10 minutes."
Adams, 46, heard about CarSnoop through Facebook and was attracted by its simplicity and that she could buy without haggling or giving her personal information to a dealership during negotiations.
"It can be difficult being a woman buying a car," she said. "We sometimes get treated differently. This way, they didn't know who or what I was or how much money I made. I got to take a look at all the bids and make my decision based on the best deal."
Adams noted she received $3,000 more for her trade-in with CarSnoop than what various dealers were offering her.
"I saved a lot of time and money and did it without having to drive around to a bunch of dealerships," she said. "I tell everybody I know that is looking for a new car to use CarSnoop."
Time saver
Ed Pluckebaum, a 30-plus-year veteran of the Indianapolis Fire Department, wasn't convinced CarSnoop could deliver what it promised after seeing the company on a local television news program.
"Of course I was skeptical," Pluckebaum said. "It went against everything I've ever known about car buying. But I don't enjoy car shopping, going in and wasting my days. I figured, 'Let's give them a try.'"
The experience was beyond anything he imagined. Through CarSnoop, "I got a new truck a lot faster than I anticipated. It all happened in a matter of a couple days."
When the brakes on his old truck went out between the time he made the deal and the dealership picked it up for trade-in, Pluckebaum, 57, feared the deal would be scuttled. But Keesling assured him the deal was still intact. "They came over here and towed it away," Pluckebaum said.
"I had such a good experience through CarSnoop, my wife later used it to buy her new car," he added. "I tell people that using CarSnoop is the best thing I've ever done in terms of buying a car. I've got more important things to do with my time."
Most auto websites are for shopping or are designed to entice consumers to visit a dealership, Keesling said.
"We're not a lead portal, we're a sales portal. We're not wasting buyers' time," he said. "We filed for a patent because we think we have something no one else has. A big part of that is a reverse anonymous auction."
Users don't pay a fee for the basic service. There is a fee—ranging from $199 to $399—for consumers who want CarSnoop's help determining what they should buy. But most of CarSnoop's revenue comes from a transaction fee paid by dealerships.
While the company experienced strong month-over-month growth in 2020, Keeling declined to talk specifics. He said the company is not yet profitable.
Good for dealers
Despite the fact that CarSnoop diverts traffic from dealerships, Keesling said he has had no problems getting dealers to join his network.
"If I get to the decision maker, I have a 100% close rate," he said. "We're bringing dealerships buyers, not shoppers. And we're bringing dealers happy customers. Once they understand what we're bringing to the table, what the dealerships say to me is, 'How do I get more of these deals?'"
Keesling admits that dealers don't make much—if any—profit off sales through CarSnoop. What they do get is help selling enough cars to qualify for bonuses from manufacturers. Dealers also get positive consumer reviews, which can lead to more manufacturers' bonuses.
"Dealers will wear buyers out to get a perfect survey," Keesling said. "That dealership gets paid quarterly by manufacturers based on sales and customer index scores."
He recalled when, as a car sales manager, he was once seven vehicles short of a significant six-figure manufacturer's bonus.
"I'm sitting there at the dealership and it's 10 p.m. on the last day of the month," Keesling said. "What do you think we did? The dealership bought those seven vehicles and used them in the service department and as loaners. I would have given anything to have had a service like CarSnoop then."
Pete Lewkowicz, a sales manager for Andy Mohr Automotive's Fishers dealership, doesn't see CarSnoop as competition.
"With CarSnoop, it offers us a quick transaction," said the 22-year car-sales veteran. "There's a built-in efficiency. But it also gives dealers like us a chance for customer engagement."
He said dealers can meet most customers when they deliver the vehicles and "that's when we can put our personal touch to it. We try to offer a unique interaction to win repeat customers—whether it's for service, aftermarket parts or the next vehicle they buy."
Lewkowicz added that CarSnoop "definitely fills a void in the marketplace. For us, it helps sell those extra two or three units per month. There's constant pressure to hit the marks manufacturers set for us."
'Transformative business'
At the same time, CarSnoop puts buyers in direct contact with dealership decision makers.
"At CarSnoop, you're not dealing with salespeople. The only people at the dealership you're dealing with through Car-Snoop are managers," Keesling said. "And they're the ones making the ultimate decisions. So there's no more sitting there waiting for your salesperson to go behind closed doors to talk to the manager.
"We're skipping salespeople, internet departments and business development centers—where there are 10 or 12 people always trying to collect your personal information so they can bombard you with calls, texts and emails. All they want to do is get you into the dealership. … Car buyers are not willing to do business that way anymore."
Keesling's unique business model is attracting some big names.
Though Keesling wouldn't discuss CarSnoop's investors or fundraising, PitchBook Data Inc.—a research firm covering the private capital markets—listed the company as having raised about $1 million. It listed Cuban, owner of the Dallas Mavericks, as an investor.
A source close to Cuban—an Indiana University graduate—told IBJ the Car-Snoop idea "made its way to Cuban's desk and he liked the concept and idea behind the company and decided to invest."
Cuban, who made his fortune as co-founder of internet radio firm Broadcast.com, which later sold to Yahoo for $5.7 billion, isn't the only big name involved with CarSnoop.
Jones, who made a fortune when he sold his voicemail platform and years later founded computer-coding school Eleven Fifty Academy, recently agreed to join the company's board.
"I think this is a transformative business, built by industry insiders, that saves hours of time for car buyers," Jones said. "It's high time that the car-buying process was brought into the age of high-speed transactions that simultaneously makes it much easier for anyone to buy a car with minimum hassle. This is great for both consumers and car dealerships."
The big push
CarSnoop is currently focused on Indiana, but Keesling is pushing to be in 10 more metro areas within three years.
On Dec. 11, the company unleashed its biggest marketing campaign yet.
"We're going to be airing 900 radio ads over 21 days," Keesling said. Those ads will air on Emmis Communications' news-talk station WIBC-FM 93.1, country station WLHK-FM 97.1 and adult contemporary station WYXB-FM 105.7. We're also going to start an aggressive digital advertising campaign at the same time."
The initiative is being led by Indianapolis-based marketing firm Element Three and DemandJump, a local company that makes software that allows customers to map buyers, potential buyers and competitors, and target consumers where and when they are making buying decisions.
"CarSnoop solves an amazing problem in the new-car industry. As crazy as it sounds, no one has ever before done what CarSnoop is doing, said Shawn Schwegman, DemandJump's co-founder and chief strategy officer. "I think once the word gets out about this company, there's going to be a tremendous demand for what it offers."
By early March, CarSnoop plans to start advertising in Louisville and Cincinnati.
"Initially, we'll push those buyers to Indianapolis dealers," Keesling said. "Then, we're going to go down to Louisville and Cincinnati and sign up dealers—after I show them how many deals we took out of their market."
The idea isn't to sign up as many dealers as possible. "I don't need 50 Chevy stores to get the best price," Keesling said. "We want to keep this somewhat exclusive for dealers and manageable for us."
Keesling's next targets are Columbus, Ohio; Lexington, Kentucky; Nashville, Tennessee; and St. Louis.
"I just know we can take this to the masses," he said. "There are plenty of people out there that are sick of the old, traditional car-buying process."
While Keesling envisions a national rollout, there are some big markets he's not interested in. "We want to stay out of cities like Atlanta, L.A. and Chicago for now," he said. "That's a logistical nightmare."
Keesling plans to add up to eight executive and director-level employees this year, to pursue growth and bring in-house the technical work on CarSnoop's app and website.
"I'm a car guy first, not a tech guy. I'm always willing to work with other professionals and let them specialize in their craft," Keesling said. "This company is getting to the point where it's getting bigger than I thought it was going to be. I'm prepared to step down from the role of CEO if that's what needs to get done. The growth and success of the company is what's important to me."•
Please enable JavaScript to view this content.