Since its founding in 2003, US Water Systems has built a sizable national customer base with its water purification and treatment systems.
When the pandemic struck and medical professionals began to learn how the coronavirus was transmitted from person to person, the Indianapolis-based company quickly pivoted to devise a high-tech method to purify the air through which the virus is often spread.
As interest in the new offering has grown, so has the company's revenue. Company officials said that despite the pandemic, the firm is experiencing double-digit-percentage revenue increases this year. Officials for the closely held private company declined to divulge revenue figures.
When the company's vice president of operations suggested in March that the company look into applying its expertise in purifying water with UV-C light to air and hard surfaces, the company's co-owners, husband-and-wife duo Mark and Patty Timmons, kicked the effort into high gear.
"Very quickly, we realized there was a real need," said Mark Timmons, the company's president. "There was a serious shortage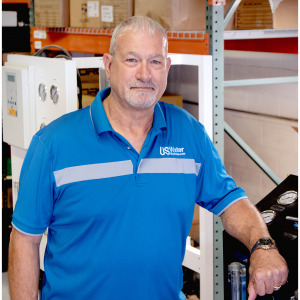 of surface cleaners, so we could tell people were struggling to deal with this."
US Water Systems' brand of hydrogen peroxide started flying off the shelves. "People were buying it by the semi load," Timmons said.
This spring, US Water rolled out its first UV-C air purifying solution, and already the company has made more than 1,000 sales spanning 26 states.
"We very quickly saw a demand for this," said Patty Timmons, the firm's CEO. "People were finding us. There were quite a few in-bound calls."
A new company website launched earlier this year along with the hire of a full-time online marketer helped fuel sales.
Using technology to innovate is nothing new for US Water, the company's co-founders said.
The company, which launched in the garage of the Timmons' home, pioneered a water softener controlled by an app and it is developing other products, including a reverse osmosis water treatment system connected to an internet of things app.
"We're on the cutting edge of technology in everything we sell," Mark Timmons said.
US Water, which has 46 employees and works out of a 35,000-square-foot facility on the west side, offers three UV-C air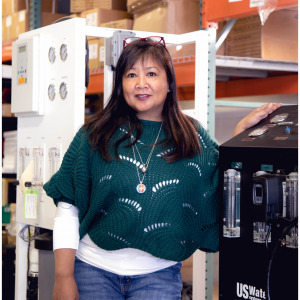 purification solutions.
The least expensive system is installed within an existing HVAC system and costs as little as $500.
Another system, which costs $3,000 to $4,000, is installed into the ceiling and has a fan that pulls air through and exposes it to a shielded UV light. Direct exposure to UV light can be harmful to people.
US Water also sells a portable UV-C unit that can be moved from room to room. It costs up to $4,500.
The UV air purifying systems can be used in homes or businesses, but the couple said 90% of firm's sales have been to businesses.
US Water has sold UV-C air purification units to colleges and universities—including Ball State, Syracuse and Louisiana State University—as well as to doctor's offices, churches, health clubs, gymnasiums and event venues, restaurants and manufacturing plants.
Selling to big organizations is nothing new to US Water. Longtime clients include Swiss multinational food and drink processing conglomerate Nestle, car maker Tesla, and New York-based online retailer Warby Parker, in addition to a number of foreign embassies, Mark Timmons said.
The pipeline for the company UV-C air purification system is full, he added.
"We've had 59,000 inquiries," he said. "Just this week we quoted a large police department that wants 40 units."
All of the firm's products are made in the United Sates, with much of the work done at its Indianapolis facility.
"These are products we've developed with a lot of input from our customers," Patty Timmons said. "We're solution-based rather than just moving boxes out the door."
Domestic-made products and the firm's customer service set it apart in the increasingly crowded purification field, the couple said.
"We have four full-time customer-service people answering the phones 8 a.m. to 8 p.m. Monday through Friday and 9 a.m. to 3 p.m. on Saturday. If you can't get ahold of someone here, we've probably been abducted by aliens," Mark Timmons said. "We're definitely not selling people products and abandoning them."
A significant part of the company's growth this year has been word of mouth. The firm has done a bit of digital advertising, including a long-standing blog Mark writes called "Ask the Water Doctor" that has gained a national following.
"I address issues facing the industry, speaking to the bigger picture, and that's gained us a following," Mark Timmons said.
The company initially counted on Hoosier customers for all of its sales, but over the last decade, that's changed. Mark Timmons says now, more than 90% of its sales comes from outside Indiana.
"Still, Indianapolis is our home. We are Hoosiers and we intend to grow here," Mark Timmons said. "We think there's a huge opportunity for us here."
Though many people hope a coronavirus vaccine will be out early next year, the Timmons don't see sales of their UV-C air purification systems slowing any time soon.
"It's definitely going to be a staple for our company," Patty Timmons said. "We think the pandemic has changed the world forever. It has let everyone know just how important air quality is, and I think the issue of air quality will be with us for a long time."
"We're seeing a lot of repeat customers [for the UV-C air purification solution]," Mark Timmons said. "People come in and buy one or two units, then come back after they see how it works and buy more. And we're giving a lot of budgetary quotes for next year. That's a good sign this need is going to be here for a while."
The Timmons' aren't sitting back now that they have this new air purification offering.
"We're looking at further innovation in the UV-C air area," Patty Timmons said. "We've assembled a really amazing staff, with a lot of really experienced people in water and air treatment."
As the air purification side of the business grows, US Water is launching a new water purification division, Penguin Water.
"In last few years, we've had interest from a lot of service contractors and dealers coming to us," explained Mark Timmons.
Penguin Water is a resale division, selling to service providers such as plumbers and HVAC dealers.
"They're selling it installed and possibly with a service contract," Mark Timmons explained.
The company is growing so fast, it's looking to hire employees in sales, technical services and manufacturing and assembly. But the company isn't rushing through the hiring process.
"We want to make sure we're adding people who want to be a part of a team, not just looking for a job," Patty Timmons said.
Please enable JavaScript to view this content.