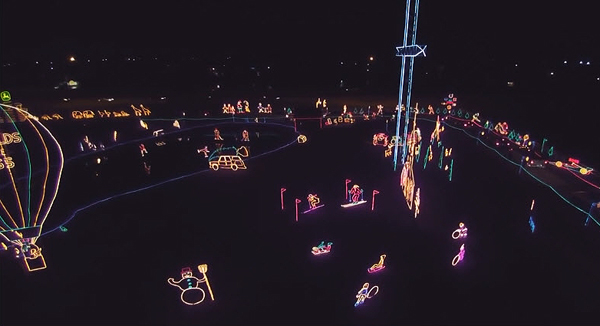 Reynolds Farm Equipment's popular and massive holiday light display that's long been a fixture outside its store at State Road 37 and 126th Street in Fishers is moving to Conner Prairie for the museum's Merry Prairie Holiday Festival.
Conner Prairie and Reynolds announced Wednesday that the farm equipment supplier would donate most of its 400 light structures to the living history museum for its first holiday festival, which debuts Nov. 29. Conner Prairie plans to display the lights throughout its grounds during the festival.
The move will help preserve the light display for future generations but will mean spectators will have to pay an admission charge.
Founded in 1955 by farming husband and wife "Mac" and Arline Reynolds, Reynolds Farm Equipment is a regional John Deere retailer. Headquartered in Atlanta, Indiana, the company operates seven retail locations in Indiana, Ohio and Kentucky, including in Fishers, where it's put up a free Christmas lights display every year since 1991.
"Our Christmas light display was born out (of) my father's love for Christmas and our community," Gary Reynolds, owner and chairman of Reynolds Farm Equipment, said in written comments. "Transitioning our Christmas lights display to Conner Prairie ensures this tradition of celebrating Christmas with lights continue as part of Conner Prairie's new A Merry Prairie Holiday festival."
The light display can be seen from miles away and draws in visitors all season.
Reynolds Farm Equipment is a long-time supporter of Conner Prairie, having donated more than $1 million over the years. It is currently the title sponsor of the museum's 1859 balloon voyage.
For years, Conner Prairie has hosted a breakfast and dinner with Santa and Storytime with Mrs. Claus. This year the holiday events are expanding to include the light display, North Pole Village, Winterland wagon rides and more.
"Winter is always a special time at Conner Prairie thanks to our 40-year-plus tradition of holiday festivities," Norman Burns, president and CEO at Conner Prairie, said in written comments. "This year it will be even more so as we bring new experiences to the holiday season and carry on a time-honored family tradition by displaying the Reynolds Christmas lights donated by Gary Reynolds and his family across the grounds as part of the new A Merry Prairie Holiday Festival."
General admission pre-sale tickets to a Merry Prairie Holiday go on sale Sept. 3 for $16 for the general public. Members can get in for $10, and pre-sale ticket sales begin Aug. 26.
The Reynolds Christmas lights display began in 1991 with a tractor. That year, the family put some Christmas lights on the rig and made it look like the wheels were moving. The next year, employees decorated a couple of riding lawn mowers to make them look like reindeer.
And the following year, the family "just went crazy" and erected 40 lighted displays.
Today, the display contains more than 1 million multicolored bulbs and more than 125 individual displays.
The Reynolds family said moving the display to Conner Prairie will enable it to grow.
During the light display, Reynolds Farm Equipment hosts a canned food drive for the Come-to-Me Food Pantry at Fishers United Methodist Church. Conner Prairie will continue that tradition by setting up collection boxes for dried canned goods.
Please enable JavaScript to view this content.