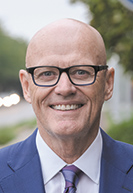 Jim Hallett, who built Carmel-based KAR Global into one the largest public companies in Indiana over a 28-year span, will step down as chief executive April 1 and be replaced by president Peter Kelly, the company announced Tuesday afternoon.
Hallett, CEO since 2009, will remain chairman of the company's board and become executive chairman of the company. KAR said he would continue to advise the company on strategic and customer and investor relations matters.
Kelly, 51, joined the company in 2011 when he sold KAR his 11-year-old online vehicle auction firm Openlane, which he cofounded and led as CEO.
Kelly was named KAR's chief technology officer in 2013 and president of its digital services group in 2014. He became president in 2019.
"Peter Kelly is a pioneer who helped ignite KAR's digital transformation almost a decade ago when he brought Openlane into our company," said Hallett in written remarks. "Over the past several years, we've partnered closely to sharpen our strategy, evolve KAR's operating model and extend the company's leadership position in digital used vehicle marketplaces. Peter is a bold, decisive leader with a track record of building high-performing teams, and his entrepreneurial mindset makes him the perfect choice for our people and for KAR's future. "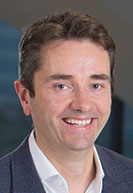 Hallett, 67, joined the company in 1993 as president of KAR predecessor ADESA Canada. He became CEO of ADESA in 1996 and led the company's initial public offering in 2004.
In 2007, Hallett led the leveraged buyout of ADESA and merger with salvage auction provider Insurance Auto Auctions Inc. Hallett took the combined company public in 2009 as KAR Auction Services Inc.
Under Hallett, KAR completed the acquisition of more than 50 wholesale auctions and other businesses, expanding the company across North America and Europe and growing annual sales to nearly 6 million vehicles in 2018.
KAR announced the leadership move after markets closed. KAR shares closed at $13.99 each, down 32 cents on the day.
Please enable JavaScript to view this content.