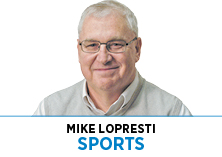 The arenas are empty, the NCAA Tournament brackets long forgotten. March Mumness is upon the land. What to do now?
Time for some replays to fill the void, just like they do on TV. In the silence of 2020, we offer loud memories for Indiana teams from NCAA Tournaments past. Something significant for each day of March that now goes by with the scoreboard turned off.
◗ March 20, 1969: Purdue, 92; North Carolina, 65
Legend has it Rick Mount, believing the rim was not level, had the custodians adjust it during practice before the Final Four in Freedom Hall in Louisville. The next day, he showed what he could do with a proper goal, pouring in 36 points as the Boilermakers destroyed the favored Tar Heels—still the worst tournament loss in North Carolina history.
"They made the mistake of trying to run with us," Coach George King said afterward. The victory set Purdue up to play UCLA, with Lew Alcindor and Purdue alum John Wooden on the bench. It didn't go well. But at least the Boilermakers had made it to the championship game for the first time. Fifty-one years later, they're still trying to get back.
◗ March 21, 2002: Indiana, 74; Duke, 73
Mike Davis' last words to his Hoosiers this night in Lexington before they went out to face the No. 1 ranked and defending national champion Blue Devils: "Let's go shock the world." Then they did.
Indiana spotted Duke a 17-point lead in the first half of their Sweet 16 game, but roared back with Jared Jeffries' 24 points and 15 rebounds. Tom Coverdale's baseline jumper in the final minute put the Hoosiers ahead to stay.
They didn't stop until the national championship game, and 18 years later, it remains the last time Indiana got past the Sweet 16 round. But somehow that often gets overlooked in Hoosiers lore.
◗ March 22, 1975: Kentucky, 92; Indiana, 90
This regional championship game in Dayton is the ultimate what-if moment for Indiana basketball. What if Scott May doesn't break his arm in the regular-season finale, limiting his play to seven minutes and two points—23 fewer than he scored in a 98-74 romp over Kentucky in December? What if the 31-0 Hoosiers don't commit an uncharacteristic 20 turnovers? What if Mike Flynn—an Indiana Mr. Basketball from Jeffersonville—doesn't score 22 points for the Wildcats, 13 above his average?
Then we might be talking back-to-back perfect seasons in 1975 and 1976. Many consider this the best IU team ever, which made the day all the more painful.
◗ March 23, 1990: UNLV, 69; Ball State, 67
UNLV was an unstoppable scoring machine, and averaged 100.4 points in five of its six tournament victories. But not this Sweet 16 game in Oakland. The 12th-seeded Cardinals stormed from 14 points down, and it was no fluke. Consider the 54-37 Ball State dominance in rebounding. The Cardinals had a chance to tie or win in the final 12 seconds, but never got off a shot.
Ten days later, UNLV crushed Duke 103-73 for the national title and was proclaimed one of the most dynamic champions ever.
◗ March 24, 2011: Butler, 61; Wisconsin, 54
The Bulldogs barely escaped the first week, winning by two and one points. But their 20-point lead against the Badgers in the Sweet 16 made it clear they were serious about getting back to the Final Four. It had come to this: Butler could outmuscle a Big Ten team and make it look natural. "Here we go again," the late Andrew Smith said that night, "trying to prove everybody wrong."
◗ March 25, 1978: Duke, 90; Notre Dame, 86
Notre Dame was on a roll, winning by 23, 13 and 20 points to charge into the Final Four in St. Louis. But the Blue Devils shot nearly 55% and got 71 points from Mike Gminski, Gene Banks and Jim Spanarkel. With several underclassmen—Kelly Tripucka, Bill Laimbeer, Tracy Jackson, Bill Hanzlik and Orlando Woolridge were all returning—the Irish seemed set for future greatness.
But they never got back. That remains the only Final Four in history, depsite 36 NCAA Tournaments.
◗ March 26, 1979: Michigan State, 75; Indiana State, 64
Michigan State and Magic Johnson. Indiana State and Larry Bird. Salt Lake City and the national championship game. You know the rest. The game still owns the highest TV rating ever seen in the NCAA Tournament. It set off the famous Bird-Magic rivalry and proved to college basketball just what was possible as far as compelling national drama. And it is a game Bird broods about to this very day, especially his 7-for-21 shooting.
◗ March 27, 2010: Butler, 63; Kansas State, 56
Was it even possible? Butler in the Final Four, in Indianapolis? The fairy tale became real, when the Bulldogs outscored the Wildcats 9-2 in the final three minutes of the regional championship in Salt Lake City. Gordon Hayward's 22 points led Butler. Ronald Nored spoke for lots of Bulldogs when he said afterward, "This is probably the coolest thing that's ever happened in my life."
◗ March 28, 1987: Indiana, 97; UNLV, 93
The movie "Hoosiers" had not been out long, so national interest in how the state embraced basketball was high. And here came a fine poster player for Hoosier Hysteria. Steve Alford was a coach's son who honed his game shooting outside his house in New Castle. On this day at the Final Four, his 33 points were too many for UNLV to bear, even with Freddie Banks' 38 points and 10 3-pointers and Mark Wade's 18 assists. The No. 1 ranked Rebels had some incandescent individual numbers, but Indiana was the team moving on.
◗ March 29, 1976: Indiana, 86; Michigan, 68
It seemed so inevitable in Philadelphia. The Hoosiers needed one more win for 32-0, and they weren't about to let anything get in the way. Michigan's 35-29 halftime lead was little more than a mirage. Indiana owned the second half in a historic game—the first national-title contest ever between two teams from the same conference—as it had owned pretty much the whole season. Scott May had 26 points, Kent Benson 25, and the Hoosiers went into the record book as unbeaten champions. As every IU fan worth her cream or his crimson knows, they're still the last.
◗ March 30, 1940, 1981 and 1987
They ought to make March 30 an official holiday in Bloomington. Three of Indiana's five national championships have come on this date. That includes the first one against Kansas in 1940, a meeting of two basketball hotbeds who have produced 13 more championship appearances since. Also, the strange night in 1981, when the Hoosiers beat North Carolina in a game nearly postponed by the shooting of President Reagan. And Syracuse in 1987, in a finish that requires only three words. Keith. Smart. Shot. Moments such as that are the life stuff of an event that takes over March and captivates a nation.
But not this year.•
__________
Lopresti is a lifelong resident of Richmond and a graduate of Ball State University. He was a columnist for USA Today and Gannett newspapers for 31 years. He can be reached at mjl5853@aol.com.
Please enable JavaScript to view this content.