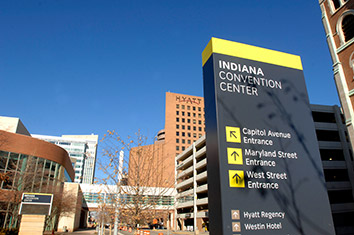 The Indiana Convention Center is in for a major slowdown over the next two months during the coronavirus outbreak.
The head of the Capital Improvement Board of Marion County, which owns and manages the convention center and Lucas Oil Stadium, on Friday acknowledged there will be an "obvious impact" from the virus.
"We are in an unusual moment here at the CIB," said Andy Mallon, executive director of the quasi-governmental agency. "That obviously changes how we do business here at the Indiana Convention Center and Lucas Oil Stadium."
Mallon's comments came during the CIB's regularly-scheduled board meeting Friday morning, less than 16 hours after Gov. Eric Holcomb ordered the suspension of all gatherings of more than 250 people for at least 30 days.
The order came amid growing fears—and health officials' near certainty—that COVID-19, the disease caused by a novel coronavirus, will continue to spread throughout the United States.

Most big events slated for the two venues had already been canceled or postponed, but Holcomb's order effectively brings to a halt nearly all the activities planned for the convention center through mid-April.
The NCAA—which was scheduled to hold the Division I men's basketball tournament Midwest Regional round at Lucas Oil Stadium in late March—took the unprecedented step of canceling its winter and spring championships late Thursday afternoon. The decision will likely lead to the loss of hundreds of millions of dollars for the Indianapolis-based NCAA.
The Big Ten Conference also canceled its men's basketball tournament, which had already started at Bankers Life Fieldhouse. And the Nike Volleyball Mid-East Qualifier, which was expected to bring 38,000 athletes and their families to the city next week, also was called off.
But not everything on the convention center's calendar was affected. The venue still expected to host a handful of smaller events, such as business conferences, social gatherings and meetings that fall under the 250-person threshold.
Mallon said the CIB is working closely with organizers of those events to ensure they do not exceed that figure.
It's too soon to know exactly how hard the cancellations will hit the CIB's bottom line for March and April, said Mallon, who has been in the post for less than one year.
But he noted the most events—including the massive Fire Department Instructors Conference—are rescheduling rather than outright canceling. That will make it  possible for the board to make up for some the losses later in the year.
The FDIC event alone was expected to have an economic impact of about $34.6 million.

"Our intention is that these events come back and that we can make this money up on the back end of the year," Mallon said, adding he isn't ready to concede that the CIB is facing a "worst-case scenario" from the virus.
"We have the ability to weather this storm, and that's how we intend to do it."
In the short-term, the CIB won't receive nearly as much revenue from local taxes from the lodging, restaurant and travel industries—funds that account for about two-thirds of the board's $143 million budget this year.

The remaining one-third of the CIB's revenue comes from events it hosts at its managed venues, but exact figures from activities that have canceled or postponed due to the virus were not immediately available.
The CIB has cash reserves exceeding $100 million.
Local businesses that typically depend on revenue from major events like the NCAA tourney and other major sporting events aren't as fortunate as the CIB. They are likely to take massive losses to their respective bottom lines from the cancellations, as the local economy misses out on an anticipated $50 million in revenue.
And, like the CIB, those businesses will have to wait to receive their share of an additional $44 million in revenue until later in the year because of delays to other big conventions. Those delays could also mean less money for restaurants and hotels, too, because fewer people could attend or they might make new travel and lodging arrangements.
Chris Gahl, vice president of Visit Indy, said he is concerned about local businesses being able to withstand the sudden and unexpected decline in business. But he said the tourism bureau is is enhancing its marketing strategy to attract more regional visitors to the area over the coming weeks.
"We're really going to start targeting families in (the Midwest) to try and get more visitors here over breaks," he said, noting that's something the group does already—but the new approach will have more pointed messaging.
"We are hopeful that can help keep our local businesses, by enticing people to see what we have to offer, in terms of attractions," he said.
His comments came just hours before the Indianapolis Children's Museum and Indianapolis Symphony Orchestra temporarily ceased operations because of the virus.
Gahl added he expects the local hospitality and restaurant industries will be hit hard by the situation.
"We've built all this up over the past three, four decades," he said. "And to have this happen—it is something that we as a city are bracing for. It's going to be a challenge for us all here."
Gahl said it is possible more conventions could postpone or cancel before the outbreak subsides—local, state and federal officials have said the outbreak is expected to become worse before it gets better. Visit Indy has mostly halted booking and marketing for new conventions.
He said Visit Indy is paying close attention to the situation and being as frugal as possible, while continuing to promote the city in a way that could "provide some relief to the industries most adversely affected by this situation."
The Capital Improvement Board also is looking at its own operations, including whether insurance will be required—or available—to help it get through a lean March and April. Mallon has said he doesn't believe there will be any financial gaps to be bridged by public dollars or insurance money.
"We're not in a position at this moment to say that we're going to need to dip into insurance or anything like that," he said. "It's a fluid situation, but right now where we think we're going to be able to weather this."
Mallon declined to say on whether any lines of insurance coverage could be activated by the situation, but most policies do not have coverage for pandemics, an insurance expert told IBJ.
Zach Finn, a Butler University professor who last year examined the CIB's coverage and stated the organization was "woefully underinsured," said he does not believe the board's current lines of insurance—including event-cancellation policies—would be helpful for the current situation.
Pandemic insurance is typically purchased separately, Finn said.
Despite questions about what's to come for the local and national tourism industry—and whether the COVID-19 virus could further derail activity in the city—Mallon said the convention center remains open for business.
"This isn't over, so we're going to keep pushing," he said.
Please enable JavaScript to view this content.