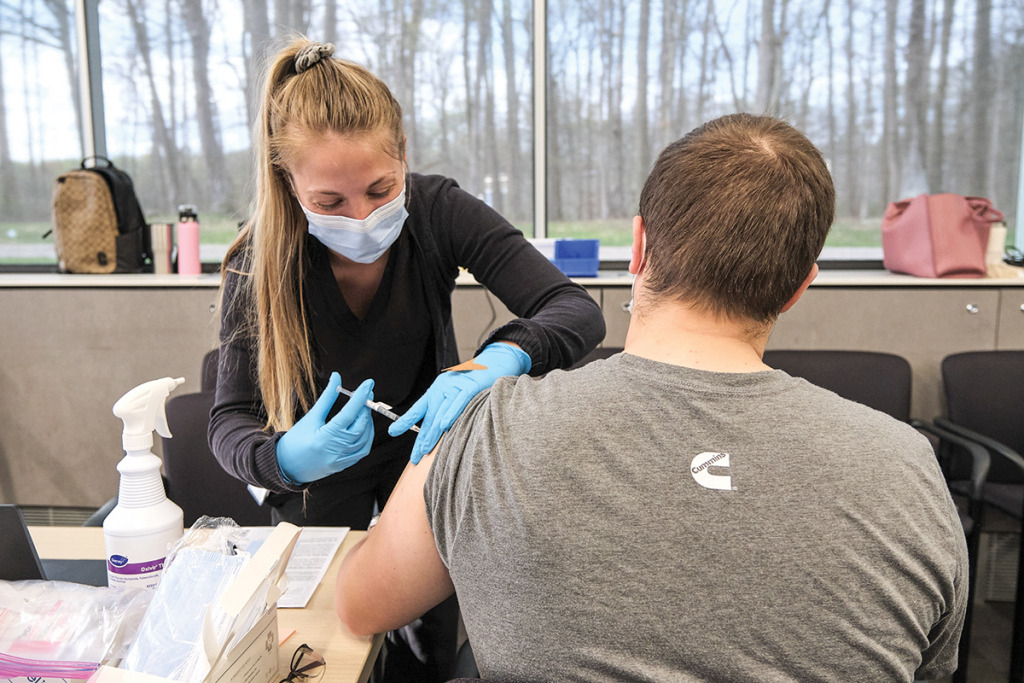 Real estate developer Lauth Group is offering its workers a day off with pay when they get fully vaccinated against COVID-19.
Duke Energy Indiana is promising workers "health reward points" that can reduce health insurance costs.
The Children's Museum of Indianapolis is giving workers time off and flex time to get their vaccine, along with paid time off for employees who get an adverse reaction to the vaccine and need time to recover.
Around central Indiana, employers are offering plenty of incentives to encourage their workers to get vaccinations as part of an effort to keep their office towers, stores, warehouses and factory floors safe, for both co-workers and visitors.
But few, if any, are requiring workers to get vaccinated as a condition for coming back to work—or, in the case of new hires, for getting a job offer.
It's a critical issue for employers of all sizes and types.
Some are pulling out all the stops, opening on-site vaccine clinics or nudging workers to get shots elsewhere, even if that requires giving them paid time off and transportation.
The issue garnered headlines last month when the Indiana General Assembly passed a bill that prohibits state and local governments from issuing or requiring so-called "vaccine passports."
The passports are typically a cell phone app with a code that verifies whether someone has been vaccinated or recently tested negative for COVID-19.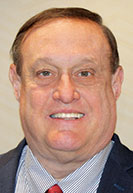 Gov. Eric Holcomb signed the bill into law, but it doesn't place any limits on private businesses. Companies are free to require workers to get vaccinated. In addition, many states, including Indiana, have passed liability "shields" that limit company liability to cases of gross negligence or recklessness.
The Indiana Chamber of Commerce said it is recommending that companies encourage their employees to get vaccinated, and to do what they can to facilitate that through paid time off, hosting a vaccination site or arranging for groups of employees to go to a vaccination clinic together.
"We are not suggesting that employers require vaccinations for employees to come to work—although, under the law, they can and some are—due to potential litigation if an employee were to have a severe reaction to the vaccine, such as a fatal blood clot," said Kevin Brinegar, Indiana Chamber president and CEO.
'Pretty gray' issue
But some labor lawyers say the issue is not quite so black and white, and that federal regulations on the matter are complex, ranging from the Americans with Disabilities Act, Title VII of the Civil Rights Act of 1964 and other workplace laws.
Workers can object to getting a vaccine on religious grounds, or if their physicians recommend they not get vaccinated due to a disability, for example.
In such cases, employers would have to show that unvaccinated employees would pose a "direct threat" to the workplace and cause a significant risk of substantial harm to the health or safety of others. Often, those standards are difficult to define.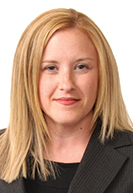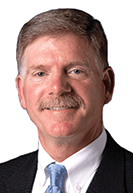 "I believe this issue remains pretty gray and likely will be determined on a case-by-case," said Donald Smith, an attorney at Riley Bennett Egloff LLP.
Amy Adolay, a labor and employment attorney at Krieg DeVault, said her phone has been ringing off the hook for months from clients seeking advice on the issue.
At the moment, she said, most are just encouraging vaccination, using incentives such as paid time off or even cash bonuses; few, if any, are drawing a line in the sand.
She said she tells employers to look at all options, rather than just ordering an employee back to work, she said.
"The employer has to consider whether there are reasonable accommodations they can offer to those employees who are refusing to be vaccinated," she said. "For example, is this a position that could be done from home? Could this employee work remotely, at least for the time being, while we're still going through a pandemic?"
That strategy is seconded by Nicolas Terry, law professor and executive director of the Center for Law and Health at Indiana University's Robert H.McKinney School of Law. He said employers should consider what type of back-to-work scenario makes sense for workers and organizations.
"Should everyone come back to work?" he asked. "Are some tasks still satisfactorily performed at a distance? Does some type of hybrid organization work for the business or some of its units?"
Firm stance
Even if no Indiana employers are publicly demanding their workers get vaccines, some companies in other states are making headlines on this score.
A restaurant in Brooklyn, New York, the Red Hook Tavern, in February required that its employees get vaccinated, then terminated a waitress when she asked for time to study the vaccine's possible effects on fertility, The New York Times reported.
In Conway, Arkansas, a mother of five was terminated from her job at Harvest Cannabis Dispensary for refusing to get the shot, citing health concerns. She told WPIX-TV Channel 11 that, after she told dispensary executives she would not get the vaccine, she was ordered to turn in her badge and key card.
A Texas hospital system, Houston Methodist, is mandating vaccines for both existing employees and new hires, barring an exemption. The system, with more than 26,000 employees, said it believes employee vaccinations are essential to keeping patients safe.
"We saw this as a must-do," Dr. Marc L. Boom, the hospital network's CEO, told The Wall Street Journal.

But large hospital systems in Indianapolis have yet to lay down a similar decree. Spokesmen for Indiana University Health, Community Health Network, Ascension St. Vincent and Eskenazi Health all said they were only recommending, not requiring, that workers get vaccinated.
In the past, IU Health has not hesitated to fire employees for refusing a health requirement. In 2013, the hospital system fired eight employees, including three nurses, for refusing to get a flu vaccination.
At the time, IU Health said its mandate was meant to improve patient safety. Hospital patients often already have compromised health, so many might be more vulnerable to the flu.
But now, IU Health is keeping its options open.
"The decision to require a vaccination is complex," IU Health spokesman Jeff Swiatek wrote in an email to IBJ. "Currently, IU Health is encouraging team members to get the vaccine and we are continuing to review the policy."
And some other companies are declining to discuss the issue with the public. Pacers Sports & Entertainment, for one, would not say whether it is requiring employees to get shots.
"We don't discuss those types of employee matters," spokesman Daniel Lopez wrote in an email. "I'll just say that we certainly have staff in the building and have been working to transition all staff back gradually."
On-site clinics
Allison Transmission, the Indianapolis-based maker of commercial-duty automatic transmissions, opened a vaccine clinic in an unused cafe area with refrigeration for the medicine vials. A nurse from Concentra, an outside health contractor, has already vaccinated more than 250 Allison employees, spokeswoman Claire Gregory said.
"With more and more employees being vaccinated, we are currently working a hybrid schedule with plans for all employees to return on-site five days a week beginning in June," she said.
Cummins Inc., the Columbus-based maker of diesel engines, has set up on-site vaccination clinics for workers and dependents. A nurse from Premise Health, an outside contractor, has administered the shots.
"We see vaccination as a means of keeping our people safe and making progress toward returning to the way we used to work," spokesman James Wide said.
Subaru of Indiana, which produces the Ascent, Impreza, Legacy and Outback at its Lafayette assembly plant, was one of the first large employers in Indiana to begin offering the vaccine to employees, with eight on-site clinics.
Since late March, more than 2,200 Subaru employees, spouses and children, out of a workforce here of about 6,000, have received shots, even though it was not required, spokesman Craig Koven said.
"Regardless of whether they've been vaccinated, all associates are still required to follow COVID-19 safety precautions, such as mask wearing, social distancing, keeping hands clean, and self-monitoring and self-reporting of symptoms, to limit transmission in our workplace," he said.
Eli Lilly and Co., the Indianapolis-based drugmaker, said it has opened a drive-through vaccine clinic for its employees and essential on-site contractors. However, the company is not mandating that workers and contractors get vaccinated.
"As a science-based company, we'll continue to support public health efforts and encourage our employees to consider getting vaccinated for their health and safety," spokesman Tarsis Lopez said.
AES Indiana, the electric utility formerly known as Indianapolis Power & Light Co., said it plans to offer a vaccine clinic the week of May 10 to employees and families but is not requiring workers to get shots.
"We have guidelines that strongly encourage employees to get vaccinated," spokeswoman Brandi Davis-Handy said. "We also continue to focus on providing resources for our employees to learn more about the vaccine and make an informed decision to keep themselves and those around them safe."
NFP positions
Not-for-profits also are examining their employee policies to see how they apply to a pandemic.
The Eiteljorg Museum of American Indians and Western Art said that, when the pandemic hit and the museum temporarily closed, most of its 58 employees began working remotely. When the museum reopened in June, some employees began to return.
Now that vaccinations are available, museum management is determining how to appropriately proceed, based on federal, state and local guidelines, spokesman Bryan Corbin said.
"Details are not yet finalized but will be decided in May, in consultation with our board of directors, which includes two physicians," he said.
The Children's Museum is encouraging, but not requiring, staff and volunteers to get vaccinations. Kiwanis International, the service organization that helps children around the world, said 94% of its employees have indicated they plan to get vaccinated.
For employers of all sizes, the ramifications are large, experts say, and go beyond legal considerations.
"You have to think about the business aspects if their employees refused to be vaccinated," Adolay said. "What will be the impact of a mandatory policy on morale? Will it cause staffing shortages? You know, just all of those other business considerations, along with the legal ones."•
Please enable JavaScript to view this content.