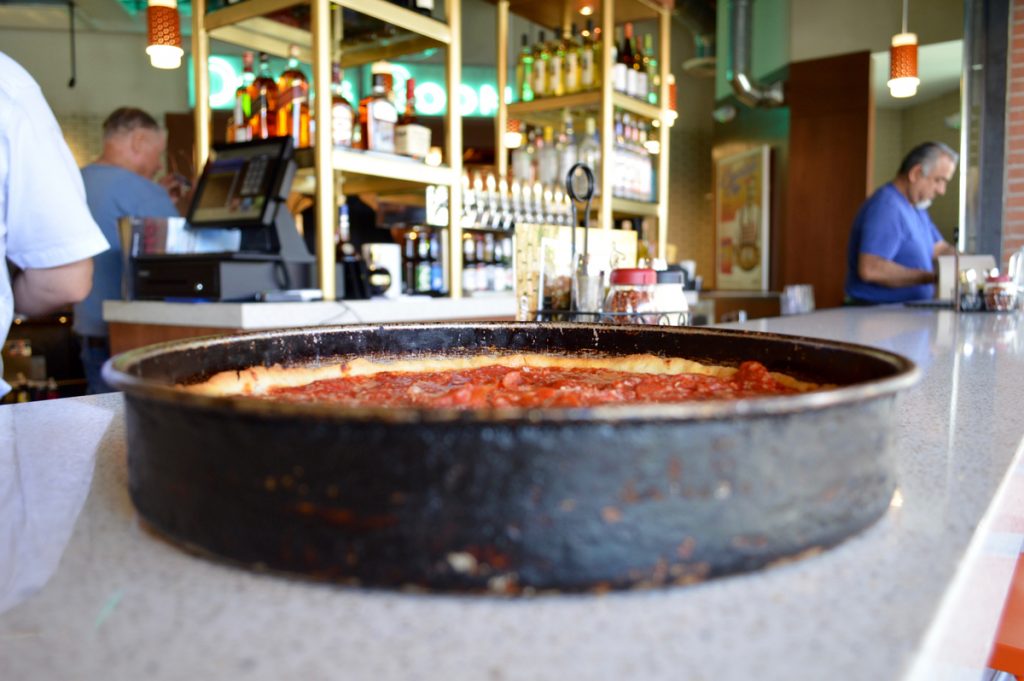 Lou Malnati's Pizzeria is planning a restaurant in Fishers, which would be the sixth central Indiana location for the 51-year-old chain known for its Chicago-style pizza pie.
The pizzeria is planned at 13147 Parkside Drive, near State Road 37 and East 131st Street, in a spot occupied by Aurelio's Pizza.
A Lou Malnati's spokesperson said the company is in the process of buying the property and hopes to open in mid-2023. The Fishers Technical Advisory Committee will consider a permit request for site renovations at its meeting on Thursday.
"Fishers has been on our radar since we first decided to enter the Indianapolis market," said Mindy Kaplan, senior director of communications for Lou Malnati's.
The 5,400-square-foot Fishers restaurant would include a full-service dining room and outdoor seating, unlike some of Lou Malnati's other central Indiana locations.
In June, Lou Malnati's opened a restaurant at 791 State Road 135 in Greenwood at the Shops of Smith Valley retail center. The Greenwood location does not include a dining room, but it offers carryout and delivery services.
In November 2021, Lou Malnati's opened a full-service restaurant and bar in Broad Ripple at 6320 Ferguson St. Carryout-and-delivery locations opened in Carmel, 11435 Spring Mill Road, in October 2020, and on the northwest side of Indianapolis, 2902 W. 86th St., in March 2021.
Another carryout-and-delivery location is planned to open this fall at 882 E. U.S. 36 in Avon.
Lou Malnati's owner Marc Malnati, son of the company's namesake founder, graduated from Indiana University in 1977.
Based in Northbrook, Illinois, Lou Malnati's Pizzeria operates more than 70 locations in Illinois, Indiana, Wisconsin and Arizona.
Aurelio's Pizza opened its first restaurant in 1959 in the Chicago suburb of Homewood, Illinois. Aurelio's is known for thin-crust pizza and has nine locations in northern Indiana, in addition to its Fishers restaurant, which opened in 2016.
Correction: A previous version of this story identified Heather Stege as the president of Lou Malnati's Pizzeria. Stege left Lou Malnati's in April to join Kansas City-based KBP Brands where she is the brand president for the company's Arby's restaurants.
Please enable JavaScript to view this content.