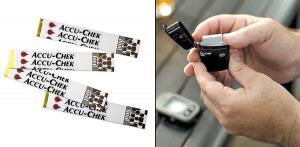 History: Roche Diagnostics Corp. is a division of Roche, the world's largest biotech company and a global pioneer in pharmaceuticals and diagnostics. The Indianapolis division began as locally based Bio-Dynamics, in 1964. It produced the first device that could test blood-glucose levels without requiring that blood be sent to a laboratory.
Amsterdam-based Boehringer Mannheim Corp. acquired Bio-Dynamics in 1974. In 1992, Boehringer Mannheim began manufacturing blood-glucose test strips. In 1998, Roche acquired Boehringer Mannheim. The blood-glucose strips are now manufactured at two Roche sites: Indianapolis and Mannheim, Germany. The Indianapolis facility manufactures five types of Accu-Chek test strips, a total of 5 billion strips a year.
The Indianapolis site is also Roche's North American headquarters. It is home to U.S. research and development, laboratory, manufacturing, distribution, IT and administrative operations. About two-thirds of the 4,600 Indianapolis employees support sales and marketing; about 500 work in manufacturing. The 172-acre campus consists of 23 buildings totaling 1.6 million square feet.
Product details: The test strips manufactured today are Accu-Chek Aviva, Accu-Chek Performa, Accu-Chek Guide, Accu-Chek Instant and Accu-Chek Inform II.
The strips are created by mixing substances to form a reagent. Then rolls of material with several layers are cut at high speeds and packed in a vial.
Fun fact: More than 220 blood-glucose measurements per second were taken with an Accu-Chek meter in 2022.
World headquarters: Basel, Switzerland
North American headquarters: 9115 Hague Road
Website: accu-chek.com
Please enable JavaScript to view this content.