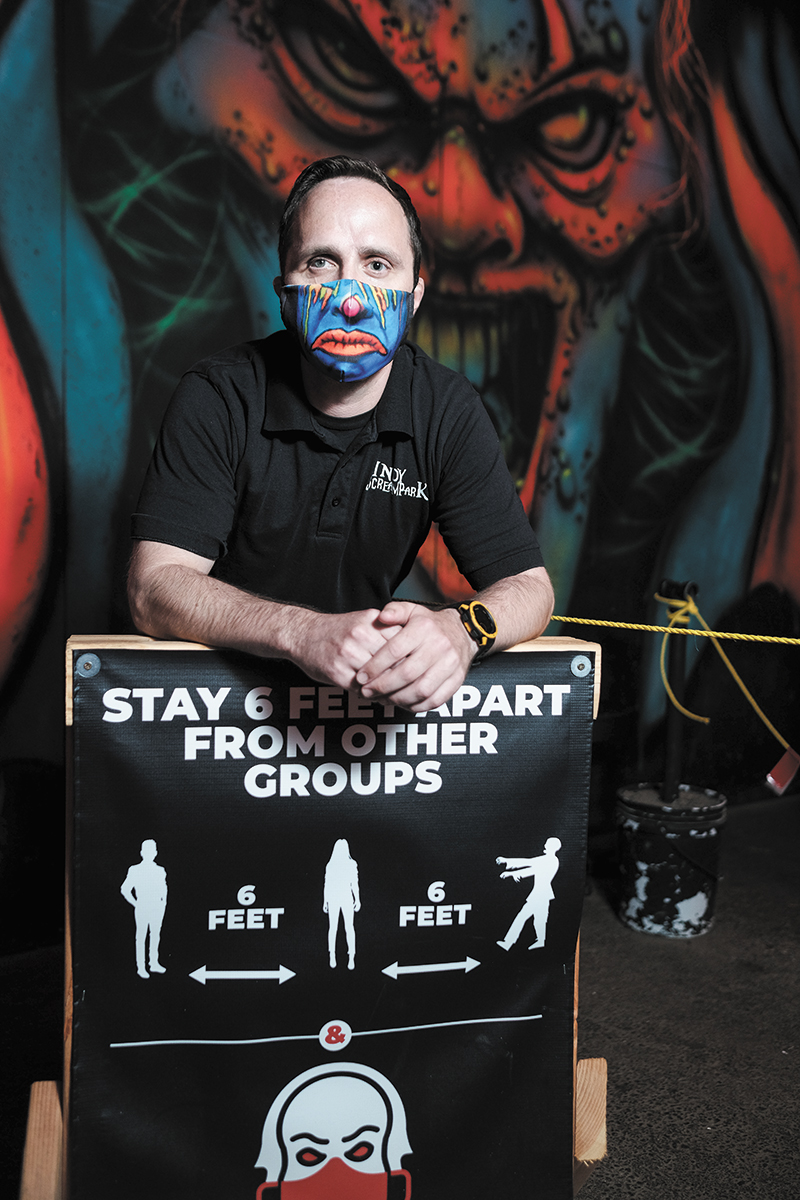 Indy Scream Park opened for its 11th season on Sept. 11. But this year, there's something new to fear—the pandemic.
That's forced the haunted attraction in Anderson to make dozens of adjustments—including buying a fogging machine that will disinfect the attractions every night—to try to keep staff and customers safe. Jon Pianki, marketing director for Indy Scream Park, talked to IBJ about all the precautions.
Tell me about what's different this year.
There's a whole different perspective on how we have to handle almost every aspect of our park. We took our capacity number and cut it by 50%.
Second thing is, all customers and staff are required to wear masks. Masks in our queue lines and in our attractions are required by everybody … because that is where you are a little more closer in proximity to people. We're aware some people aren't going to be happy with that. But to keep our actors safe and our customers safe—everybody wears masks, even our actors.
So with that in mind, we actually printed full-print masks that have the lower half of the scary face on it. They look so realistic, so in the dark, you can't really tell they have a mask on.
Our queue lines have been completely reconfigured, because previously we had switchbacks … that put people very close to each other. We had to widen the cue lines to allow space for people to kind of spread out.
There's a lot of other changes. For example, we'll be taking temperatures of every person that visits the park—actors, staff, management, customers.
How much did all of these modifications cost the park?
It's very, very expensive. The masks alone were thousands upon thousands of dollars. I mean, you have to take care of several hundred actors for the entire season across six attractions.
How long have you guys been working on all these modifications?
I would say since about May. We decided, "You know what? This isn't going to go away." We started with, "OK, obviously we have interactive attractions, so how do we modify that to give people the experience they're wanting, but without actually touching them?" Because that's another thing we're doing this year—we removed the touching aspect of the interactive experience.
Even without touching, it does still sound like there will be instances where people are within 6 feet of each other.
Yes, inside the attraction, it will be difficult in some areas to prevent people from coming within 6 feet of each other, which is why we have made it mandatory to wear masks.
This is not something we can 100% control because, let's say you've never been to a haunted house and you get scared and you stop moving for a second. It takes a second for your group to get you going again. Now, the group behind you kept walking. So even though we spaced you out … suddenly, now we have two groups who didn't go together, or come together, who are near each other in the dark.
It sounds like you are still expecting a good number of customers this year?
I think so. I think people want something to do. They want a Halloween event. They want an outdoor event where they can enjoy their friends and family. And they want a place where they can do it safely.•
Please enable JavaScript to view this content.