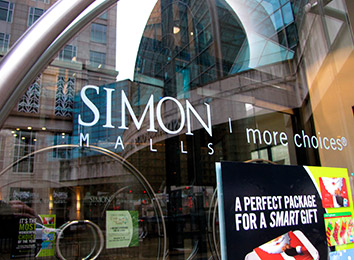 Shopping mall giant Simon Property Group is making deep expense reductions, including the elimination of more than 100 jobs at its downtown Indianapolis headquarters and its New York City office, a source familiar with the moves told IBJ.
The cost savings include CEO David Simon opting to work for no salary during the COVID-19 pandemic, according to IBJ's source as well as a report by CNBC. David Simon earned $1.25 million in salary in 2018, the latest year available, part of a compensation package that year valued at $11.4 million.
CNBC reported Tuesday that in addition to cutting staff, Simon furloughed 30% of its workforce, with those employees set to return when now-shuttered shopping centers reopen.
Simon Property Group did not respond to repeated inquiries about job cuts from IBJ this week. As of Dec. 31, the company employed 4,500 workers in the United States, with 3,000 of them full time.
About 1,000 were based at the company's headquarters tower at 225 W. Washington St. The firm also has a much smaller office at 399 Park Ave. in New York City.
Simon Property Group, long one of central Indiana's top-performing companies, has faced a brutal several years, as investor angst over the growth in online shopping dragged down the company's stock price.
The last few weeks have been especially difficult, as the escalation of the COVID-19 crisis led to social distancing recommendations and mandates and ultimately the company's March 18 decision to temporarily close its 200 U.S. shopping centers.
Simon is the latest in a litany of firms tied to the retail industry to temporarily shed large chunks of their workforces. J.C. Penney, Macy's, Kohl's, Gap and other retailers have collectively furloughed hundreds of thousands of employees as the COVID-19 crisis caused sales to crater.
The crisis also has hammered Simon stock, which closed Tuesday at $54.56, down 63% on the year.
Two weeks ago, with the stock in free fall, David Simon and Chairman Emeritus Herb Simon bought hundreds of thousands of shares on the open market for $19.1 million.
The show of confidence didn't halt the slide. The stock dropped further after the purchases.
Please enable JavaScript to view this content.