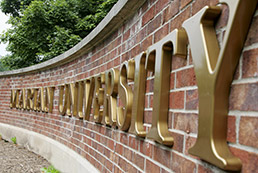 Marian University has landed a $5 million grant from the Richard M. Fairbanks Foundation to help fund a new engineering building and equip it with laboratories, classrooms and advanced manufacturing space.
The small Catholic university on the west side of Indianapolis announced the award Wednesday. It said the grant also would help educate "a pipeline of diverse engineering talent" to meet the workforce needs of central Indiana.
The grant is the latest large award for the school's engineering programs. In 2020, Marian announced it planned to open a new engineering school with help from a $24 million gift from the Witchger family, which owns and operates Indianapolis-based Marian Inc., a provider of die-cut flexible component parts for the medical, electronics and automotive industries.
The E.S. Witchger School of Engineering will open this fall and offer degrees in biomedical, chemical, civil, computer and mechanical engineering, as well as engineering physics.
The university said it seeks to attract a student engineering body that closely mirrors the U.S. demographics of 13% African American, 18% Hispanic and 50% female.
"Our vision and plan for the E.S. Witchger School of Engineering is to not only offer our students and community a transformational model of engineering and leadership preparation, but to also recruit and train a diverse workforce to meet the growing demand for high-priority engineering occupations in Indiana—in keeping with our university's strategic initiatives," Binh Q. Tran, dean of the engineering school, said in written remarks.
The grant from the Fairbanks Foundation will also help in hiring and retaining up to 20 engineering faculty members within five years. The foundation awards grants in the areas of health, education and the "vitality of Indianapolis."
Please enable JavaScript to view this content.