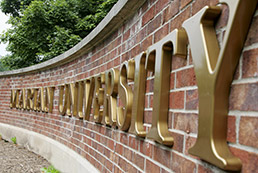 Indianapolis-based Marian University on Tuesday said it has teamed with a national for-profit education company to launch a college preparatory school that will offer virtual and in-person instruction starting in August.
Called Marian University Preparatory School, or MU Prep, the school initially will be open to Indiana students entering grades 6-9 in the 2022-23 academic year. The school plans to add additional grade levels each year until grades K-12 are available and will eventually begin to accept students who live outside Indiana.
MU Prep officials said they aim to enroll 300 students for the 2022-23 academic year.
Marian has partnered with Stride Inc., a publicly traded education company that provides online and blended education programs. Herndon, Virginia-based Stride had more than 189,000 people enrolled in its courses as of Sept. 30, with more than 147,000 enrolled in general education and 42,000 in career learning. The company reported revenue of more than $1.5 billion and a profit of $71.5 million in fiscal year 2021.
MU Prep officials said they aim to enroll 300 students for the 2022-23 academic year.
Students can enroll in two different formats: MU Prep, which is limited to all-virtual instruction with a learning coach; and MU Prep Plus, which offers a hybrid formula with in-person instruction two days a week and virtual instruction the other three days.
Tuition for the all-virtual format is $7,500 for a full academic year or $3,750 per semester. Tuition for the hybrid format is $9,500 for a full academic year or $4,750 per semester.
In-person classes will take place in Indianapolis the first year and could be expanded to additional community sites in future years.
Marian University said courses will be made available to K-12 schools "seeking to augment, extend or create new learning experiences in traditional schools."
Officials said Stride has delivered online education to more than 2 million K-12 learners over the last two decades and worked with schools in all 50 states.
MU Prep is expected to offer an adaptable curriculum in core subjects, religion, electives, and career and college readiness.
"At Marian University Preparatory School (MU Prep), we believe all students deserve to master what they love and learn as they live," MU Prep Head of School Jessica Morales Maust said in written remarks. "In partnership with Stride K12, we will champion every child to self-actualize their gifts, abilities and character while transforming the delivery of traditional K-12 education for every student and teacher we serve."
Enrollment for the 2022-2023 school year is already open. The university said it would be offering information sessions about the new school. More information is available at www.muprep.k12.com.
Please enable JavaScript to view this content.