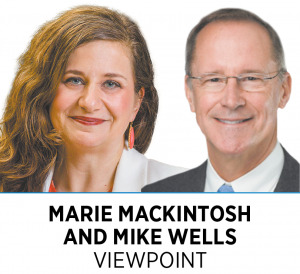 If student test scores act as an early warning signal for a future workforce calamity, all signs point to a looming crisis for our city, state and nation.
Our education system is failing many students, putting us on a path to fall vastly short of the human capital we need for a well-functioning society. We're deeply concerned about this as central Indiana economic and workforce development leaders and as Marion County residents, parents and taxpayers.
Myriad reports show that the progress we made in recent years to improve lagging test scores and address gaps in academic outcomes between Black and Hispanic students and white students was overcome by the pandemic.
Recently released results from the National Assessment of Educational Progress showed Indiana's math and reading scores for fourth- and eighth-grade students declined from pre-pandemic scores, mirroring a national trend. Only 31% of Indiana eighth-graders score at proficiency in reading, and only 30% do so in math.
A new report from the Richard M. Fairbanks Foundation highlighted the wide gaps in outcomes in Marion County—showing, for example, that Black and Hispanic third-grade through eighth-grade students in Marion County achieve proficiency on state tests at a quarter the rate of their white and Asian peers.
These challenges are not the fault of hardworking teachers and principals. Rather, they point to macro-level changes that are needed to ensure our education system is designed to serve students across races and socioeconomic backgrounds.
In Washington Township, where our children attend and have graduated from school, we have seen the gaps in academic outcomes upfront. Seventy percent of the district's students are students of color, and 61% are from low-income households. Washington Township has the largest racial opportunity gaps of any district in Marion County.
Even with these challenges, the district also has many positive attributes on which to build, including solid academics, engaging extracurricular activities and advanced coursework that our students have benefited from. The challenge here—as it is across Marion County—is to tackle gaps in outcomes early so that all students, regardless of race or household income, can enjoy these opportunities.
We must raise the bar and expect the best for every student. It's not easy, but there's ample evidence of what works. It will require changes starting in the earliest grades—from high-quality pre-K options to high-dosage tutoring and a heavy emphasis on math and reading proficiency—to ensure that all students emerge from high school ready for additional education.
It also will require formal interventions in high school to prepare students for in-demand careers. These include early and frequent career advising, automatic enrollment in the state's 21st Century Scholarship program for income-qualifying students, and opportunities for hands-on learning and credential-building with employers while students are in high school.
Implementing these changes can't solely be the responsibility of schools. Our community—employers, philanthropy, parents, teachers and students—must come together to lift our schools and hold them accountable to the higher expectations required to thrive in today's economy.
A new report from Ascend Indiana and EmployIndy provides us a clear picture of the consequences if we don't.
The pandemic has accelerated the shift to favor those with post-high-school credentials. From 2020 to 2028, the number of jobs requiring only a high school diploma will grow less than 2%, while those requiring associate and bachelor's degrees will grow nearly 8% and 7%, respectively.
Let's take the lagging test scores as what they are: disappointing but helpful indicators to help us see the problem—before it becomes too big to solve.•
__________
Mackintosh is president and CEO of EmployIndy and a parent of two in Washington Township. Wells is president of REI Investments Inc. and a former district foundation board president in Washington Township. His children graduated from Washington Township schools.
Please enable JavaScript to view this content.