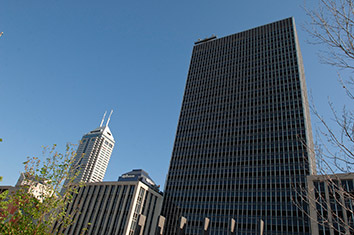 Marion County Clerk Myla Eldridge is extending early voting hours in her office beginning Wednesday as the county tries to accommodate an unprecedented number of voters casting early ballots, leading to hours-long lines.
Beginning Wednesday and through Friday, Marion County voters can cast early ballots in the clerk's office from 8 a.m. to 9 p.m. On Saturday and Sunday, the office will be open from 10 a.m. to 9 p.m., and on Monday it will be open from 8 a.m. to noon.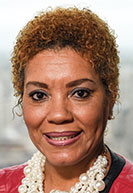 The clerk's office is located inside the Indianapolis City-County building at the intersection of Delaware and East Market streets.
Prior to this week, the office had been open until 5 p.m.. Beginning on Monday of this week it set to stay open until 7 p.m. through Friday, with closure reverting back to 5 p.m. over the weekend.
The voting hours will only be extended to 9 p.m. in the clerk's office. Other voting centers will not be affected.
"Extending voting hours in the Clerk's Office is the most I can do under current election laws to best accommodate Marion County voters," Eldridge said in a media release.
Through Monday, more than 125,000 Marion County residents had already voted, either by mail or in person, nearly tripling the early voting turnout for the 2016 election.
Over the weekend, turnout skyrocketed as five additional in-person voting centers opened for the first time this election season. Since Saturday, 27,000 residents have voted in person. Lines were long at each of the voting centers, but at St. Luke's United Methodist Church some voters waited eight hours to cast their ballots.
On Tuesday, lines there were three hours long, according to a website tracking voting lines in Marion County.
Kate Sweeney Bell, chair of the Marion County Democratic Party, thanked Eldridge for extending voting hours in the clerk's office, saying doing so is a necessary step to accommodate voter demand.
Democrats have accused Republicans of blocking plans to add more early vote centers.
Under state law, determining the number of early voting locations requires a unanimous vote from the three-person local election board. In Marion County, the board has two Democrats and a Republican.
The party said it took a long negotiation process to land on six early voting sites for this election and that its hands are tied because of the requirement for a unanimous decision.
"Over the last few weeks, one thing is abundantly clear—voters want to make their voices heard. While voter determination to withstand long wait times and rainy weather to cast their ballots is inspiring, no one should have to fight this hard to exercise their constitutional right," Bell said in a media release. "Repeated studies say that early voters tend to be Democrats, so it's not hard to figure out why Republicans want to limit early voting opportunities."
The Marion County Republican Party did not immediately respond to IBJ's request for comment. But Jennifer Ping, the Republican member of the Marion County Election Board, told IBJ earlier Tuesday that the clerk's office presented the plan for early vote centers this election and that she is not opposed to opening more polling locations in the future.
Please enable JavaScript to view this content.