Thousands of objects must be moved. Typical office stuff like cabinets, chairs, desks and computers, but also an organ and a baptismal font. And people, too, including some 2,400 inmates.
That's what happens when a major city relocates the bulk of its criminal justice system to an entirely new site.
The centerpiece of Indianapolis' $590 million Community Justice Campus is set to open in December, five years after Mayor Joe Hogsett unveiled his vision for it.
Indy's courts, sheriff and jail are set to join the Assessment & Intervention Center by the end of the year at the new location in the Twin Aire neighborhood, three miles southeast of their longtime downtown sites.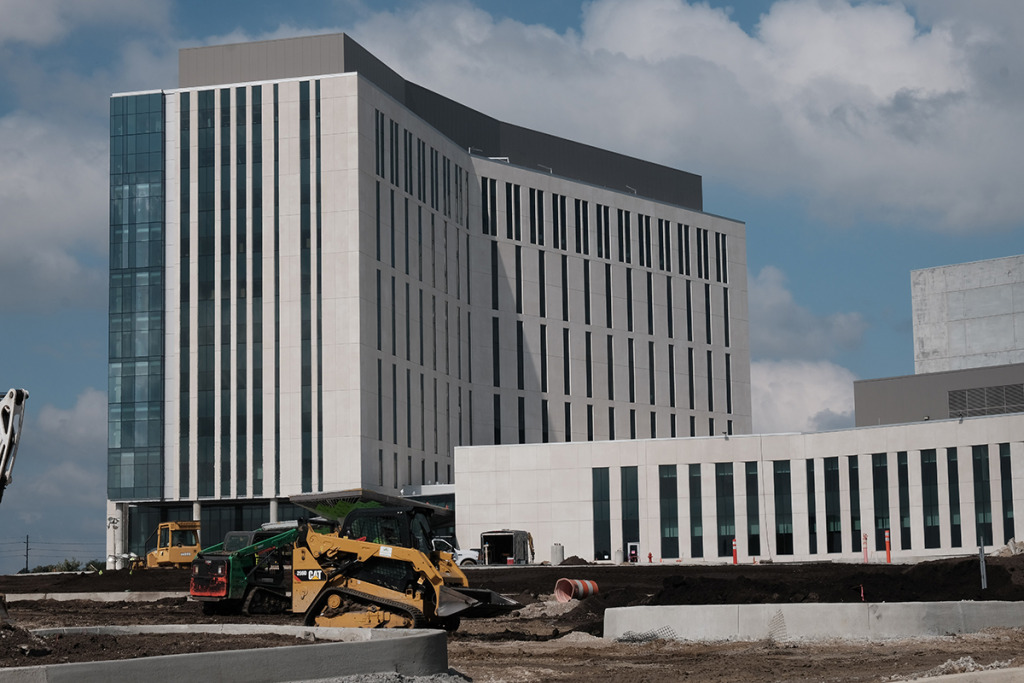 The city has tapped Planes Moving & Storage, which is based out of Ohio but has an Indianapolis office, to do the job.
Indy-based BSA LifeStructures and Zionsville's Chrysalis Global have led planning for the move.
Much of what's getting packed up is furniture, including about 60 cabinets, 65 bookcases, 70 desks, 120 shelves, 500 chairs and 500 other seating units, according to Indianapolis' request for proposals. Movers also will transport an estimated 700 technology workstations—monitors, docking stations, computers and all—and 3,500 totes of personal items for up to 600 employees.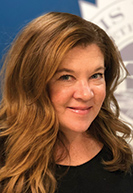 Other items include a baptismal font, shoeshine station and organ from the Marion County Sheriff's Office, along with a cart of 150 U.S. and Indiana flags, poles, wall brackets and floor stands from the City-County Building.
But there's more to the move than simply boxing up stuff or asking people to report to a new location one morning, said Sarah Riordan, Hogsett's designee for justice campus project management. Riordan is also executive director and general counsel for The Indianapolis Local Public Improvement Bond Bank.
"There's tons of technology that governs their communications and security, so one of the things that needs to occur is for both the courts and the sheriff to have an opportunity to test the technology, and to train their people on it," Riordan said.
Some of the preparation has already started. The Sheriff's Office began testing its security technology back in July, while employee training on the security systems started in late September, according to Riordan.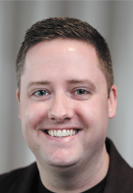 One IT change will live-track inmates' location, an upgrade from the paper cards inmates carry bearing their transfers, according to Sheriff's Office spokesman Capt. Mitch Gore.
Later this fall, crews will install furniture, fixtures and equipment at the new site. The Sheriff's Office and courts will also get their moving supplies—large plastic moving totes—along with orders to purge what they don't need by Nov. 1.
"For example, if [the Bond Bank] were going to be moving, … there's stuff in the vault—Christmas decorations from the '80s and things like that," Riordan said. "The purge is supposed to be done by Nov. 1, so people can keep purging all month long."
Most court records are already electronic, but court employees are at work digitizing as much of the paper-only documents as they can, to cut down on the stacks moving to the new building, Riordan said. The courts won't be able to toss it all—Indiana law governs records-retention timelines—so what's left will likely remain in City-County Building storage. The courts declined to comment for this story.
At the Sheriff's Office, the clean-out comes after a recent culture shift away from paper copies, Gore said. That mindset has been built into the CJC.
"The new facility wasn't built with these rooms of file folders," Gore said. "You have to modernize your operations because there's physically not the space for some of these things in the new facility, and it was designed that way intentionally."
As for how to move entire government offices without interrupting the employees' everyday work? "We have the capacity to make it pretty seamless," Riordan said.
For one thing, all of the furniture that is new or donated to the city by local organizations redoing their spaces isn't in use, so it can be moved to the campus at any time, Riordan added. That process started this month under a separate contract and will go through mid-November.
The equipment that individual employees need to do their jobs—desks, computers and the like—won't get moved until the people are scheduled to make the transition.
"Like me, I'll just pack stuff up in a box and, one day, I'll clock out here at the old facility, get up the next working day and clock in at the new facility," Gore said. About 250 other Sheriff's Office employees are also cleaning out their offices and getting ready to pack what's left.
Other employees, like those who work in the jail or as facility security, don't have offices and don't accumulate piles of things to move.
Officials hope to do much of the moving work outside of working hours.
The plan is "to do as much overnight and over the weekend as possible to minimize disruption," Riordan said.
At the Community Justice Campus, construction workers are putting the final touches on the project. In a recent milestone, workers took out the temporary construction elevator—permanent elevators are typically installed near the end of the process.
In photos of the new jail, dayrooms for some inmates—those accused of low-level, non-violent crimes—feature slick gray walls and tables. High-up windows will let in sunlight and fresh air.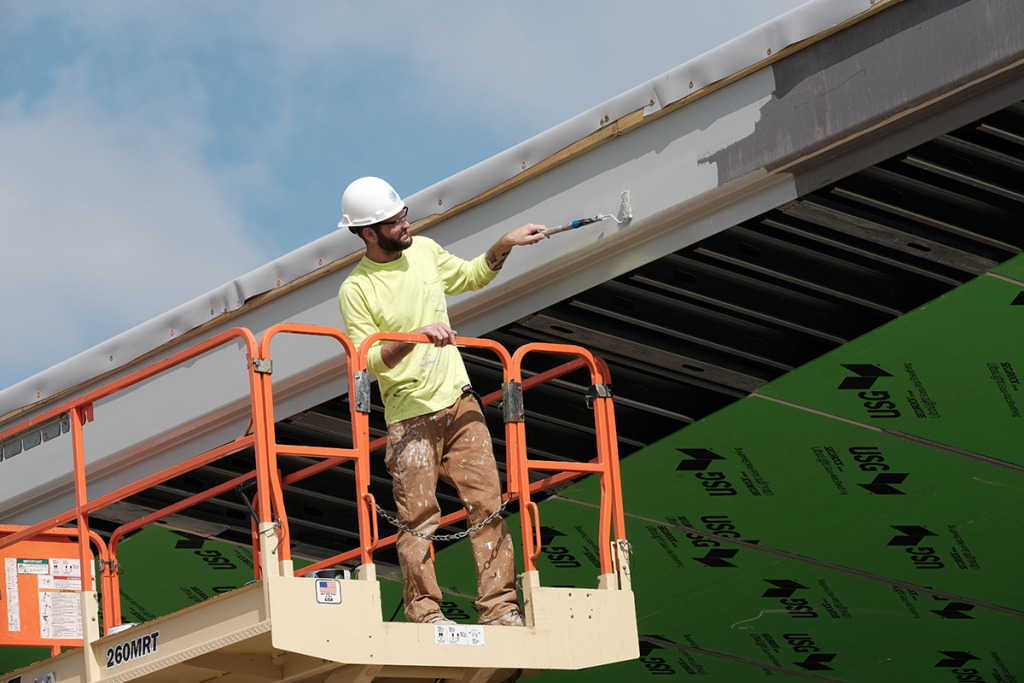 The Sheriff's Office is scheduled to start packing Oct. 15 and start the move on Dec. 6. About 2,400 inmates are also moving that month, Gore said. The office will likely get help from several local law enforcement agencies and the Indiana Department of Correction, though Gore declined to specify which other agencies could be involved. Officials have also declined to share more specific details about the move's timing, citing security concerns.
The courts, meanwhile, will get their moving supplies Nov. 30 and head to their new spaces beginning Dec. 17.
"It's been really exciting to watch it happen," Riordan said. "And it's also been [great]—to see that the buildings are actually beautiful, and they'll be nice, safe places for people to go and do their business with the courts and the sheriff."
Plans for a smattering of facilities around the campus's core are also advancing. A training facility for the Indianapolis Fire Department is underway. The City-County Council in September approved new bonds and leases for a coroner's building and forensics crime lab.•
Editor's note: This story has been updated to include information about the city's contract with Planes Moving & Storage, which had not been finalized at press time. 
Please enable JavaScript to view this content.