The Marion County Election Board is scheduled to meet Friday to consider adding Lucas Oil Stadium to the available in-person early voting locations.
The decision will require unanimous support from the three-member election board, which consists of two Democrats and one Republican.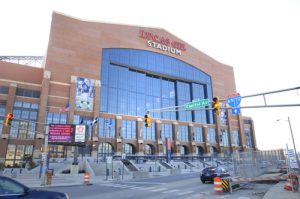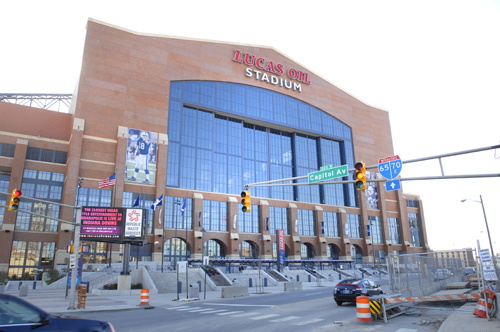 Marion County Clerk's Office Deputy Director Russell Hollis told IBJ "all signs indicate the vote will pass unanimously."
If approved, in-person early voting will be available at Lucas Oil Stadium from 10 a.m. to 5 p.m. on Saturday and Sunday.
The proposal is in response to long wait lines at all six of Marion County's existing early voting locations. Some voters have waited between seven and eight hours to cast their ballots.
On Wednesday afternoon, the wait time at St. Luke's United Methodist Church on 86th Street was four-and-a-half hours, according to Indy Vote Times. The shortest wait time as of 4:30 p.m. Wednesday was an hour-and-a-half at Krannert Park Community Center.
On Tuesday, Marion County Clerk Myla Eldridge announced she would extend the hours of the early voting center in the Indianapolis City-County Building—the only location she can control without the election board weighing in.
Today through Friday, Marion County voters can cast early ballots at the City-County Building from 8 a.m. to 9 p.m. On Saturday and Sunday, the office will be open from 10 a.m. to 9 p.m., and on Monday it will be open from 8 a.m. to noon.
The hours at the other five early voting locations were not affected by that change.
Through Monday, early voting in Marion County had nearly tripled the numbers seen at this point during the 2016 presidential election.
The election board is scheduled to meet at 10 a.m. Friday to vote on the proposal.
Please enable JavaScript to view this content.