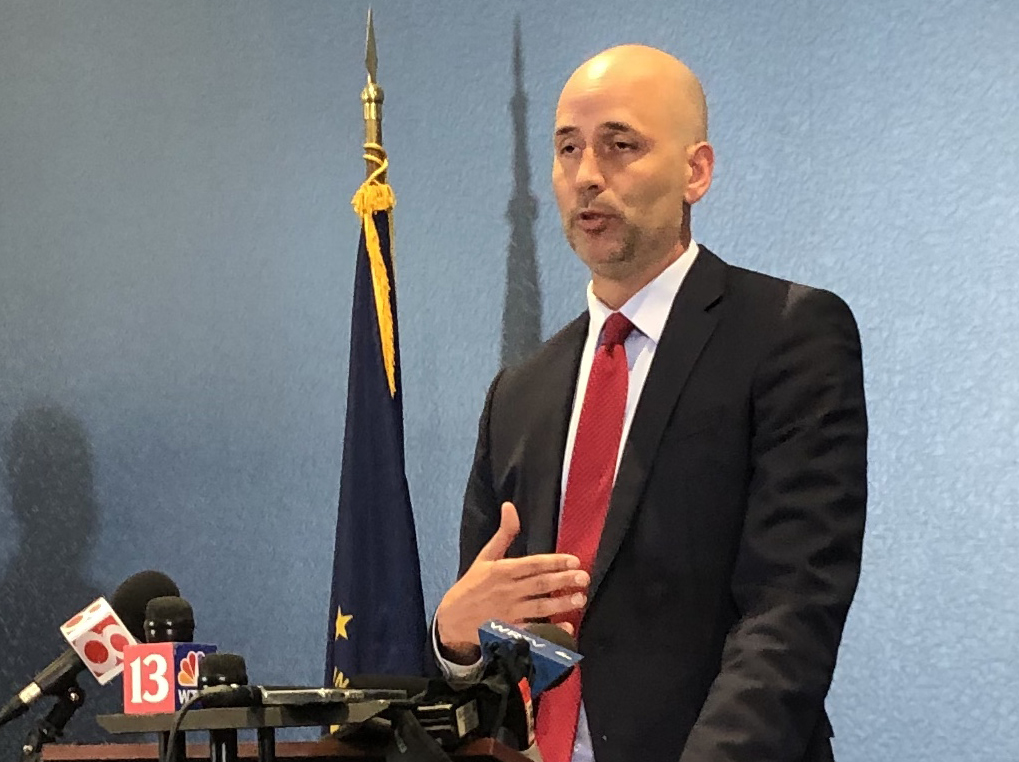 Marion County Prosecutor Ryan Mears said his office did not file a "red flag" petition last year against the FedEx shooter in an earlier gun incident, saying the family had agreed to give up a shotgun at the time, and the man was not seen as high-risk.
"He was treated by mental health professionals," Mears said at press conference Monday morning. "They didn't commit him. They didn't prescribe him any additional medication. He was cut loose."
Mears laid out his rationale for not asking a judge to determine that the suspected shooter, Brandon Hole, was dangerous or mentally unstable and should be prohibited from buying any additional firearms, a process informally known as "red flagging" a high-risk person.
The "red flag" law, passed by the Indiana General Assembly in 2005, is designed to keep guns out of the hands of mentally unstable people.
The earlier gun incident, in which the Hole family agreed to give up a shotgun, occurred in March 2020. Police said Hole later bought two "assault rifles" legally in July and September that he used in the mass killing of eight FedEx employees on Thursday.
In the March 2020 incident, police seized a pump-action shotgun from Hole's house after his mother raised concerns about his mental state. She told police her son might commit "suicide by cop," police said last week.
It's up the to local prosecutors to determine whether to ask a judge to declare a person dangerous or mentally unstable, and they have only 14 days to file a petition after police confiscate guns in a warrantless seizure.
Mears said the 14-day window is too short to allow prosecutors to delve into a person's medical history, including treatment for mental health issues.
He declined to elaborate on Hole's mental evaluation last year, but said Hole was released within "hours, not days or weeks," without being prescribed any additional medication, after his mother called police in March 2020.
"In this particular case, the petition was not filed, because the family had agreed to forfeit the firearm," Mears said. "And they were not going to pursue the return of that firearm. … And so we were able to take a firearm out of that residence."
He said his office has filed eight "red flag" petitions so far this year. He did not have information immediately available on the outcome of those petitions.
IMPD Chief Randal Taylor acknowledged to IBJ on Saturday that Hole was not red-flagged, but Taylor said he didn't know why.
Police can seize guns if they get a warrant based on probable cause or without a warrant with later court approval.
If a judge finds the person is dangerous, the judge is required to suspend the person's license to carry a handgun and prohibit the person from owning or buying or receiving additional firearms. That is meant to raise a red flag in the person's computer profile if he tries to buy another gun from a dealer.
"There's a significant limitation to the law," Mears said. "…There's nothing prohibiting that individual to go out and purchase an additional firearm, or 20 firearms. They are free to do that until there is an actual documented finding, where the judge says, 'I can find clear and convincing evidence that this person has a propensity for violence or mental instability."
Please enable JavaScript to view this content.