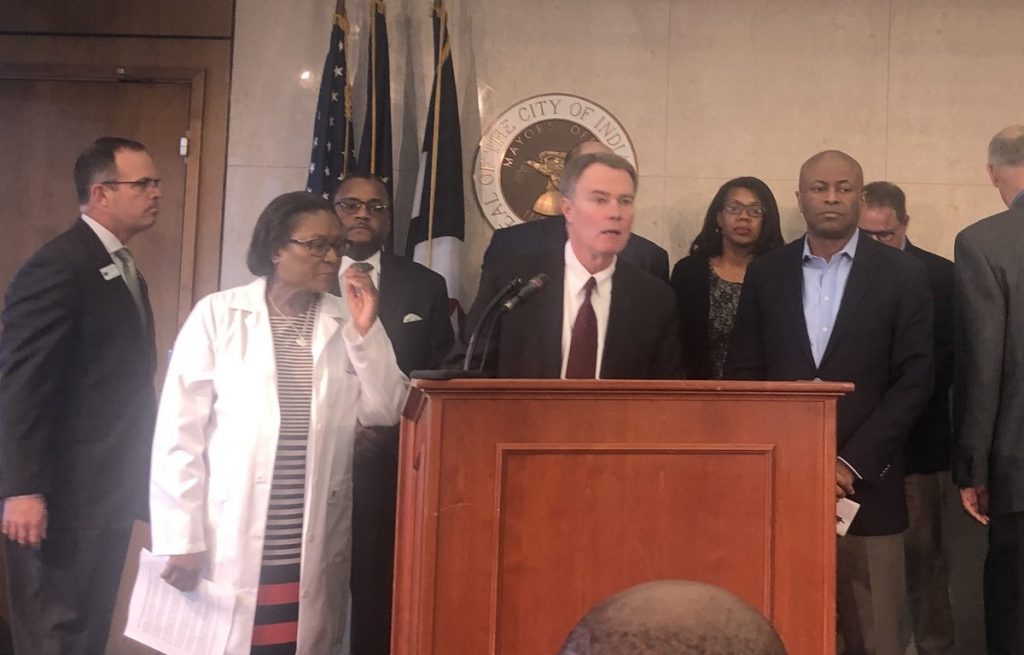 Indianapolis Mayor Joe Hogsett on Wednesday said he will begin easing Marion County's pandemic stay-at-home orders on Friday but with several major exclusions not found in the state's reopening plan.
Nonessential retailers and shopping malls will be allowed to open at 50% capacity, he said, and social gatherings and worship services will now allow up to 25 people instead of 10.
However, in-person dining will not be allowed until May 22, and only at restaurants with outdoor seating. The city said it would work to expand the right-of-way to allow restaurants to offer more outdoor dining in coming weeks.
Indoor dining at 50% capacity won't be allowed until June 1 under the plan.
Liquor stores will be allowed to operate at 50% capacity beginning Friday, and the Indianapolis Public Library system will be allowed to offer curbside pickup.
But personal services such as barbers, hair and nail salons, and tattoo parlors will remain closed until further notice, he said.
Industrial nonessential manufacturing facilities also must remain closed until further notice, he said.
Hogsett said Marion County essentially will be following Stage 2 of the state's roadmap to reopening, except for the exceptions.
Under the state plan, almost all businesses were allowed to reopen with some limitations on May 4 (except in Marion, Lake and Cass counties). Restaurant dining rooms around the state , malls and non-essential retailers were able to open at 50% capacity. Personal services such as hair salons, barber shops, nail salons, spas and tattoo parlors were allowed to open May 11 by appointment only.
"We are phasing in Stage 2, and I think we're doing so responsibly," Hogsett said. "If the data starts to show there will be an uptick, we'll have to make adjustments accordingly."
As part of the county's reopening plan, city and county officials are working to build a stockpile of face coverings for residents who need one. And in partnership with Indy Chamber, the city will establish a $5 million grant to help small businesses pay for personal protection equipment that will be needed as they reopen.
Details of those programs and information about what restaurants need to do to expand outdoor dining are expected to be released soon.
Hogsett gave no target date for when additional phases will begin, but he encouraged businesses who are not allowed to reopen Friday to look over Gov. Eric Holcomb's plan.
The mayor said the city is allowing data to drive decisions about what can reopen.
"The data we are looking at may look scientific, but at the end of the day the numbers and charts aren't just facts and figures, they are people," he said. "They are our neighbors, our loved ones, our first responders, our health care workers …"
Dr. Virginia Caine, director of Marion County's public health department, said no one data point can show how social distancing has slowed the spread of COVID-19 in Marion County, but a decrease in several indicators shows movement in the right direction.
Those indicators include decreases in EMS runs, COVID-19 cases (especially among vulnerable populations), and virus-related hospitalizations and deaths.
COVID-19 deaths per day in Marion County peaked at about 15 in late April and had fallen to about 10 on May 6.
Expanded testing and contact tracing will continue to be important as Marion County begins reopening, Caine said. Marion County should be performing 1,500 to 2,200 tests daily and has been able to increase that number by offering community testing through community partnerships, including Kroger.
The county health department currently has 75 contact tracers but hopes to have at least 150. Caine said she would like to maintain an effective contact tracing rate of 75% or higher.
Please enable JavaScript to view this content.