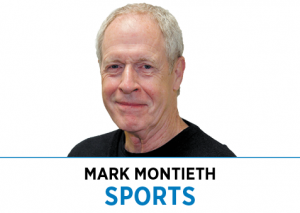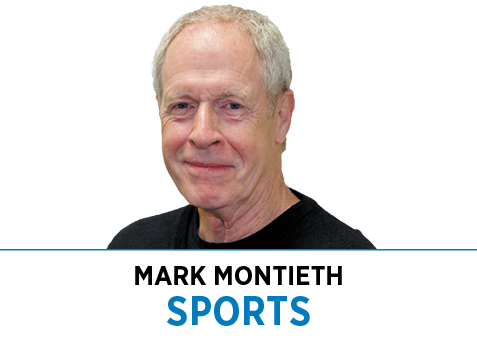 You've probably seen them in a workplace or two along the way. The employees who toe the company line … who make it their mission to impress bosses at any cost … who expertly navigate the political waters … who don't say spit even if they have a mouthful of it.
Perhaps you've witnessed the other kind, too. The ones who speak their minds, even if it threatens their job security … who refuse to accept blame when they don't believe it's deserved … who don't put on a happy face if they don't happen to feel like it … but who, more often than not, get things done and earn the respect of their peers.
Former Colts center Ray Donaldson was the latter and, all these years later, isn't about to apologize for it. It perhaps has cost him opportunity and the recognition he might otherwise be getting, but that's often the price to be paid for taking a stand.
Sitting outside a Starbucks near his home on the city's near-west side, he talks openly and bluntly about his football experiences but also asks me to emphasize he isn't seeking favors or pity. After all, he wasn't the one who requested the conversation. He speaks in a low, gravelly voice that perfectly suits his personality and his nickname among his teammates: Bulldog. That's the mascot of his alma mater, Georgia, but it also reflects his nature. Gruff. Tough. Not the type to jump in your lap and lick your face.
"I never took no—and I'm not about to now. I'm not going to do it, man," he said.
What Donaldson is talking about is one of the most notable careers an NFL center has ever produced. He played 17 seasons, starting with the Baltimore Colts in 1980 and ending with the Dallas Cowboys in 1996. He started every game he played after his rookie season, including 184 with the Colts and 152 of them consecutively over 10 seasons. He was selected to four Pro Bowls with the Colts and two with the Cowboys. Between those stops, he played two seasons in Seattle where he was honored as the offensive line's MVP.
His fate, however, was to play on lousy teams through most of his first 15 seasons before getting a reprieve his final two years in Dallas. He played in exactly one playoff game with the Colts, a loss to Cleveland in the strike-shortened season of 1987. The teams for which he labored finished 105-159-1. Before getting to Dallas, "his" record was 83-149-1.
Offensive linemen can't flash stats, so playing on a winning team is the shortest pathway to individual recognition. It's no coincidence the Colts put three offensive linemen in the Pro Bowl—Donaldson, Chris Hinton and Ron Solt—in '87 after Eric Dickerson was acquired and sparked the run to the playoffs. Or that Donaldson was back in the Pro Bowl with the Cowboys at ages 37 and 38 after they won the Super Bowl in '95 and went 10-6 and won a playoff game in '96. He was cut from the Cowboys before what would have been his 18th season in the league.
Donaldson moved back to Indianapolis when his playing career ended, and hoped to establish a coaching career in the NFL. That never worked out.
A childhood goal
Despite all the conflicts and disappointments that came with it, Donaldson looks back with pride and gratitude for his football career. He had set a goal as a grade-school kid in Rome, Georgia, to play in the NFL one day. He was one of nine children, and his father had died a few months before he was born. He had a stepfather for a while, but that man didn't live in the house and was an alcoholic. Football, he thought, could enable him to provide for his mother, Wilma.
Donaldson played only two seasons of high school football. He began his career at Georgia as a svelte linebacker but was converted to center against his wishes after an injury created a need. Grudgingly, he began adding weight and caught on to the new position.
After playing as a backup his rookie season, he made NFL history in 1981 when he became the first Black player to become a full-time starting center. Donaldson, who also had been the first Black offensive lineman at Georgia, said he faced resistance within the coaching staff as a rookie—perhaps he should play guard—but head coach Mike McCormack insisted he remain in the middle.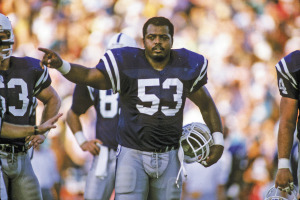 At the other end of his career, Donaldson was the NFL's oldest (38) starting offensive lineman.
"What percentage of people would you say get a chance to live out their dream?" he asked. "Every guy who played in the NFL, that's what they wanted to do. I'm proud as hell of my accomplishments.
"Even with everything that's gone on, I'd do it again. I liked football that much. I'd do it again."
Honors out of reach
Donaldson's career, both exceptional and historic, seems worthy of recognition. One could argue he deserves to be in the NFL Hall of Fame, but the handicap of playing on so many losing teams remains a burden. He seems clearly qualified for the Colts' Ring of Honor at Lucas Oil Stadium, but that honor remains elusive as well.
Pete Ward, the Colts' chief operating officer, said owner Jim Irsay seeks input from his veteran front-office executives for the honor and makes the final call. Offensive tackle Tarik Glenn, who was selected to "only" three Pro Bowls and retired after 10 seasons, will join the Ring in October. Donaldson, Ward said, remains under consideration for future inclusion.
Donaldson's outspoken, stubborn and nonconformist nature hasn't helped his cause. He wasn't always popular with coaches and people in upper management. He recalls three arguments with head coach Ted Marchibroda in the 1992 season, for example.
"He wanted to blame everything on the offensive line," Donaldson said. "I didn't appreciate it."
That was no doubt a factor in his release after the 1992 season. He remembers the exact date: Feb. 18, 1993. The Indianapolis Star story announcing the decision referred to "a locker room presence that was deemed counter-productive." Donaldson exited gracefully, however.
"There are no hard feelings," he told the Star. "I just don't agree."
He then went on to play four more productive seasons, with Pro Bowl selections in the final two.
Cantankerous or not, Donaldson was beloved by his fellow Colts offensive linemen for his willingness to stick up for the group. Many times, he was saying what they wanted to say. Or wanted him to say, at least.
Chris Hinton, who roomed with Donaldson on the road in their seven seasons together, played guard next to him as a rookie in Baltimore before moving to left tackle. He credits Donaldson's mentoring for his selection to the Pro Bowl and all-rookie team.
"I was somewhat outspoken when I played, but there's something about Ray," said Hinton, who, along with Jeff Saturday, is one of two offensive linemen already inducted into the Ring of Honor. "He was the get-off-my-lawn guy at 25.
"But Ray was misunderstood. He spoke his mind, but I don't think there was ever any bad intention. That was Ray. That was Bulldog. He was very, very well respected on the offensive line. He just led in a different way."
Understanding Ray
Ben Utt played alongside Donaldson for eight seasons—110 games—at both guard positions. Whether Donaldson was in his right ear or his left ear, he listened.
"He was a great leader from a player's standpoint, which is what we wanted," said Utt, who, like Hinton, lives in Atlanta. "He would speak [truth to power]. He would take consensus from us and go in and say, 'Hey, this is what the guys think.' He was doing what he was supposed to do as our leader.
"Ray's got a really, really good heart. He's just a grumpy old —-. I love Ray Donaldson. You just have to know Ray to understand him."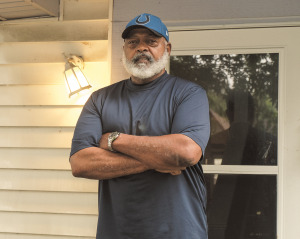 Donaldson didn't clash with all his bosses. He had few conflicts with his position coaches, including Tom Lovat, who coached the Colts' offensive line from 1985 to 1988.
"You had to understand Ray," said Lovat, who' s now retired and living in Appleton, Wisconsin. "He was a … how do you put it? … he's a unique guy. His heart is in the right place. He knew his position, he studied, he took criticism just like everybody else.
"You just had to deal with Ray from a different perspective. You didn't want to chew his ass. You said, 'Here's what I think; what do you think?' Ray and I never had a problem."
It seems Irsay would be the last NFL owner to be bothered by an outspoken player. He's the man, after all, who collects memorabilia from rock stars, athletes and other celebrities and sends them out on tour for the public to enjoy. Many of them were regarded as radicals in their time. He's got a baseball bat from Jackie Robinson, boxing shoes from Muhammad Ali, a script from "Beat Generation" author Jack Kerouac, a drum set from Ringo Starr and guitars from Bob Dylan, Kurt Cobain and the Grateful Dead.
The Colts also have a precedent for honoring rebellious players. Eric Dickerson was suspended for six weeks in 1990 for refusing to take a physical and for four weeks in 1991 for "insubordination" during a contract holdout. He called Irsay "Daffy Duck" in one interview before he was traded to the Los Angeles Raiders. When Irsay called Dickerson to notify him of his selection to the Ring in 2013, he jokingly identified himself as Daffy Duck.
Marshall Faulk went in that year, too. He had been traded by the Colts because of a contentious contract dispute with then-President Bill Polian.
Donaldson never held out for a better contract. Never publicly criticized a coach, general manager or owner. Never asked for a trade amid all those losing seasons. He lives quietly now, looking after his 87-year-old mother who is recovering from a stroke and whom he brought to Indianapolis, and offering support to his children and his remaining five siblings when needed.
His only connection to the Colts is that he buys tickets for a few games each season. It doesn't take long to get there. He lives on the city's near-west side, less than two miles from the stadium. He could, if he wanted, make it a point to reconnect with the organization and attend events conducted for former players, but hard feelings linger.
Not from former teammates, however.
"Ray's a guy with a lot of pride who's not going to go over there and mend fences," Utt said. "But Ray was exactly who Ray needed to be to be a great center.
"Those are the guys you want beside you."•
__________
Montieth, an Indianapolis native, is a longtime newspaper reporter and freelance writer. He is the author of three books: "Passion Play: Coach Gene Keady and the Purdue Boilermakers," "Reborn: The Pacers and the Return of Pro Basketball to Indianapolis," and "Extra Innings: My Life in Baseball," with former Indianapolis Indians president Max Schumacher.
Please enable JavaScript to view this content.