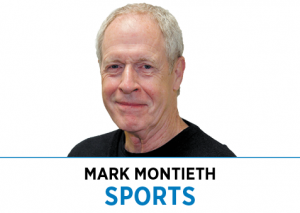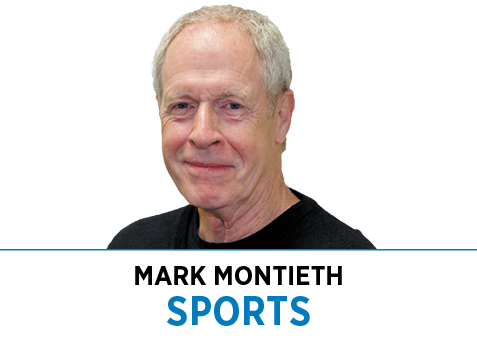 Jack Davidson is a three-time Academic All-American at Wabash College, so, yeah, he's no dummy.
That's why he knew better than to squander the last season of his college basketball career on a COVID-abbreviated schedule that would end like the fading notes of a sad song. And that's why he knew to leave well enough alone and stay put when a "better" offer came along.
His patience and perseverance will be rewarded this weekend in Fort Wayne when Wabash competes for the Division III national championship and he completes a career that has entrenched him as one of the greatest shooters to come out of Indiana's college ranks. Wabash will play Elmhurst University (Illinois) in the second semifinal game Friday evening at the Allen County War Memorial Coliseum. If victorious, Wabash will play for the championship on Saturday against the winner of Friday's earlier semifinal game between Randolph-Macon and Marietta.
Davidson, a Hamilton Southeastern graduate, is one of 14 players on the Wabash roster who played at a high school within 30 minutes of downtown Indianapolis. He stands just 6-foot-1 in his basketball shoes, but he stands alone in vital areas of the school's records book. He is the all-time career scoring leader with 2,443 points (and counting) and ranks first in free throws made and attempted and field goals attempted. With six more made three-pointers this weekend, he'll take over that category as well.
Davidson's season scoring average of 25.7 points ranks third nationally in Division III and he's reached it by hitting 53.5% of his field goal attempts, 48.8% of his three-point shots and 90.9% of his free throws. His career percentages are only slightly lower—.486 for field goals, .456 for three-pointers and .873 for free throws. Those numbers compare favorably to the legendary Hoosier shooters from past decades, and in the rare instance where Jackson's percentage is slightly lower, his volume is higher—usually, much higher.
"I'm kind of a stat nerd," he says. "I love looking at that stuff. I'm always looking at percentages. I know how I stack up."
Here's one way to stack up favorably: Don't miss. He hit 95 consecutive free throws over 14 games as a sophomore to set the NCAA's all-division record and boost his percentage to .931 for the season.
Davidson doesn't compare himself to names of the past, however. He's focused more on the likes of Golden State Warriors guard Steph Curry, who expanded the horizons of the three-point shot by taking it to the midcourt logos and became the NBA's all-time leader in the category. Davidson, though 2 inches shorter and 20 pounds lighter, has studied Curry's approach to practicing and playing and provides a legitimate resemblance. Not just with rainmaking three-pointers but with floaters in the foul lane and runs to the rim for layups.
Unprompted, Wabash coach Kyle Brumett hesitates to make the comparison. But he can't avoid it.
"The things that make him unique from an offensive standpoint, he practices like no one I've ever seen," Brumett says of Davidson. "I don't want this to sound cliché and I don't want it to sound somewhat unbelievable, but he really is like Steph Curry. He sees things, and he believes in his abilities in a way that he puts in the hours to perfect shooting it from 25 to 30 feet away."
Curry, by the way, hit 41.2% of his three-pointers during his three college seasons—at Davidson, ironically. Not quite up to Jack Davidson's level.
Davidson also draws inspiration from another player, one to whom he bears an even greater resemblance. His brother, Eric, three years older, played at the University of Indianapolis, where he set the school's all-time record for career free throw percentage, .932, and hit .454 from the three-point line.
'No fear'
But enough of numbers. There's much more to Davidson's story.
His in many ways began as a run-of-the-mill, 5-foot-7 sophomore on Hamilton Southeastern's junior varsity team. Eager to develop, and with Eric off to college, he was looking for a workout mentor. He found one in an Instagram post by Indiana University guard Yogi Ferrell that praised the influence of skill development trainer Joey Burton. Davidson reached out to Burton near the end of his sophomore season, and the two have been working together ever since—in various gyms throughout the city, a pole barn in Zionsville and even the garage at the home of a Davidson friend in Fishers.
Burton has worked with NBA players such as Glenn Robinson III, Trey Lyles, Trevon Bluiett and Kelan Martin, as well as several from Purdue, Indiana and other state colleges. D3 Davidson has fit right in.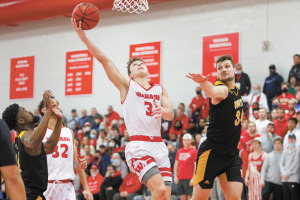 "This guy has no fear to let it fly," says Burton, who calls Davidson the best shooter he's had. "He has a very high competitive spirit, great competitive character, so whenever we've played with pros or high-level Division I guys, there was no drop-off with what he brought to the table.
"There were times while watching when you could say, for the last 10 plays, he's been the best player out here. It was awesome to see because of his shooting ability; it allowed him to compete with higher-level players. They respected him immediately once he started hitting 27-foot threes."
Davidson doesn't need a trainer to motivate him, though. He's obsessive about working out and shooting. Every day, in or out of the season, in or out of the gym. He's the kind of guy who sits on his couch and practices his follow-through.
"If he doesn't get to work out sometime during the day, you can see it in his face; he's sick to his stomach," Brumett says. "You don't run across guys like that very often."
Says Davidson: "I love being in the gym. That's my favorite thing to do, be in the gym."
Year-long pause
Having put in so much work, Davidson didn't want to end his college career with a ruptured season. When it became obvious the pandemic was going to greatly diminish Wabash's 2020-2021 schedule, he left the team and dropped out of school second semester. Because Wabash is strictly a four-year institution and wouldn't have allowed him an extra year, the NCAA's offer of an extra season of eligibility wasn't an option.
So, while the basketball team played a 12-game schedule with no national tournament last season, Davidson worked as an intern for Bradley Associates, a downtown Indianapolis firm that provides business and financial consulting for the health care industry. His primary assignment involved Medicare and Medicaid cost reports. "It was a really cool learning experience," he says. "Once you get the hang of it, it's not too bad."
It wasn't basketball, though. And with his one season of eligibility remaining, Davidson had to make another strategic decision. Should he return to the comfort of Wabash where a promising team and prominent role awaited him, or make the leap to a Division I program to test himself against stiffer competition and gain greater exposure?
Emboldened by his success at Wabash and with Burton's group, he entered the NCAA's transfer portal to gauge the interest of D1 programs. He heard from eight or nine, though none in Indiana.
Mercer University in Macon, Georgia, intrigued him most. Its coach, Greg Gary, is the father-in-law of former Purdue guard Dakota Mathias, whom Davidson knew from workouts with Burton. Davidson wasn't able to visit the campus because of pandemic restrictions but gave it serious consideration while Brumett and Gary stood by patiently.
Loyalty won out.
"It all came back to finishing what I started with my teammates and playing for Coach Brum for another year," he says.
He has no regrets, obviously. He'll play for a national championship this weekend, Wabash's first trip to the finals since it won it all in 1982. He might even win the national Division III Player of the Year award that will be announced on Saturday. Then, after graduating from Wabash with an economics degree, he'll pursue a professional career, probably overseas.
That qualifies as a long-shot opportunity for a Division III player. But Davidson likes those percentages.•
__________
Montieth, an Indianapolis native, is a longtime newspaper reporter and freelance writer.
Please enable JavaScript to view this content.