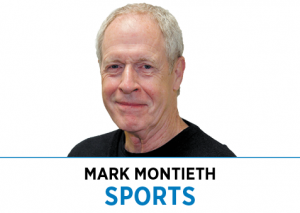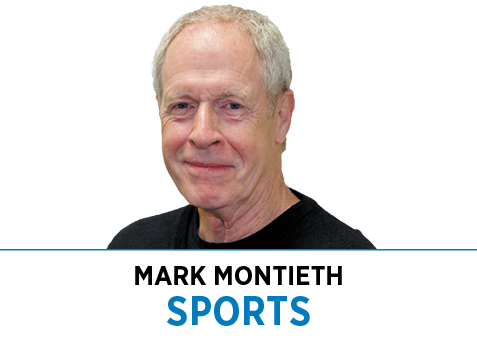 "You can't have progress without change, but all change is not progress."
Johnny Wooden said that. That would be the Johnny Wooden who led Martinsville High School's basketball team to a state championship in 1927 and then faded into obscurity, never to be heard from again.
His words have never been truer than today, especially as they relate to basketball. Forget Wooden's era, when a jump ball was conducted at center court after every basket and the ball had laces; you don't have to go that far back to find a drastically different sport than the one played today.
The games of past decades weren't as good as many people would like to remember, but nostalgia is a powerful force that filters out negative memories. Fact is, they were worse in some ways and better in others, no matter what the old-timers tell you. It's merely a matter of opinion in many areas. Regardless, there have been so many changes that younger fans—say those under 40 years old—would hardly recognize the game as it once was played. They likely would find it boring, as well.
So let's go back in time and revisit the games of 50 years ago. That might as well be the Ice Age for some fans, but it's well within the range of memory for many others. Things weren't better; they were just different.
It didn't cost you much: You could get into a Pacers game at the Fairgrounds Coliseum for a few dollars and get a good seat for $5. That's not as good a deal as it sounds, though. The median household income in 1973 was $12,050, nearly 1/7th of today's.
Over at Butler, a 14-game season ticket package could be purchased in advance for—drum roll, please—$8. "This is the best bargain in college basketball," the school's athletic director, Tom Warner claimed, and he surely was right.
Salaries were sane: Accordingly, nobody was getting rich off the games.
Mel Daniels, the two-time most valuable player of the American Basketball Association and the highest-paid Pacer, earned $65,000 in the 1972-1973 season as part of a four-year contract signed a year earlier. That was an elite salary for the day, but nothing like all-star players earn today.
Pacers center Myles Turner recently had an opportunity to meet with some ABA Pacers at Gainbridge Fieldhouse. One of them, former guard Bill Keller, asked Turner how much he thinks players of the early '70s were paid. Turner, whose $18 million salary this season is not regarded as excessive in the current landscape, guessed about $300,000. He would have been far more accurate to go with a 10th of that amount, as many players were paid less than $30,000 in that era.
Coaches weren't millionaires, either. Down in Bloomington, second-year Indiana University coach Bob Knight was earning less than $35,000 in base salary 50 years ago. That's about 1/100th of what current IU coach Mike Woodson and Purdue coach Matt Painter are paid.
Fans were smokin': It might seem impossible today that fans at a basketball game would light up a cigarette or stogie and fill the air with smoke, but they did. The pungent air was part of the atmosphere, something fans had no choice but to take home with them as a reminder of the experience.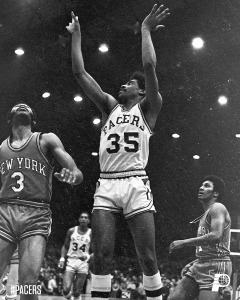 The Pacers' home at the Coliseum from 1967 to 1974 was filled with smoke, not to mention the faint scent of manure from all the animals that populated the building during and after the state fair. Keller recalls having to squint to read the scoreboard by the end of the third quarter because of the cloud of smoke that hung over the court.
Smoking was banned at some point after the team moved to Market Square Arena in 1974, though no earlier than 1979. That doesn't mean it was enforced, however. Bob Bernath, a longtime member of the stat crew, recalls holding a cigarette for public address announcer Bill Donella while Donella read the pre-game announcement reminding fans not to smoke.
Bombing missions were rare: Three-pointers had not taken over the game 50 years ago. Not by a long shot.
Heading into Wednesday's game, the Pacers were taking 39.3 of them per game, fifth-most in the NBA. They might as well when they're hitting 37% of them. They are only the ninth-most-accurate team in the league but still good enough to justify the high volume given that three is greater than two. In the 1972-1973 season, the Pacers team that would win its third ABA championship attempted just 6.6 3-pointers per game, the most in that league. It hit 31% of them, which ranked third.
This Pacers team is on pace to attempt more 3-pointers than the franchise's teams did over the first 10 years the NBA allowed the shot, beginning with the 1979-1980 season.
As for the college games, the three-pointer didn't even exist. Some conferences began experimenting with it in the early '80s, but it wouldn't become a fixture in NCAA competition until the 1986-1987 season.
The shooters weren't as straight: No matter what curmudgeon fans tell you, today's players shoot better than those of the distant past. That isn't an opinion; it's arithmetic. The percentages make a clear statement.
The most accurate 3-point shooter on the Pacers team of 50 years ago was future Hall of Famer Roger Brown, who hit .356% of his attempts. The only ABA Pacer ever to hit 40% of his 3-pointers was Billy Knight, who did it in the 1975-1976 season. But he attempted only 15 of them—all season, not in one game.
Today, three Pacers—Tyrese Haliburton, Buddy Hield and Turner—are shooting better than 40% from 3-point range and attempting at least 3.8 per game. Three other players are shooting better than Brown did 50 years ago, and six players have already attempted more 3-pointers than Brown did all of that season.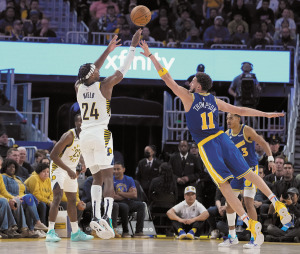 Televised games were the exception: It's a given today that every major college or NBA game will be televised, either on a local network or nationally. If for some reason it's not, the masses go looking for torches and pitchforks to organize a riot. Watching a game on television is regarded as a fundamental right.
It once was a privilege.
Seventeen of the Pacers' regular-season games in the 1972-1973 season were televised, along with one exhibition. That seemed like a lot at the time because only six had been televised when the team began play five years earlier.
Serious fans unable to attend a game followed the team by listening on the radio and—get this—reading a newspaper. Maybe even an afternoon newspaper. Radio was king, however. Stories abound of kids hiding a transistor radio beneath their pillow to listen to late-night games when they were supposed to be sleeping.
The games started later: The traditional weeknight starting time for home games once was 8:10 p.m., an hour later than today. That was true not only for the Pacers but also for Butler, Indiana, Purdue and most other teams.
Later starts enabled fans more time to get home after work, eat dinner and get to the game. That luxury was made feasible by the fact that games didn't last as long. There was no such thing as a television timeout 50 years ago. Coaches called them whenever they felt like it, but none were forced upon the game by television networks. And nobody could have even imagined the idea of stopping a game to review an official's call.
The coaches took their seats: Believe it or not, coaches once sat and watched the game like everyone else. They might get up to talk to a player during a dead ball or to complain to an official, but they generally stayed seated.
Sometime around the early '90s, that began to change. Nobody seems to know why or which coaches began the tradition of standing during the game, but you rarely see a coach at any level sit for long these days. A sitting coach looks like he's not as engaged as a standing coach, and no coach wants to look like he or she is being outworked.
The players probably were tired: The NBA has a policy against playing games on more than two consecutive nights, and it tries to keep the back-to-back sets to a minimum. It's only fair to the fans who pay exorbitant prices to see the games and deserve to see performers who are reasonably well-rested. Teams fly to road games on chartered jets, with first-class seating and a buffet of food and beverages, which further eases the travel burden.
Players from 50 years ago can only shake their balding heads at such luxury. The 1972-1973 Pacers played games on three consecutive nights nine times and played four games in a row twice. They flew to road games on commercial flights with schlubs like you and me, which meant 6 a.m. wakeup calls, a lot of waiting around in airport terminals, dealing with delayed or canceled flights and folding themselves into coach seating sections. In some parts of the country, they flew prop planes rather than jets, which was a real joy in stormy weather.
They didn't complain because they didn't know any better.
You might have seen a fight: Today's NBA players are hit with technical fouls and fines for merely glaring at an opposing player. Throw an actual punch? That's sure to bring a suspension and heavy fine.
Fifty years ago, fights were fairly common occurrences, and players were rarely ejected for participating in them. They might bring a modest fine but nothing that would dent a checking account.
Pacers coach Slick Leonard wasn't opposed to getting involved, either, though he was more the exception than the rule. His most famous incident came in December 1972 in Salt Lake City when he charged onto the court to protest a call. He screamed at referees Wally Rooney and Ken Sussman and then grabbed a ball and kicked it 10 rows into the stands, according to The Indianapolis Star's eyewitness account. That brought a technical foul. He then returned to shouting at Rooney and bumped him. He got a technical for that as well and was ejected. Police officers walked onto the court to escort Leonard off the court and wound up having to keep "overly zealous" fans away as well.
Leonard was not suspended for that incident. Imagine the penalties today.
Fans could get into the act as well. It wasn't unusual for some to throw cups—some empty, some not—or other items onto the court to protest a call. More often than not, they weren't ejected for such transgressions.
Such were the good old days.•
__________
Montieth, an Indianapolis native, is a longtime newspaper reporter and freelance writer. He is the author of three books: "Passion Play: Coach Gene Keady and the Purdue Boilermakers," "Reborn: The Pacers and the Return of Pro Basketball to Indianapolis," and "Extra Innings: My Life in Baseball," with former Indianapolis Indians President Max Schumacher.
Please enable JavaScript to view this content.