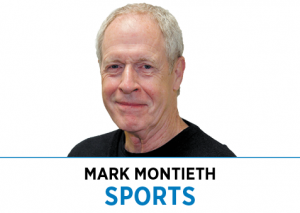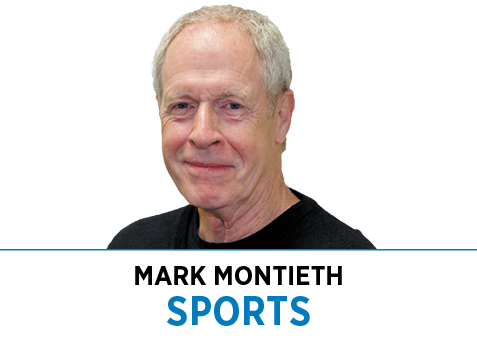 Unconventional hires for crucial leadership positions are rare in the corporate world. Too much is at stake, and the people responsible for filling those jobs aren't likely to risk their fate on an unproven candidate.
Every now and then, however, some brave and creative (or perhaps foolish) boss reaches out to someone far out of the mainstream and takes a chance on an unproven but intriguing candidate.
Jeff Saturday, for example.
Colts owner Jim Irsay could have referred to his NFL manual of standard procedures when replacing head coach Frank Reich a couple of weeks ago. Which is to say, he could have promoted one of his veteran assistant coaches or gone outside the organization to find someone with head coaching experience to direct the team through the rest of the season.
Instead, he heaved a metaphorical Hail Mary and hired an actual someone whose only coaching experience had been coaching his son's private high school team for three seasons. Someone who had been working the cushy gig of in-studio NFL analyst for ESPN.
Irsay's call-up drew widespread criticism in and out of Indianapolis. It was regarded by some as an insult to the coaching profession, a slap in the face to all those bleary-eyed grinders devoting ungodly hours to prepare for their shot at a dream job. Two games in, however, the move appears to have potential. The Colts won their first game under Saturday, a road victory over a losing Las Vegas team, and were poised to pull off a major upset over Philadelphia earlier this week before self-destructing in a one-point loss. Still, agonizing losses are upgrades over embarrassing losses.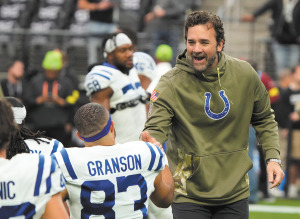 If Saturday decides to stick around and perform the heavy lifting of head coaching for a few years, Irsay could come off looking like a genius talent scout—or, perhaps, a magician who plucked an ace from the bottom of the deck. If it doesn't go well … hey, it was fun for a while. And, unlike the corporate world, failure in professional sports brings the reward of high draft picks, which can result in saviors such as Peyton Manning and Andrew Luck.
Sometimes it doesn't work
Fans of Indiana sports teams haven't seen many coaching hires such as this one. It would be helpful if the past results offered a prediction of how Saturday's Sundays will go, but the results have been mixed. Then again, conventional hires bring mixed results, too. Credit should be given to those willing to take a chance on a potential star rather than pulling someone regarded as not terrible out of the safety net.
Gerry Faust, for example. In 1981, Notre Dame reached out all the way to Cincinnati's Moeller High School to award what at that time was the most prestigious head coaching job in college football, one made famous by the likes of Knute Rockne, Frank Leahy and Ara Parshegian. The announcement drew minimal complaints at the time because Faust possessed high character, endless optimism and unbridled enthusiasm. He had compiled a 173-17-2 record over 18 seasons at Moeller, so he appeared to have the coaching thing figured out, too.
But not at the major college level, it turned out. Faust was likable but also anxious and excitable, and his teams never settled into a winning groove. There were some major victories that offered hope but nearly as many disappointing losses. He wound up with a 30-26-1 record over five seasons. His peak achievement was a 19-18 victory over Boston College in the Liberty Bowl in 1983—hardly what Notre Dame fans strive for. Perhaps his defining moment was the head-scratching decision in his final season to have his players switch from blue to green jerseys at halftime of a home game against USC—supposedly to help avoid a letdown.
"I just think he was in over his head," recalled sportswriter Phil Richards, who covered Faust's teams for The Indianapolis Star. "There's no reasonable way to expect a guy like that to succeed. He didn't know what he didn't know—and he didn't know a whole lot."
Sometimes it does
Knowing what you don't know and delegating those aspects of coaching is a crucial attribute for success. That's largely how another bold hire, Larry Bird, succeeded as the Pacers' coach from 1997-2000. He was five years beyond his playing career and hadn't even coached a high school team when he took over.
He hired Rick Carlisle to run the offense and Dick Harter to handle the defense and act as the overseer. He instilled a work ethic and winning mentality among the players, some of whom had played against him and felt honored to be coached by him. It worked. Blessed with veteran talent over his three seasons, he is the only Pacers coach to direct a team to the NBA Finals, in 2000, and has the best overall winning percentage (.683) of them all.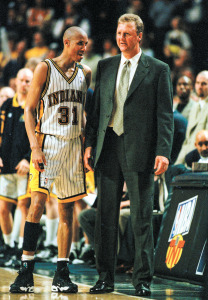 Although his hire had been greeted with ample skepticism, Bird quickly won over everyone he met as coach. Donnie Walsh, team president at the time, recalls meeting with Bird in co-owner Herb Simon's downtown office before making the hire. Walsh had a team capable of advancing deep into the playoffs and couldn't risk turning it over to an unqualified coach, so he was looking for substance. It wasn't the time to make a public relations splash.
"What would you do with this team?" Walsh asked.
Bird answered in detail, laying out exactly how he would approach the job from the first day of training camp through the end of the season.
"He started talking and I sat there and thought, 'Oh, this guy has it,'" Walsh said.
By the end of their two-hour meeting, Walsh knew he had his man.
Walsh went to the well again after Bird stepped down, hiring another Hall of Fame player with no coaching experience, Isiah Thomas. It didn't work out as well, but not as badly as many people probably recall. Thomas was charged with rebuilding a team that bore little resemblance to the one that played in the Finals under Bird.
His young rosters qualified for the playoffs all three seasons, and he coached in the All-Star game his third year because the Pacers had the best record in the Eastern Conference. That team was 37-15 at one point but injuries and off-court problems sent the team into a tailspin that resulted in a first-round playoff exit. Bird, having just taken over the team presidency from Walsh, replaced Thomas with Carlisle the following summer.
And it cuts both ways
Bold hires work both ways. Some Indiana teams have lost coaches to them. Brad Stevens was lured away from Butler by the Boston Celtics in July 2013 in what the Boston Globe called "a stunning and bold move." Stevens was hardly the first college coach to jump to the NBA, but it still came as a shock. He was just 36 years old and seemed the perfect fit for Butler's idyllic program—and equally unfit for the hardscrabble world of pro basketball.
One Globe columnist wrote the Celtics had "gone from having one of the NBA's most desirable and proven coaches in Doc Rivers to having its most inexperienced and unexpected."
Stevens' eight-season run with the Celtics was generally successful, however. His calm, confident demeanor won over the players, and he didn't try to coach grown men the same as he had coached the college kids. His Boston teams finished 354-282 and reached the conference finals three times. He took over as president of basketball operations in 2021 to spend more time with his family, and the Celtics are among the leading contenders for the NBA championship this season.
Basketball coaching legend Johnny Wooden, the Martinsville High School and Purdue graduate who led UCLA to 10 national basketball championships, was nearly the subject of what might have been the most stunning coaching hire of all. He claimed, with newspaper clippings to back him up, he had been offered the chance to manage baseball's Pittsburgh Pirates in the mid-1960s. He said baseball was his favorite sport but that he knew better than to make the awkward coaching leap from college basketball to pro baseball.
But who's to say it wouldn't have worked if the Pirates' players had accepted him? What Bird and some other previously unproven coaches have proved is that personality and leadership ability trump X and O strategies. There's an "It Factor" to coaching and other leadership positions that can't be taught but carries huge influence.
Saturday appears to have it. He projects as humble yet authoritative and calm yet confident. That might not be enough to overcome an insufficient offensive line, but it's a start.•
__________
Montieth, an Indianapolis native, is a longtime newspaper reporter and freelance writer. He is the author of three books: "Passion Play: Coach Gene Keady and the Purdue Boilermakers," "Reborn: The Pacers and the Return of Pro Basketball to Indianapolis," and "Extra Innings: My Life in Baseball," with former Indianapolis Indians President Max Schumacher.
Please enable JavaScript to view this content.