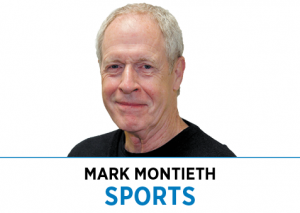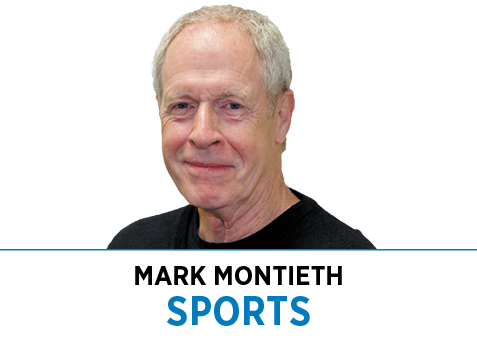 We all have believed, firmly believed, things that were not true. Perhaps we were misinformed. Perhaps there was an honest misunderstanding. Or maybe we just wanted something to be true so badly that we planted the seed in our minds and nurtured it with hope into full bloom, then accepted it as reality.
The sports world is probably the greatest incubator of mythology, and Indiana has contributed its share, particularly within the state religion of basketball. Sports myths are usually harmless enough, and they usually are more dramatic than the truth. But the truth should always win out in the end.
Here are four common Hoosier sports myths that to this day are repeated or written as fact. Let the air be cleared.
Myth: Indianapolis city officials denied the Crispus Attucks High School basketball teams the traditional parade around Monument Circle after they won the state championship in 1955 and 1956.
Fact: The parade was not a tradition. And the Attucks teams did celebrate on the Circle. Like never before.
This one gets a little complicated. And sensitive.
Start with the fact that, in 1955, Attucks became the first Indianapolis school to win the state basketball championship. It's hard to believe it took from 1911 until then for a team from the state's largest city to win the title, but it did.
For that reason, there was no precedent for celebrating a city team's state championship. And the reaction to the Attucks titles can hardly be perceived as a snub.
The Indianapolis newspapers openly rooted for Attucks before the finals and greeted the team's accomplishment with unfettered enthusiasm. City government officials and business leaders did the same, as did many fans of other Indianapolis schools. The players were heartily praised in print and spoken word not only for their dominating talent—they lost just one game over those two seasons—but also for their poise and decorum.
It has become conventional wisdom that the teams were rushed downtown for a token celebration and then shooed off to their neighborhood to be kept away from downtown. The newspaper coverage hardly supports that notion.
After the 1955 victory, the players, coaches and cheerleaders mounted two fire trucks outside of Butler Fieldhouse and were driven south on Meridian Street toward Monument Circle—fulfilling a promise Mayor Alex Clark had made if they won. Six buses carrying Attucks fans followed the fire trucks, forming a 3-mile-long motorcade amid screaming police sirens and cheering fans along Meridian Street.
At the Circle, Clark and other city officials greeted the team on the steps of the monument. Clark introduced Attucks Principal Russell Lane, who said, "Crispus Attucks is very happy with Indianapolis tonight and happy with the spirit of cooperation everyone is showing us."
Clark later presented an oversized "key to the city" to coach Ray Crowe and said, "I'm very happy to be able to do this. You not only won the state championship but displayed extra sportsmanship. Indianapolis is very proud of Crispus Attucks tonight."
Clark, carrying the championship trophy, then led a procession toward Northwestern Park, where an estimated 25,000 fans gathered for a bonfire and celebration that lasted well into the morning.
The celebration following the 1956 title was similar. That year, Attucks star and future basketball legend Oscar Robertson "bounded to the top of the monument's south steps to greet the crowd. Then the parade resumed."
It moved on to the Northwestern Community Center, where Mayor Phillip L. Bayt greeted the team. After a brief ceremony, another bonfire was lit, and the celebration continued.
Attucks nearly won a third straight championship in 1957 but lost to South Bend Central in the championship game. Although runner-up, the team was celebrated. With sirens screeching and red lights flashing, motorcycle cops led "a procession of more than half a hundred police cars, private autos, trucks and buses … through downtown Indianapolis, then headed north to Northwestern Park. About 3,000 fans danced and cheered around a huge bonfire at the park."
One can debate how long the celebration at the Circle should have lasted, but the Attucks teams of 1955 and 1956 were honored by city officials like none before or since.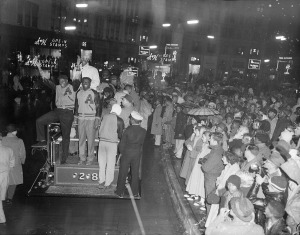 From that point on, bonfires outside of downtown proper became the traditional means of celebration for Indianapolis schools. Attucks' championship team of 1959 was taken to Riverside Park. Washington High School's 1965 champions, led by Mr. Basketball Billy Keller, went straight to the school's football field for a brief rally. The 1969 Washington team led by Mr. Basketball George McGinnis did the same.
One factor that contributed to the misunderstanding regarding the Attucks celebrations was that, in 1954, when Milan won its historic championship, the police officer assigned to the team for security, Pat Starks, took it upon himself to lead the team the wrong way around the Circle.
There was no procession—the players were riding in Cadillacs loaned by a Milan car dealer—and no stop for a rally. The cars took a clockwise lap around the Circle and headed straight to their hotel on Pennsylvania Street, where the players spent the night. Starks was reprimanded by his supervisors for the stunt, but he became part of the Milan legend. As years passed, many people came to believe Milan's backward lap around the Circle was a tradition for championship teams.
It was not. In fact, there's no record of the city sponsoring or approving of a celebration for a team winning any championship—state, sectional, regional or semistate—other than Attucks in 1955 and 1956.
Without question, Attucks students and faculty members encountered many instances of blatant racism throughout the school's history. But the response to the school's first two state championships could more accurately be described as a breakthrough in the city's acceptance of the school than a reflection of the historic bias.
Myth: Darnell Hillman used to jump and take money off the top of backboards to entertain fans.
Fact: He never did, although he could perform other impressive feats of verticality.
It seems any basketball player who jumps well is said to have taken something off the top of a backboard—a coin, a dollar, whatever strikes one's fancy. Good luck finding a photo, video or valid written account of it happening, though.
Hillman is the most notable leaper in Pacers history, having reached 6 feet, 11 1/2 inches as a high jumper on San Jose State's track team. He backed up his reputation by winning the first slam dunk contest for NBA players in 1977, although it was not a league-sanctioned event.
Today, it's not at all unusual for someone on social media to claim to have seen him snatch something off the top of a backboard. One person on Facebook said he saw Hillman pluck $10 at a basketball camp at Hanover College. Another saw him take $100 after a game at Kokomo High School. Another saw him take a $20 bill before a game at the Fairgrounds Coliseum. Still another swears Hillman used to snatch dollar bills at halftime of games.
Hillman sometimes likes to be coy about the rumors and say it might have happened, but admits he's never done it. He said so in newspaper articles during his playing career and still does today. The closest he came, he said, was about 2 inches below the top of the backboard.
What he could do, impressively enough, was kick the bottom of a backboard. On a good day, he could even kick the rim. He occasionally performed such feats at basketball camps in the off-season, to the delight of campers.
Myth: Rick Mount was the first high school athlete to appear on the cover of Sports Illustrated.
Fact: That honor belongs to an Olympic swimmer.
There was a time, before the internet and ESPN and pervasive television coverage of all sports, that the greatest recognition an athlete could receive was to grace the cover of Sports Illustrated.
It was an honor normally reserved for professional athletes, or perhaps college stars. So when Mount, Lebanon High School's All-American, was featured on the Feb. 14, 1966, cover, it was a big deal in Indiana. A very big deal.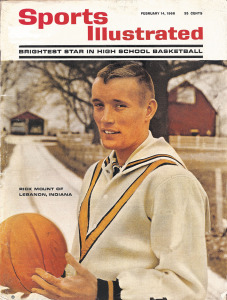 To this day, many people consider him the first high school athlete to do so. Actually, the first was Olympic swimmer Donna de Varona, who was featured on the cover of the April 16, 1962, issue. She turned 15 just 10 days after the issue was released.
That makes Mount the first high school athlete from a team sport to make the cover, which isn't a bad consolation prize.
Myth: Roger Brown is the "original Pacer," the first player to sign a contract with the new American Basketball Association franchise in 1967.
Fact: It's not certain who was the first to sign with the Pacers. But it certainly was not Brown.
Mike Storen, the Pacers' original general manager, often said the first thing he did when he signed his contract was drive to Dayton to sign Brown, who had been recommended by Robertson.
What gets left out of the story is that Brown didn't bite.
The Journal Herald in Dayton reported in its May 3, 1967, edition that Brown had been offered a contract but turned it down. He was married, had a son and a steady night-shift job as a machine operator. His wife, Carolyn, was employed gainfully as a registered nurse. It wouldn't have made sense to jump at an offer, without getting a closer look, from a new team in a new league that might not ever play a game.
"What happens if the league folds?" Brown told the newspaper. "I don't have a college degree. I have nothing to fall back on. I have to weigh everything carefully."
Brown attended the Pacers' open tryout in June, when he was mentioned for the first time in the Indianapolis newspapers for his standout play. Shortly after the camp ended, he signed a contract said to be "in the vicinity of $20,000," which was superior to the one offered in May. It was never announced in the Indianapolis papers but was in the Journal Herald on June 27.
"I got a good contract," he said. "I'm well satisfied."
By then, the Pacers had announced the signing of several players to both guaranteed and nonguaranteed contracts. Who was first? The first one announced was Gerry Jones, who had played at Iowa. He did not make the team, however.
As Brown achieved star status with the Pacers, his legend grew. A story in The Indianapolis News in 1980 said he was the first player to sign with the Pacers, and it has been repeated many times since. Inaccurately, it turns out.•
__________
Montieth, an Indianapolis native, is a longtime newspaper reporter and freelance writer. He is the author of three books: "Passion Play: Coach Gene Keady and the Purdue Boilermakers," "Reborn: The Pacers and the Return of Pro Basketball to Indianapolis," and "Extra Innings: My Life in Baseball," with former Indianapolis Indians President Max Schumacher.
Please enable JavaScript to view this content.